This Arizona Marshmallow Specialty Shop Is Trying To Back From Multiple Setbacks During the Pandemic
We here at GOBankingRates want to help get our nation's small businesses back on their feet after the COVID-19 pandemic. To do that, we're highlighting readers' favorite small businesses around the country, and shining a spotlight on what makes them special to their customers and their towns. 
2021 Small Business Spotlight: Check Out Our Small Business Stories, Plus the Nominated Businesses Near You
In this edition of our Small Business Spotlight series, we're featuring Gilbert, Arizona's The Toasted Mallow, which creates handmade marshmallows in over 30 different flavors, as well as mallow pies, marshmallow bombs, cookie dough, marshmallow fluff, gourmet s'mores and milkshakes. Here, we chat with owners Tricia and Hazel Arce about their sweet origin story, how they expanded their business from an Etsy shop to a physical storefront and how they've kept customers coming back for seven years.
Read More: A Musical Couple Teaches Kids of All Ages How To Rock Out
Was there a particular moment or experience that inspired you to start your business?
It started as a way to cope with the passing of Tricia's grandmother, who was her best friend. After taking care of all her grandmother's needs for five years and her passing in 2012, Tricia felt misplaced. Her workplace would do a monthly baking contest, and [although] Tricia wasn't a huge fan of marshmallows, she decided to try her hand at making them better so that she could enjoy them. In some way, making the marshmallows became a purpose for Tricia and helped fill the void of her grandmother's passing. She was making them daily and taking them to work, and some of her co-workers started placing orders. Then it went to opening an Etsy shop, to starting a Kickstarter campaign to open our store location in 2014. Also, living in Arizona, it's almost impossible to enjoy a good s'more outside in extreme heat, so we wanted to have a place where people could stay cool and enjoy handmade gourmet s'mores that tasted "s'moreiffic."
Make Your Money Work Better for You
More Small-Business Success: Meet the Ohio Grandmother Who Launched a One-of-a-Kind Candle Company During the Pandemic
What did you take from past experiences or jobs that you knew you wanted to be a part of your new business?
Hazel was the art director at her previous employer and then went on to open her own business in web/graphic design, so she was able to bring all the knowledge and creativity to Toasted and give a face to the brand. Hazel oversees all the graphics on our packaging, menus and website. She understands our customer base and is able to market to them. Tricia had 20 years of management experience in customer service and knew that customer service needed to be a priority along with her marshmallows. It needed to be an experience for the customers to enjoy and want to come back and share with others.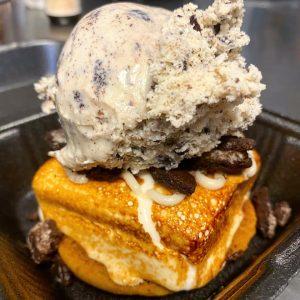 Check Out: New Jersey Fitness Studio Provides a Haven for Women To Get Fit and Have Fun
What has been the most rewarding aspect of being a business owner?
The customers — having people come in saying they've been following us for years and finally had a chance to come in and not be disappointed. Customers who order from us and have them shipped, and write to us telling us how amazing their treats were or how they made someone happy. Having customers validate that what we do does have some impact on them, whether it be a forever memory or some type of connection because of our story. We have customers who feel like family because we know each other by name. Another rewarding aspect is being open for seven years now. As a small business, you hear if you can make it past three years then you might have something, and if you make it past five years then you're doing something right — and here we are seven years in. People must really love marshmallows.
Make Your Money Work Better for You
Related: Sister-Owned Visual Studio Captures the Art of Authentic Storytelling
How has the pandemic affected your business?
It absolutely ruined the experience. We make s'mores in front of the customer — they get to see the marshmallow being toasted and smell the sugar being heated. Then they get to sit down and enjoy a melted gooey s'more with friends and family. With the pandemic, guests had to take them home and it's just not the same. Our business is about fun and interaction with each other, and the pandemic took that away for the past year and a half. During the pandemic, we had a surge in online orders, but because of the post office issues that occurred with the backlog of mail, people were not receiving their packages. As a small business, that was super frustrating. You never want to disappoint the customer — it's heartbreaking. We still don't have that vibrance in the store as we did prior to the pandemic — all the laughter and excitement of s'mores.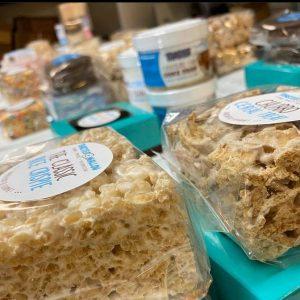 How can people continue to support your business during this time?
I know we are not a "need" but more of a "want," so it's hard to justify customers coming to our store daily or weekly, but if customers could follow our social media [pages] and share, like and comment, that helps spread the word that we exist. We still have locals saying they had no idea we existed, so there is still so much reach for us. Customers can make sure to support their small businesses instead of big-box [stores] when it comes to dessert and coffee drinks, choosing us for their corporate gifts during the holidays and purchasing online for family and friends.
Make Your Money Work Better for You
Check Out: Atlanta Children's Theater Trains the Stars of Tomorrow
What advice would you give to someone who wants to start their own business?
It's hard — harder than you'd ever imagine — but if you have the passion and believe in what you have, then it'll be worth it. We did it by just doing it. I think sometimes if you think about it too much, you might scare yourself out of it. The joke in our home is to have a longer conversation than "let's do it" next time we have a great idea. The good days absolutely outnumber the bad ones. Also, [have a] thick skin because everyone's a critic or [thinks they] could do it better than you.
Do you have a small business you want to see in this spotlight? Just let us know.
More From GOBankingRates

This article has been edited and condensed for clarity.
Last updated: June 21, 2021