Small Business Spotlight 2022: Beachside Taco Spot Brings Authentic Fare to California's South Bay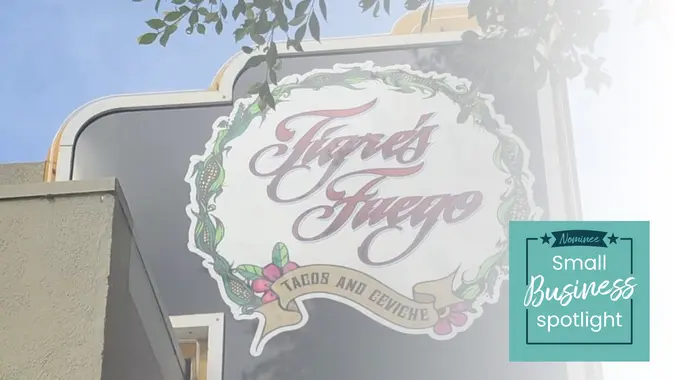 ©Tigres Fuego
"Small Business Spotlight" nominee Tigre's Fuego is a take-out taco and ceviche restaurant located in Redondo Beach, Calif., that prides itself on using high-quality ingredients and offering authentic, homemade fare. The restaurant is co-owned by brothers Jonathan and Jason Baran, as well as chefs Tyler Gugliotta and Jimmy Tapia. Here, we chat with co-owner Jonathan Baran about how Tigres Fuego came about, the importance of the atmosphere you create and what he loves most about running a business.
Was there a particular moment or experience that inspired you to start your business?
The four of us that own this … own another restaurant together that's been open for six years in Hermosa (Beach, Calif.) called Baran's 2239. Jimmy was our sous chef over there and, during staff meals, he would make tacos. He used to run a little taco cart in his off time, so we found a little spot that we really liked, and knew Chef Jimmy was in. We gave him ownership, so he went from sous chef over at our other restaurant to partner/owner at this one.
What did you take from past restaurant experience that you knew you wanted to be a part of your new business?
I was in restaurants for 10 years prior to opening my own, so I've been in the industry and also got my degree in hospitality. I definitely learned that employer retention is huge. (It's important to) have a great staff and create a family atmosphere — an atmosphere of fun where everyone's proud of the product we're putting out.
What has been the most rewarding aspect of being a business owner?
The relationships that are created, and seeing the people that come in three, four, five times a week just loving it. Hospitality is like nothing else. I consider a lot of customers good friends, and I never knew them prior to that, so that's a blessing, for sure. Our staff at both restaurants have been with us since the beginning, so they're all family and friends now as well.
Make Your Money Work Better for You
How has inflation affected your business and how have you been coping with it?
You just have to be more mindful of what's going on. Obviously, price increases are going to happen. The biggest thing is to shop around. You've got to do a little more shopping on your own rather than having everything delivered. You have to be more mindful of the products that you're using.
What advice would you give to someone who wants to start their own business?
Do your homework before. A great idea is a great idea, but make sure you go into it with someone with experience. Be willing to put in the time and the grind to get it going. (With our) first business, we were working seven days a week, 80 hours a week. It's not for everyone, but it's rewarding.
More From GOBankingRates