US To Start Distributing Regeneron's COVID-19 Antibody Therapy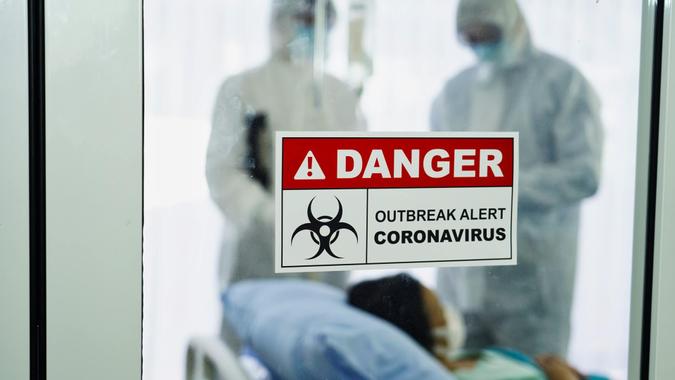 Kobkit Chamchod / Shutterstock.com
The U.S. government will start distributing a new COVID-19 antibody combination therapy. The antibody treatment dubbed REGN-COV2 was engineered by Regeneron Pharmaceuticals and approved by the U.S. Food and Drug Administration on Saturday. Distribution of REGN-COV2 will commence on Tuesday, starting with 300,000 doses. This is the same therapy that was given to President Donald Trump when he was hospitalized with COVID-19 in October.
Trump has hailed Regeneron's experimental antibody treatment, saying, "It was incredible the impact it had," in a video he tweeted shortly after he was treated for COVID-19. The therapy is intended for high-risk mild to moderate COVID-19 adult patients and children 12 years and older. It uses a combination of casirivimab and imdevimab, two monoclonal antibodies that imitate the immune system's key function in combating harmful pathogens including viruses such as COVID-19.
"This FDA Emergency Use Authorization is an important step in the fight against COVID-19, as high-risk patients in the United States will have access to a promising therapy early in the course of their infection," said Leonard S. Schleifer, M.D., Ph.D., president and CEO of Regeneron in a press release, adding that Regeneron has partnered with Roche to boost supply of the antibody therapy in 2021. "If the therapy proves safe and effective in clinical trials and regulatory approvals are granted, Regeneron will manufacture and distribute it in the U.S. and Roche will develop, manufacture and distribute it outside the U.S. Once both companies are at full manufacturing capacity in 2021, there are expected to be at least 2 million treatment doses available annually."
Following the announcement of FDA approval and plans for widespread distribution in the U.S, Regeneron Pharmaceuticals' stock bumped 4%, closing at $523.61 on Monday.
More From GOBankingRates