Starting a Business With a Spouse: 5 Things To Know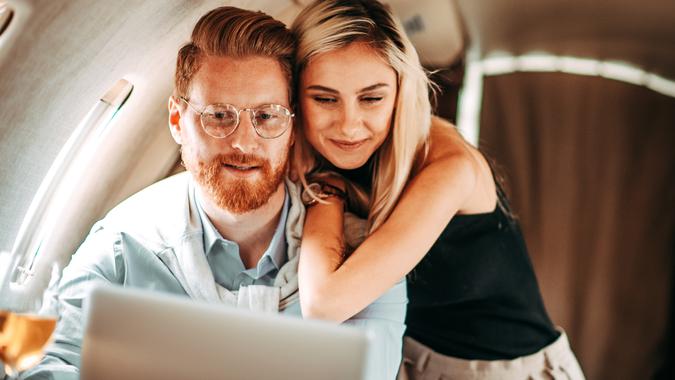 EXTREME-PHOTOGRAPHER / Getty Images
Around 1.2 million businesses in the U.S. are run by married couples, according to business mentorship network SCORE. And it's no wonder: Starting a business with your spouse brings several advantages.
See Our List: 100 Most Influential Money Experts
Discover: 22 Side Gigs That Can Make You Richer Than a Full-Time Job
"You can trust them more with access to sensitive information such as bank information, and there's built-in accountability since both your welfares are tied together," said Davis Nguyen, founder of My Consulting Offer. "Many successful business ventures were started by a spousal founding team."
That said, there are also pitfalls married co-founders should avoid. Here are five things to know when starting a business with your spouse.
Get Clear on Your Business Vision and Operation
Before starting your venture, Nguyen recommends talking to other couple founders — those who continue to work together and those who have decided not to. This will help you understand what to expect.
Make Your Money Work Better for You
"No article will be able to answer this for you as well as sitting down and hearing from those who have experienced the ups and downs of working with their spouse," he said.
You then need to decide on the details. Will you and your spouse have equal control of the company? If you can't agree on a business decision, who will make the final call? It's wise to discuss beforehand how you'll make business decisions together.
Consult with an expert in your field as you solidify your vision for the business and its future.
"You should write down a business plan and talk about it with an expert," said Jonathan Grossberg, a tax attorney and tax and accounting specialist editor with Thomson Reuters.
Hire Experts To Maintain Professionalism
Operating your business with professionalism from the beginning can help protect you from legal and tax-related issues down the road. Part of this professionalism involves consulting experts such as a lawyer, a CPA and an expert in your business field, Grossberg said.
Make Your Money Work Better for You
A CPA and an attorney can help you decide which legal and tax structure to use for your business, whether a Limited Liability Company, a C-Corporation or a partnership (and whether to elect S-Corporation status). Once you've chosen a structure, your lawyer can help you craft your organization's Articles of Incorporation (or Articles of Organization for an LLC). You also should have your lawyer help you write your operating agreement and bylaws.
"Here's where the pitfall comes in," Grossberg said. "You should remember to follow (the bylaws). Plenty of people write really good (agreements) … and then they quickly end up in a drawer, and nobody follows them. If it says you're going to have meetings … the meetings should be documented and there should be minutes."
Also discuss with your CPA how you and your spouse should file your taxes — whether jointly or separately.
Don't Mix Business and Personal Finances
Married business partners in particular can be tempted to use their business accounts and credit cards for personal purchases. But doing so can lead to tax and legal issues.
"You need to have a business bank account, and it needs to be separate," Grossberg said. "This is why you want to consider hiring a bookkeeper. The bookkeeper will, early on, keep you honest."
Make Your Money Work Better for You
A diligent bookkeeper also will make it easier to turn over your books to your CPA come tax time. Clean books can save you money since your CPA won't have to spend as much time asking you questions and cleaning up mistakes.
Create a Succession Plan
When launching a business, it's easy to spend most of your time thinking about how to get things running and growing. But you also need to plan for how to end your roles in the business.
What will happen with the business when either you or your spouse retires, becomes too sick to work or dies? These questions may not be pleasant to think about, but it's important to agree on a succession plan.
"When (starting a business with) your spouse," Grossberg said, "you want to make sure that the lawyer thinks about the estate planning aspect and legacy and succession planning."
Protect Your Marriage From Business Stress
Ray Blakney — CEO of the Live Lingua online language school — and his wife have launched six- and seven-figure businesses together.
"We've now been working together for almost 13 years," Blakney said. "My opinion is that there are only two possible outcomes of starting a business with your spouse: a very strong relationship or divorce."
To keep the business from negatively affecting the marriage, Blakney urges couples to focus on keeping the romance alive.
"For us, we do regular bi-weekly date nights," he said. "And we set a weekend to go away together once every three months."
More From GOBankingRates
Make Your Money Work Better for You