Starting a Business With a Friend: 5 Things To Know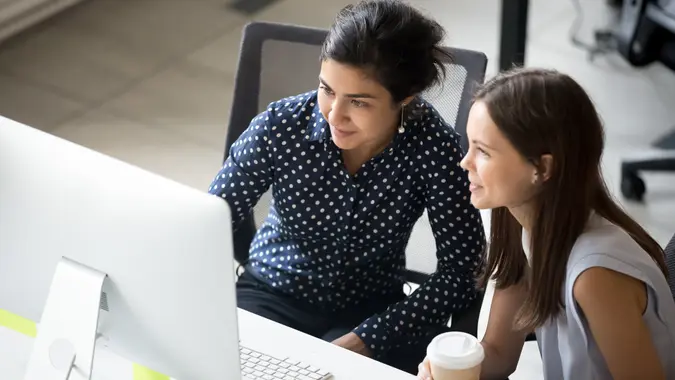 fizkes / Getty Images/iStockphoto
You don't have to look hard to find examples of close friends who started successful businesses together. Sergey Brin and Larry Page started Google. Nathan Blecharczyk, Brian Chesky and Joe Gebbia launched Airbnb. And don't forget Ben & Jerry's founding duo — Ben Cohen and Jerry Greenfield.
There are several benefits to going into business with a friend, said Davis Nguyen, founder of My Consulting Offer.
"You might have a more open and feedback-oriented communication system, which helps move things along and resolve issues easier," Nguyen said.
But with those advantages come pitfalls, as well. Here are five things to know if you're starting a business with a friend.
1. Work on a Small Project Together First
Going into business with a friend can jeopardize your relationship if you're not careful, said Ray Blakney, CEO and co-founder of the Live Lingua online language school.
"One pitfall of starting a business with a friend is that if the business fails for some reason, it can cause a lot of resentment on either side and ultimately lead to a dissolution of the friendship," he said.
Before making anything official, Nguyen recommends working together on a small project with a deadline first. This way, you can see if your skill sets complement each other, and if they don't, you can walk away without hard feelings.
"If this worked well for Warren Buffett and Charlie Munger, Steve Jobs and Steve Wozniak, and Bill Gates and Paul Allen, it will work for you," he said.
Make Your Money Work Better for You
2. Decide How You Will Split Ownership and Voting Rights
Another way to avoid resentment is to talk openly about your business goals and vision. You should also discuss how you will split profit distributions and voting rights.
"A lot of businesses–when it's two people starting it–will do a 50-50 split," said Jonathan Grossberg, a tax attorney and a tax and accounting specialist editor with Thomson Reuters. "The problem is, you're inevitably going to have disputes at some point about something in the business, and somebody has to be the decision maker."
That's why Grossberg recommends a 51-49 split. If one of you is uncomfortable with the other having more control, that may be a sign you're not a good fit as co-founders. Or, if you're simply concerned about fairness, Grossberg recommends dividing voting rights 51-49 and then flipping the numbers for cash distributions. This way, the person who has less control gets a bigger cut of the profit.
3. Hire Experts and Maintain Professionalism
If you want to avoid a host of legal and tax-related problems down the road, start by operating your business with professionalism. Grossberg urges co-founders to consult with experts — such as a lawyer, a CPA and an expert in your chosen field — from the very beginning.
Your attorney and CPA will help you decide which legal structure is best for your business, whether an LLC, a C-Corporation or a partnership (and whether or not to elect S-Corporation status).
Once you've decided on a structure, your attorney can help you craft an official agreement and Articles of Incorporation (or Articles of Organization for an LLC). Then consult a niche expert to help you form a business plan.
Make Your Money Work Better for You
Professionalism also requires keeping your business and personal finances completely separate. This means using your business accounts and credit cards strictly for business purposes.
"Consider hiring a bookkeeper," Grossberg said. "The bookkeeper will, early on, keep you honest. They will consistently keep the books, which can then be more easily turned over to the CPA."
A diligent bookkeeper can also make filing your taxes easier for your CPA, which can save you money on the bill.
4. Establish a Succession Plan
Don't start a business with your friend without discussing its future first. If your venture is successful, are you both comfortable with involving investors? What will happen in the future when you or your friend decides to retire, gets too sick to run the business or passes away?
"You have to think about that sort of situation as well," Grossberg said. "And then failure–what are you going to do if the business fails? When will you cut the cord and how?"
Discussing your options together and with your attorney ahead of time will help you avoid disagreements later on.
5. Protect Your Friendship From Business-Related Resentment
Another way to set your business and friendship up for success is by communicating openly and setting expectations.
"Both sides will need to be completely honest about their biggest strengths, any weaknesses they have, top goals for the company, how much time they can dedicate to the company in the beginning stages, and so on," Blakney said. "This will prevent any surprises that could cause rifts."
Make Your Money Work Better for You
More From GOBankingRates