Toys R Us Launches Plan to Take Back the $20B Toy Market From Amazon, Others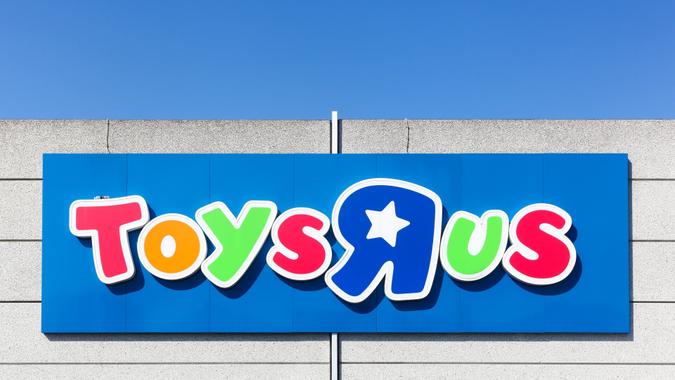 ricochet64 / Shutterstock.com
The lenders group that gave up on the reorganization plan for Toys R Us in favor of bankruptcy now says it will revive the businesses of the Toys R Us and Babies R Us brands. A new reorganization plan includes "a new, operating Toys R Us and Babies R Us branding company that maintains existing global license agreements and can invest in and create new, domestic, retail operating businesses," according to court papers. This reversal will take time to put into action but gives fans of the brands hope that the company will live on despite big competition.
The company had planned to hold a bankruptcy auction to sell off its brand name and other intellectual property assets, but it canceled that auction on Oct. 1, 2018. The lenders plan to expand the brand's international presence and develop its private brands business, CNBC reported.
Click to read about the surprising reasons these huge public companies went private.
This news will likely also cheer up toy vendors that were left with no major brick-and-mortar chain to sell their wares when the former retail toy juggernaut had to file for bankruptcy last year. The chain had been responsible for approximately $11 billion of the $20 billion-plus U.S. retail toy market before it closed its doors.
Make Your Money Work Better for You
See: The Ripple Effect of the Toys R Us Closure
What the Toys R Us Comeback Means for Amazon, Walmart
Those who will likely not be cheering at the news include Amazon, Walmart and independent toy stores. Amazon and Walmart are gearing up for the holiday shopping season, and being known as the go-to source for the hottest toys is a big part of that. According to Practical Ecommerce, consumers begin their holiday shopping as early as October, even if they're buying online. Given that timing, it looks as though Toys R Us will be sitting this year out.
Top Toys 2018: It's Walmart vs. Amazon for the Hottest Holiday Gifts
Some retailers that are stepping up to fill the void might find themselves back where they started. JCPenney recently announced that it would expand its baby department selection in response to the Babies R Us closings.
Toys R Us Backers Create $20M Severance Fund for Employees
The bankruptcy filing resulted in the closure of more than 800 Toys R Us stores and left up to about 33,000 workers without jobs. Those workers have been fighting for severance pay, and private equity backers of the company will create a $20 million fund to distribute to workers, according to The Wall Street Journal.
Make Your Money Work Better for You
The revived company would bring back the Toys R Us and Babies R Us names, website domains, registry lists and, of course, Geoffrey the Giraffe.
Click to read about the $6 billion McDonald's makeover that will cost franchisees millions.
More on Making Money and Business
Make Your Money Work Better for You