As Trump Loses Access to Facebook and Beyond, Social Platforms Brace for Drop in Revenue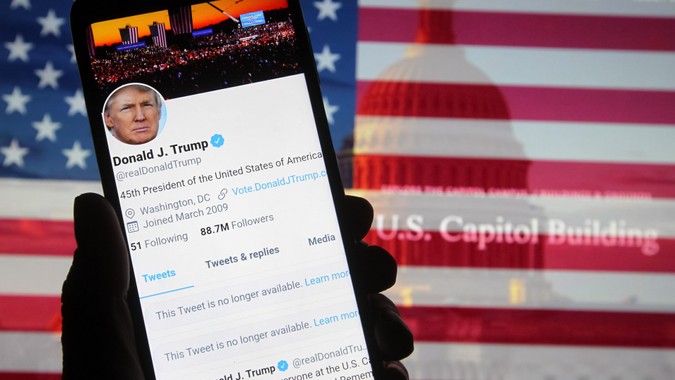 Pavlo Gonchar/SOPA Images/Shutterstock / Pavlo Gonchar/SOPA Images/Shutterstock
After an initial announcement of a 24-hour ban, Facebook (NASDAQ: FB) announced Thursday that President Donald Trump was being removed from its core platform indefinitely, as well as from Instagram. Snapchat and Twitch have also blocked Trump. This follows the president's apparent encouragement of an armed mob that stormed the US Capitol building Wednesday, resulting in the deployment of the National Guard.
Company President Mark Zuckerberg said that the suspension will last at least until Inauguration Day, January 20th, though could go longer. 
See: Why Wall Street Had a Good Day Wednesday in Spite of Chaos at the Capitol
Find: CEOs Send Strong Rebuke of Capitol Riot as Multiple Trump Staffers Resign
President Trump was also suspended from Twitter (NYSE: TWTR) for 12 hours starting Wednesday, after posting videos encouraging violence. Many of his posts have been removed, and others are flagged for giving false information. Yet Trump remains on Twitter, his most beloved – and valuable – platform, as of publication. The company has stated it is prepared to block Trump again if necessary.
We'll continue to evaluate the situation in real time, including examining activity on the ground and statements made off Twitter. We will keep the public informed, including if further escalation in our enforcement approach is necessary.

— Twitter Safety (@TwitterSafety) January 7, 2021
Sponsors of
Social media companies have spent the last four years grappling with how to give a platform to the President of the United States. It is important for people to hear from him, but he has often posted lies and conspiracy theories.  
In 2017, Bloomberg News estimated that President Trump's account wasn't just a matter of public interest – it was worth $2 billion to Twitter, or one-fifth of its value at the time. His posts drive engagement, which is important for the companies' revenue generation, but at the expense of the democratic process. It has been a daunting needle to thread, to say the least. Last fall, Bloomberg also reported that Zuckerberg told Trump over dinner that he was Facebook's no. 1 account in late 2019.
The guy we don't currently trust to be responsible with a Twitter, Facebook, or Instagram account still has access to the nuclear codes. We need Trump removed NOW.

— Misha Collins (@mishacollins) January 7, 2021
The Communications Decency Act of 1996, passed in the infancy of the.commercial Internet, regulates these companies as platforms rather than publishers. In other words, as printers rather than newspapers. This absolves them from regulation over the content that show up on their sites, especially the libel rules that govern traditional publishing companies. Many people, including President Trump, have called for a revision to these rules.
Sponsors of
See: These 47 Billionaires Got Richer During the Pandemic
Find: How Facebook Weathered Its Scandalous Year
In addition to antitrust concerns faced by both Facebook and Google (NASDAQ: GOOGL), the social media industry is likely to face calls to revise the Communications Decency Act. At a minimum, this would raise the costs of doing business, as skilled media attorneys don't come cheap.
The other lingering question is how much people will want to stay on social media. As fun as cute puppy pictures are, they can't sustain democracy.
More From GOBankingRates: