6 Ways To Support Small Businesses on Social Media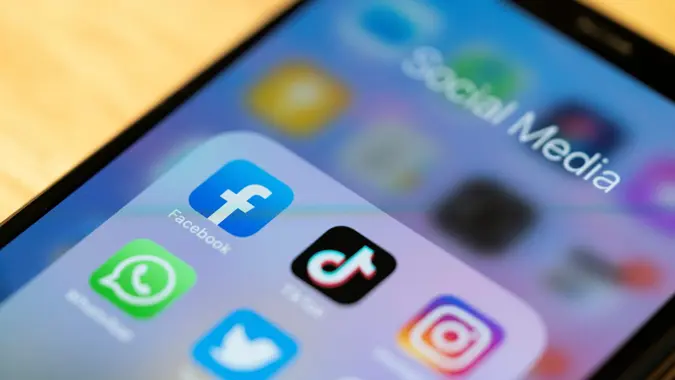 P. Kijsanayothin / Getty Images
Today, social media is one of the fastest, most accessible ways to communicate with people all over the world. After eating a delicious meal at your favorite small business in town, you might be inclined to post a picture of your meal on Facebook and share your favorite spot with your followers. But is that the best way to show support to the businesses you most appreciate?
See Our List: 100 Most Influential Money Experts
Also Read: What Is the Highest Income for Food Stamps in 2022?
According to the experts, here are the best ways to support small businesses on social media and bring the most awareness to the local spots you love.
Genuine Engagement on Facebook and Instagram
Small businesses are very different from large corporations in that they often don't have the large marketing budget and media staff that corporations have, which makes it harder for people to find their content online and discover their businesses.
Make Your Money Work Better for You
"Followers should be consistently liking posts, engaging with them, tagging brands on stories, seeking out/searching their pages and essentially treating them like they would a close friend's page," said Isabel Strobing, director of marketing and communications at Mainvest, a website where people can browse opportunities for lending money to small businesses.
"Going through and spam-liking posts may actually hurt the brand, because, well, it looks like spam. Participating in giveaways, sharing content and engaging are all genuine (and easy) ways to help a small business's online brand."
On Facebook and Instagram, always tag the business and recommend your favorite foods or products to your followers.
Post a Positive Review on Yelp or Google
Posting a positive review for the local shop you love is not only free but takes less than five minutes and can be a game changer for a small business. Posting about the business and what it offers to the community can be vital for the business, as many up-and-coming spots rely on testimonials to spread the word and bring awareness to their offerings. The more photos you can include of the food you ate or the location's beautiful interior, the better.
Make Your Money Work Better for You
Call Instead of Airing Grievances on the Internet
While one bad review on a popular Amazon product with hundreds of reviews may not mean much or sway the next person from buying the item, one bad review for a small business may ruin the entire business's reputation. If you have feedback for a small business, give it the opportunity to make improvements privately.
"Because small businesses have fewer opportunities than larger brands to build, improve and cultivate their online presence, users should consider the damage (or good) that they can do," Strobing said. "A user should consider reaching out to the business individually to air grievances rather than taking them online. It's hard enough to run a small business without a 2-star review taking down their ranking because Karen thought her meal was fine but the waitress seemed snippy."
Subscribe to Emails
Be sure to sign up for emails from your favorite small businesses.
"Because so many small businesses rely on email marketing to engage with and broaden their audiences, these businesses place a strong emphasis on growing their email lists through content marketing and other forms of promotion," said Jay Soni, marketing director of Yorkshire Fabric Shop, a textile store in West Yorkshire, United Kingdom. "Register for their newsletters and any other content they offer, and share content that is valuable to your friends."
Make Your Money Work Better for You
By signing up for emails, you also will receive the latest information on sales, new products and upcoming events, and obtain a more holistic perspective on the company.
Feature Small Businesses on Your TikTok
Visual content receives an incredibly positive reception on social media and is one of the reasons TikTok is so successful. If you have a TikTok, the best way to show support for your favorite local spots is to create a video showcasing your experience at a small business and give a shout-out to the company on the app. TikToks are an amazing way to grow awareness for a business and display the full experience of the small business, from the decor to the food and atmosphere.
If you make a TikTok featuring your favorite small business, be sure to tag the company and repost it on your social accounts for maximum coverage.
Continue Promoting
Don't stop at one good review or shoutout. Continue visiting the shop regularly. Each time you visit, post a photo or video on social media, tagging the business.
The more you show yourself at the location and what the business has to offer, the more opportunities your followers have to see different parts of the business and the different items it sells, bringing more traction to the company's page. Continual promotion also will build trust and credibility for the business and increase the likelihood of your followers starting to support the business.
More From GOBankingRates
Make Your Money Work Better for You