We're Small Business Owners: Here's How We're Dealing With Inflation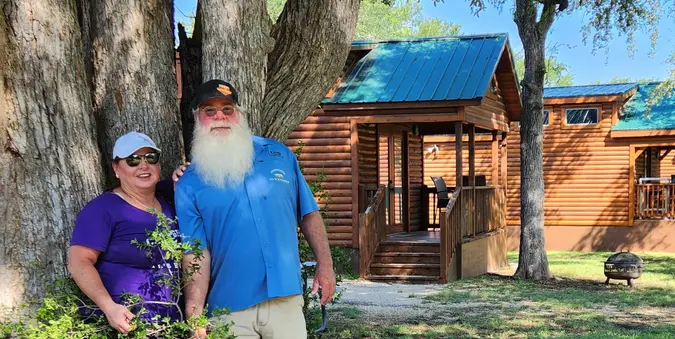 Jennifer Green and Gordon Cook were perched on a mountain top in the Ozarks enjoying the outdoors when they agreed it was time to turn their lifelong dream of building and running a campground into a reality.
The husband-and-wife team found a 20-acre property in Texas Hill Country about 30 miles north of San Antonio and built Al's Hideaway, a popular outdoor escape that attracts a mix of new and returning guests seeking relaxation and nature.
Al's Hideaway is a true family operation. Jennifer's mother and the couple's oldest daughter help run the campground year-round, and each summer you'll find their granddaughters and former foster son working during the busy season. With a variety of accommodations, a wide range of outdoor activities and even a general store, Al's Hideaway is a great place to do it all or simply sit back and take in the serene surroundings.
GOBankingRates asked Jennifer and Gordon about what it's like to operate a campground, challenges they've faced, how they dealt with inflation and advice they'd give to prospective business owners.
Al's Hideaway was selected as a standout nominee for GOBankingRates' 2023 Small Business Spotlight, which highlights great small businesses across the country. Readers can continue to nominate their favorite local small businesses to be featured in the series.
Tell us more about Al's Hideaway, and its offerings and services, in a few sentences.
Al's Hideaway offers log cabins, RV spaces, tipis, and primitive camp site rentals on 20 acres; 17 acres have been left in its natural state for wildlife habitat and hiking. We have a large communal pavilion that has an outdoor kitchen, big screen TV, surround sound speakers, and a swimming pool; in various locations throughout property we have outdoor games, cornhole, disc golf, volleyball, horseshoes, and checkers to name a few. There is also an on-site store that serves food, drinks, ice, souvenirs and almost anything you may have left or forgotten. Al's has a relaxing, fun, friendly environment that makes everyone feel welcome.
Make Your Money Work Better for You
What inspired you to start a business? How did you and your family get into the campground industry?
It was a lifelong dream of ours to one day build and own a campground. One night while on vacation setting on top of a mountain in the Ozarks we decided it was time to make our dream a reality.
How did you decide on the Pipe Creek, Texas, area as your location?
We wanted to be centrally located to all the attractions! Pipe Creek is 30 minutes from everything in the Hill Country. It does not matter what your interests or hobbies are, the surrounding area has it — theme parks, hunting, fishing, boating, hiking, motorcycle or bicycling riding, museums, wineries, breweries or distilleries, caves and horseback riding or animal encounters.
What makes Al's Hideaway vital to its community?
There are so many people that have downsized and moved out to the Hill Country, and when family comes to visit, or if it's time for that family reunion, high school graduation or wedding we offer complete park rentals with all the accommodations to keep families together and entertained.
How has inflation affected your business and how have you been coping with it?
Inflation has affected our business by increasing all our operational costs from electricity, food, laundry, pool supplies, taxes, insurance, etc. To help offset costs, we have added a credit card convenience fee of 4%, installed electrical meters to charge for excessive electrical use, implemented more dynamic pricing, and invested in more advertising.
Make Your Money Work Better for You
Are there any challenges unique to running Al's Hideaway? If so, what are they?
The unique challenges of running Al's Hideaway are standing out above the rest, keeping amenities modern and unique and keeping up with technology along with traveling trends without overpricing the market. Another challenge is letting people know you are family built, owned, and operated. Because we don't have big corporation funding backing us, our budget and improvements must be prioritized and budgeted for along with adjusting to rising prices. The challenges have become more difficult because corporations are buying up family campgrounds, which allows for larger marketing and instant improvements to resorts. And on the other end of the spectrum, you have the market saturated with homeowners renting out their homes.
Was there ever a time when you questioned whether you could run a business? (For example, events like COVID-19 or any other entrepreneurial challenges)
COVID-19 was a unique time for us. In the beginning we had a lot of cancellations and weren't sure of our future. We did not qualify for any government payroll because we don't get paid and we reinvest our money into the campground. Then as people adjusted and discovered we had plenty of outdoor space, and cabins and RV spaces allowed guests their individual space, we became very busy. Now, with a recession looming, people are spending less and taking destination vacations.
What is the most rewarding aspect of being a business owner?
The most rewarding part of being a business owner is watching our grandchildren enjoy and help with the business that they know will be theirs someday. We also enjoy watching families vacation here knowing it was our dream we turned into a reality. My family gets to meet other families from all over the world and learn about their cultures and stay in contact through social media. There is just something so wonderful about being asked to join another family for dinner just because they want to thank you for giving them a place to relax and enjoy family and friends.
Make Your Money Work Better for You
What advice would you give to someone who wants to start their own business?
Do your research, be patient, and know that it is not just a monetary reward for being a business owner.
What does the future hold for Al's Hideaway throughout 2023 and beyond?
Al's Hideaway is looking forward to 2023 and beyond; we hope to upgrade the park and add some safari tents and covered wagons to our options of accommodations. We also hope to upgrade our RV spaces to premium sites and add a few more amenities. We look forward to having new guests and seeing our return guests. 2024 will be an exciting year for us because of the total eclipse in April of 2024. We are in the path of totality. If we can get additional accommodation, the revenue source would be out of this world. We are also able to help a local non-profit dog rescue by offering their land for additional viewing space. The future looks positive if we continue to change and adjust with travelers' demands.
More From GOBankingRates