What Companies Has Elon Musk Invested In?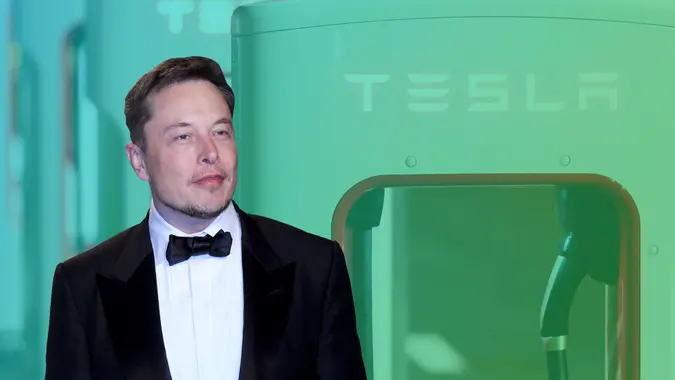 Visionary Tesla CEO Elon Musk is constantly in the news for his outlandish quotes and inspired ideas. While well-known for his role at Tesla, Musk is also a serial investor and entrepreneur.
Musk has launched, invested in and/or acquired at least a dozen companies since 1995.
1995: Zip2
1999: X.com
2000: PayPal
2002: SpaceX
2004: Tesla
2010: Deep Mind
2015: OpenAI
2015: NeuroVigil
2016: SolarCity
2016: Neuralink
2016: The Boring Company
2021 (disclosed): Cryptocurrency
2022: Twitter
As with any long-time investor, some of his efforts haven't quite panned out, but many have thrived and are among the most exciting names in technology. Here's a look at just a few of the companies that Elon Musk has invested in, some well-known and others still waiting to break major headlines.
Zip2
Zip2 Corporation is notable because it is the first of Elon Musk's many known investments. Back when the internet needed yellow pages — that is, before search engines like Yahoo and Google — Zip2 Corporation filled in the blanks, way back in 1995. Musk later sold the company to Compaq in a $307 million deal, which at the time was the largest sum ever paid to acquire an internet company.
Make Your Money Work Better for You
X.com/PayPal (PYPL)
Musk's innovative investments are generally focused on technology, but they are actually quite diverse in terms of the actual industry. He used proceeds from the sale of Zip2 to launch his next venture, a financial services company called X.com.
X.com and its rival, Confinity, co-founded by Peter Thiel, were early entries in the person-to-person payments space. The companies merged in 2000, and the new firm was renamed PayPal after Confinity's P2P product. Musk briefly served as CEO.
SpaceX
One of the names that most people associate with Elon Musk is SpaceX, which he founded in 2002. As with most things that Musk touches, SpaceX isn't "just" a rocket company.
The primary appeal of SpaceX is that it is much more affordable than traditional rocket technology, due in large part to the fact that the company's rockets are self-landing and reusable. This type of innovation is setting the stage for the next major jump in space exploration, one of founder Musk's biggest dreams.
Make Your Money Work Better for You
Tesla (TSLA)
Tesla has made history by being the first viable and profitable maker of electric vehicles. While Musk is not one of Tesla's original co-founders, he invested $6.3 million in the fledgling company in 2004 and took over as CEO in 2008.
Musk and Tesla continue to innovate, from the original Roadster to the newer Model S, Model 3, Model X and Model Y — and the new Roadster, which Tesla says is the quickest car in the world. Tesla stock surged about 700% in 2020 alone, helping make Musk the richest person in the world.
DeepMind
Musk is famously cautious about the future of artificial intelligence, worried about how it might be taken in the wrong direction. Perhaps Musk's investment in DeepMind was a way for him to keep tabs on what was developing in that industry.
DeepMind, which was acquired by Google in 2014, claims to want to "solve intelligence" by melding computer technology and neuroscience to create "artificial general intelligence."
Make Your Money Work Better for You
OpenAI
In another move to protect humanity against runaway AI, Musk founded OpenAI a year after Google acquired DeepMind.
As CNBC reported in 2020, Microsoft matched Musk's initial pledge of $1 billion to further OpenAI's mission to ensure AI benefits all of humanity. Although Musk left the board in 2018 to avoid a conflict of interest with his work at Tesla, he continues to support and advise the company.
NeuroVigil
Musk seems to be very interested in technology and the mind, as NeuroVigil is yet another of his investments in that field. The company develops brain monitors and uses algorithms to look for indications of pathology in patients who are not displaying other symptoms, such as those with brain cancer or neurodegeneration.
Musk was one of a number of investors participating in the company's second financing round in 2015.
SolarCity
As the CEO of Tesla, Musk is well-known for supporting environmental and sustainable causes. Thus, it should be no surprise that he's a fan of SolarCity, which is one of the country's largest installers of solar panels.
In fact, in 2016, Musk's Tesla actually acquired the company. This created legal problems for Musk, landing him in court to defend the acquisition, which was said to unjustly enrich family members. A Delaware court ruled in Musk's favor in April.
Neuralink
Neuralink is a company that Musk co-founded in 2016 that since has raised $205 million in additional capital from Google Ventures and others.
As the name implies, the company aims to create a neural link between brains and computers via high-bandwidth brain implants. While this can seem a bit "Terminator-esque," the company's first goal is to help quadriplegics interact with digital devices like computers and phones.
The Boring Company
Despite its name, The Boring Company will do anything but put you to sleep. This Musk company aims to bring innovation to the problem of traffic via boring tunnels underground.
One of its most exciting projects is Loop, an underground public transportation system that is all-electric with zero emissions. There is already one commercially operating Loop system at the Las Vegas Convention Center.
Cryptocurrency
While cryptocurrency is not a company, it's an important investment to Musk and dominates the news headlines. Some investors even call Musk the "DogeFather" for pumping up formerly obscure crypto dogecoin into national prominence.
But Musk has also made huge bets on ethereum and bitcoin, the two largest cryptocurrencies. In fact, two of his companies, SpaceX and Tesla, also own bitcoin. Musk is so influential in the crypto space that a single tweet can cause the prices of those assets to rise or fall precipitously.
Twitter
Musk is one of Twitter's more prolific celebrity members, frequently riffing on meme stocks and cryptocurrency, sparring with politicians and business rivals and making bold proclamations about his companies. In the near future, he might be the company's new owner.
Musk caused shockwaves when he disclosed in an April Securities and Exchange Commission filing that he'd invested a total of $2.9 billion for a 9% stake in the company. Shortly after a deal for him to join the board of directors fell through, Musk announced his intention to purchase Twitter and make its algorithm open source to promote free speech.
Twitter eventually agreed to the sale, and Musk says he has the financing squared away — but that he won't close the deal because he believes Twitter has far more spam accounts than previously disclosed and has been thwarting his attempts to verify data.
Perhaps suspecting that Musk is looking for an out, Twitter announced it would enforce the merger agreement and hand over its "full firehose" of data, which includes over 500 million tweets per day, The Washington Post reported, citing a person familiar with the company's thinking.
Takeaway
Whether or not the Twitter deal goes through, Musk's $213.9 billion net worth and position as the wealthiest person on Earth attests to the fact that he's the most successful businessperson alive today. But Musk says he's not driven by wealth.
Rather, it's about passion. "You want things in the future to be better," he told BBC News in an interview. In the end, his advice boils down to this: be bold, take risks, ignore the haters — and stay focused on the "stuff that's going to matter."
Daria Uhlig contributed to the reporting for this article.
Our in-house research team and on-site financial experts work together to create content that's accurate, impartial, and up to date. We fact-check every single statistic, quote and fact using trusted primary resources to make sure the information we provide is correct. You can learn more about GOBankingRates' processes and standards in our editorial policy.
Make Your Money Work Better for You