What Is Dropshipping and How Does It Work?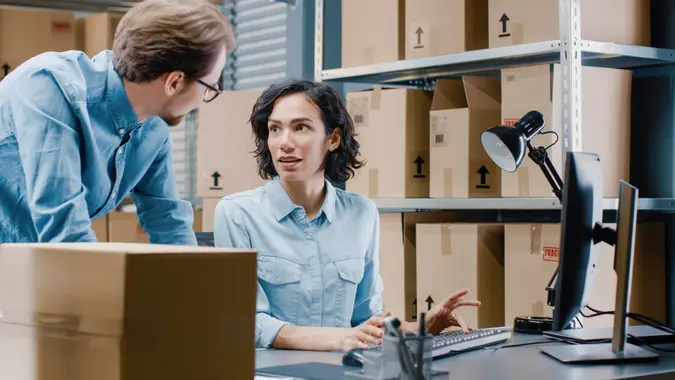 ©Shutterstock.com
If you've ever used YouTube to search for side hustle ideas, you've probably come across a how-to video about dropshipping. It has been gaining popularity among online sellers, but is it all that it's touted to be? Let's take a look at the pros and cons, as well as the do's and don'ts.
What Is Dropshipping?
Dropshipping is a way of handling online orders that doesn't require the retailer or seller involved to maintain a physical product inventory. When a customer places an order with a retailer or seller, it's sent to a third party, who fulfills and ships the order.
For example, imagine that a graphic designer would like to use a hand-drawn illustration they've done to print T-shirts. The designer creates an online listing featuring the T-shirt design, along with pricing and other details. When a customer finds the listing and places an order for the T-shirt, the graphic designer is notified of the purchase — but isn't required to do anything.
Instead, a third-party supplier that the designer has chosen receives the order, prints the T-shirt, ships it to the customer and pays those expenses before sending the remaining profits to the designer.
Make Your Money Work Better for You
Pros of Dropshipping
There are many benefits to dropshipping. Let's review them:
Low Overhead
Since a dropshipper doesn't have to store any inventory or supplies related to printing, fulfillment and shipping, he or she can sell products without, say, paying for a storage locker.
Quick Setup
Third-party fulfillment services at vendors like Printify, Alibaba.com, AliExpress and Oberlo make it possible to enter the dropshipping business quickly. If you have a great idea, you can bring it to market in short order and know whether or not it'll gain traction without spending too much time on it.
A Low-Fuss, Long-Term Revenue Stream
Once a product hits the market, it becomes a potential revenue stream. In the case of the designer, imagine that the T-shirt carried a mantra likely to still be relevant 20 years from now.
Since a new T-shirt can be printed for every order, the design never has to come off the market. As long as it continues to sell, it is a low-maintenance and possibly long-term revenue stream for the designer.
Cons of Dropshipping
Interested in dropshipping? Before you try it, consider the potential drawbacks as well.
Make Your Money Work Better for You
Little or No Quality Control
There's always an inherent risk in not seeing a product before it ships to a customer — and even more so when you're removed from the printing or production process, as well as the fulfillment process.
Fewer Profits
Since a dropshipper shares profits with the third-party supplier, you end the transaction with less money than you would have if you had directly shipped your product. Suppose that the profit from the transaction was $20 and the third-party agent spent $10 printing the T-shirt, packaging it and shipping it. In that case, the designer makes $10 instead of $20.
Low Barriers to Entry
It isn't complicated or expensive to set up a dropshipping business, which is good news until heavy competition makes it difficult for your product(s) to gain traction in a crowded marketplace.
It's unlikely that you'll have an exclusive contract with your third-party suppliers. On top of that, retailers who are bigger than you, such as Macy's, will have more ability to live with a lesser markup on their products. They may opt to sell the same product as you but at a lower price, and there won't be much you can do.
Make Your Money Work Better for You
Diminished Brand Value
Dropshipping removes a merchant from certain aspects of a seller's brand. When the seller's logo isn't on the package or receipt, it can be hard for a customer to associate it with the seller — even if that's where the product's ideation and design originated from.
Potential Legal Issues
Dropshippers rely on their third-party suppliers but don't have a way of knowing how the supplier is doing business. They hope that the supplier is sourcing materials from above-board places and acting ethically and responsibly. If not, however, the dropshipper is tied to the supplier's activities by being an associated vendor.
The way to guard against this is with an upfront and thorough exploration of the supplier's business practices and, later, a dropshipping agreement contract.
How Much Can You Earn by Dropshipping?
Some dropshippers earn up to $100,000 per year, according to Shopify. Your income from dropshipping will be influenced by a number of factors, from competition for your product to the size of your competitors and the margin you're able to keep.
What Should You Dropship?
If you think that the dropshipping market is limited to T-shirts and mugs, you're in for a surprise. Shopify keeps a list of trending products for the year — and this year, it ranges from doormats to toys, temporary tattoos and more. If you think someone will buy it, you can dropship it.
Dropshipping Best Practices
Like most efforts in business, your effort creates a result — so make sure you've done your homework.
Have a plan for mishandled orders. The fulfillment process may belong to someone else, but the customers are yours. Have a policy in place for when things go awry.
Manage inventory. As a dropshipper, you're reliant on your suppliers to have what they need on hand. If they're constantly short on product, it'll be hard for you to stay in business. Research your suppliers well and consider working with several.
Don't let shipping unknowns slow you down. Shopify advises choosing simplicity over perfection when dropshipping, like starting with flat-fee shipping and adjusting as your business grows.
Know how you'll deal with returns. You will request a return merchandise authorization from your supplier, and you may face restocking fees.
Advertise. From search engine optimization to ads on Facebook and Google and social media campaigns, there are many ways to get the word out about your product.
Dropshipping: An Accessible Path to Entrepreneurship
With dropshipping, it's possible to start a business quickly and efficiently — making entrepreneurship all the more accessible. It can be a simpler alternative to paying for all your stock in advance and risking either not selling enough or not having enough product.
Good To Know

Even needlecraft patterns make Shopify's list of top-trending items, so do your research and use your creativity. The best dropshipped product may be one that offers a unique take in an underserved territory.
But remember, like any other business dropshipping can have drawbacks. Do your homework upfront and know what you're getting into.
Our in-house research team and on-site financial experts work together to create content that's accurate, impartial, and up to date. We fact-check every single statistic, quote and fact using trusted primary resources to make sure the information we provide is correct. You can learn more about GOBankingRates' processes and standards in our editorial policy.
Make Your Money Work Better for You