'Greenwashing,' 'Water Bed Effect' Among Tactics Stores Like Target and Walmart Use To Hike Prices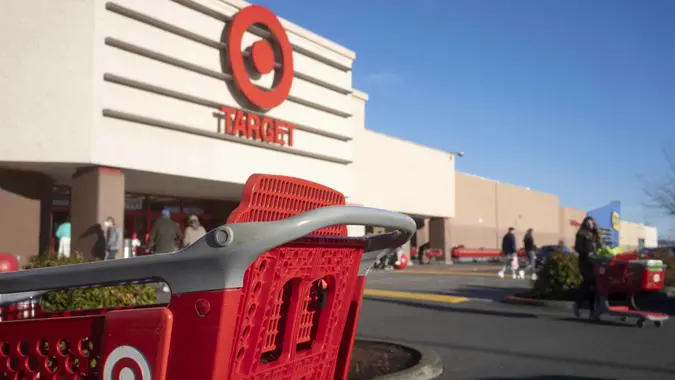 hapabapa / Getty Images
Many factors determine the prices you pay at stores that go beyond the usual economic principles of supply and demand. Prices across the retail industry are often influenced simply by the way big players such as Walmart and Target buy and sell their own goods. Two common strategies are "greenwashing" and the "water bed effect" – both of which can lead to higher store prices.
Greenwashing refers to the practice of retailers spending more money on marketing themselves as environmental advocates than they do on operating more sustainably. This is a particularly common practice in the fashion industry, but it spreads throughout the retail world.
Target found itself facing accusations of greenwashing in 2022, via a viral TikTok video by Alyssa Barber. In the video, Barber enters a Target and then explains all the ways brands can greenwash their products. The caption to the post defines greenwashing as "the act or practice of making a product, policy, activity, etc. appear to be more environmentally friendly or less environmentally damaging than it really is." 
"Sometimes this literally means turning the product green to make it more natural, more eco-looking," Barber said in the video while holding a bottle of room spray that features a plastic top designed to look like it's made of wood.
Make Your Money Work Better for You
In its defense, Target scores pretty high with some environmental advocates. A blog on the Green America website noted that Target was the top-rated company in Green America's Toxic Textiles report because the retailer "clearly reports its environmental and social policies and shares its progress in most of the categories we looked at."
But Green America also found problems with Target denim lines that hold the Fair Trade Factory Certified label from Fair Trade USA. This label "may not be as strong as customers think," according to Green America, because it only certifies the factory where the garments are sewn rather than where cotton is grown, dyed, or woven.
"Labor and environmental abuses occur frequently lower in the supply chain," Green America noted. "By not verifying those conditions, companies leave themselves open to the risk of profiting off of human and environmental exploitation."
The reason greenwashing can impact prices is because retailers often charge a premium for products they say meet certain environmental standards — even if they don't.
What Is the Water Bed Effect in Retail?
The situation is different when it comes to the "water bed effect." This occurs when suppliers cut special deals for Walmart and other large chains and then make up for the lost revenue by charging smaller retailers even more than normal, according to a recent column in The New York Times by Stacy Mitchell, an executive director at the Institute for Local Self-Reliance. The practice is especially pervasive in the grocery sector.
The result is that while Walmart and other large chains might be able to offer cheaper prices because they have more wholesale buying power, smaller independent retailers are forced to raise prices because of their own high supply costs.
Make Your Money Work Better for You
The water bed effect has "driven independent grocers out of business," created "food deserts," and "spurred consolidation among food processors," Mitchell wrote. "And in a perverse twist, it has raised food prices for everyone, no matter where you shop."
More From GOBankingRates