What the New School Year Means for Small Businesses in College Towns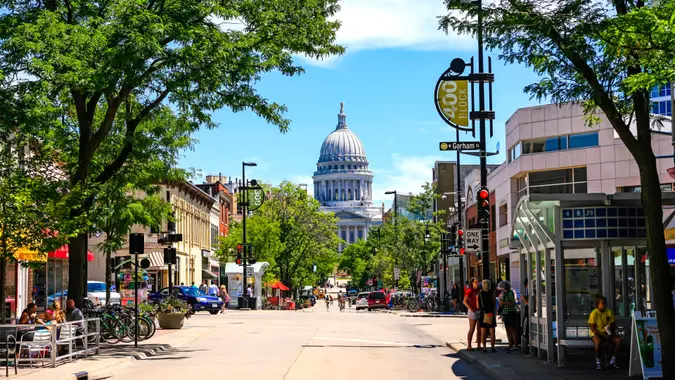 csfotoimages / Getty Images
2020 was a devastating year for small businesses in college towns, as many campuses switched to a partially or fully remote school environment. With students away from campuses and spectators banned from sporting events in many states, the restaurants, retailers and other businesses that rely on this foot traffic suffered. According to Business Insider, some businesses make 80% or more of their income from university-related traffic, so with colleges and universities closed, business slumped.
2021 Small Business Spotlight: Check Out Our Small Business Stories, Plus the Nominated Businesses Near You
Discover: Small Businesses That Celebrities Love
But, things seem to be looking up. This fall, many students were able to return to campus, which should be impacting small businesses in college towns for the better. But with some restrictions still in play, has this actually been the case? Here's what small business owners in college towns around the country had to say.
Make Your Money Work Better for You
Peace & Nutrition in Ellensburg, Washington
"Business for me is back to normal, with the exception that there is a mask mandate," said Shena Jaramillo, RD, owner of Peace & Nutrition in Ellensburg, Washington, where Central Washington University is located. "People are still nervous about in-person sessions. I am able to offer telehealth sessions, which have enabled people to continue to receive care. However, because the nature of the work I do is very sensitive, this has limited progress for my patients who have eating disorders. I am not able to weigh many patients — a critical measure to ensure safety. This has been a concern in my practice."
See: Small Ideas That Turned Into Million-Dollar Businesses
Tiger Town Tavern in Clemson, South Carolina
Tiger Town Tavern co-owner Cameron Farish told Greenville News in September that he was excited about Clemson University fans returning this fall, but noted that it would take a while for his business to fully recover from the previous year.
"I can tell you that not just Tiger Town Tavern, but every mom-and-pop business in the nation was actively losing money," he told the news outlet. "It's (going to) take more than just one football season in Clemson to get locally owned businesses to pre-pandemic conditions."
Make Your Money Work Better for You
The Ultimate Financial Planning Guide: Do It Like the Pros in 6 Steps
Pie 'n Burger in Pasadena, California
Local Pasadena businesses anticipated a boost in traffic as college football returned to Rose Bowl stadium — where the University of California, Los Angeles football team plays — this fall.
"We certainly get a lot of customers here before and after the game," Michael Osborn, owner of Pie 'n Burger, told Pasadena Now.
Ahead of the UCLA and the LSU Tigers game on Sept. 4, Osborn said he was expecting a good turnout from fans.
"I would expect that to have a lot more impact on the revenue side," he told the news outlet.
Sconnie Bar and Jordan's Big 10 Pub in Madison, Wisconsin
In past years, college football has been a major revenue driver for the state of Wisconsin. A 2019 report produced for the University of Wisconsin-Madison estimated that each home game carried a $16 million economic impact for the state. Business owners that suffered last year anticipate a better 2021, especially with the pent-up demand.
Make Your Money Work Better for You
Billy Van Wie, co-owner of Sconnie Bar and Jordan's Big 10 Pub, told the Wisconsin State Journal that he was projecting one of the best seasons ever for the establishments — though a mask mandate issued by the state in August dampened his optimism a bit.
"I think it's still going to be a good year unless there's more changes or there's a spike in what's going on that forces them to make changes on how many people can come to Camp Randall and to the beer gardens," he told the Journal.
More: Creative Ways Small Businesses Stayed Open During the Pandemic
Rough Draft Whiskey Bar in College Station, Texas
Kyle Meredith, co-owner of the Rough Draft Whiskey Bar in the Northgate District of College Station told Bryan, Texas' KBTX that he was optimistic that the return of Texas A&M football would mean a return to business as usual this year.
"It's been a long 10 months for us personally, but we've been very fortunate to have our regulars come back and come join us," he told the news channel. "I think it's going to be a great season. Everyone is going to put money in their pockets. Bars are going to recoup the stuff that they lost last year, and we're just super happy that game day is here."
Druid Social in Tuscaloosa, Alabama
Bill Lloyd, owner of the Druid Social restaurant in Tuscaloosa, Alabama — home to the University of Alabama — expects business to pick up this football season.
"It has been a tough year and a half since COVID, and we have small margins in the restaurant business anyway," he told Birmingham, Alabama's CBS 42. "And just to have people coming back out and feeling comfortable and taking care of them, it's just great for the economy and for the small businesses. People will come out, and the servers make tips. And we have enough people in the kitchen, and they can make money. It trickles all the way down and it's just great to be Tuscaloosa again."
More From GOBankingRates
Last updated: Oct. 13, 2021

Make Your Money Work Better for You