Quiz: Which Huge Corporations Own Your Favorite Products?
Find out which brand names are owned by even bigger ones.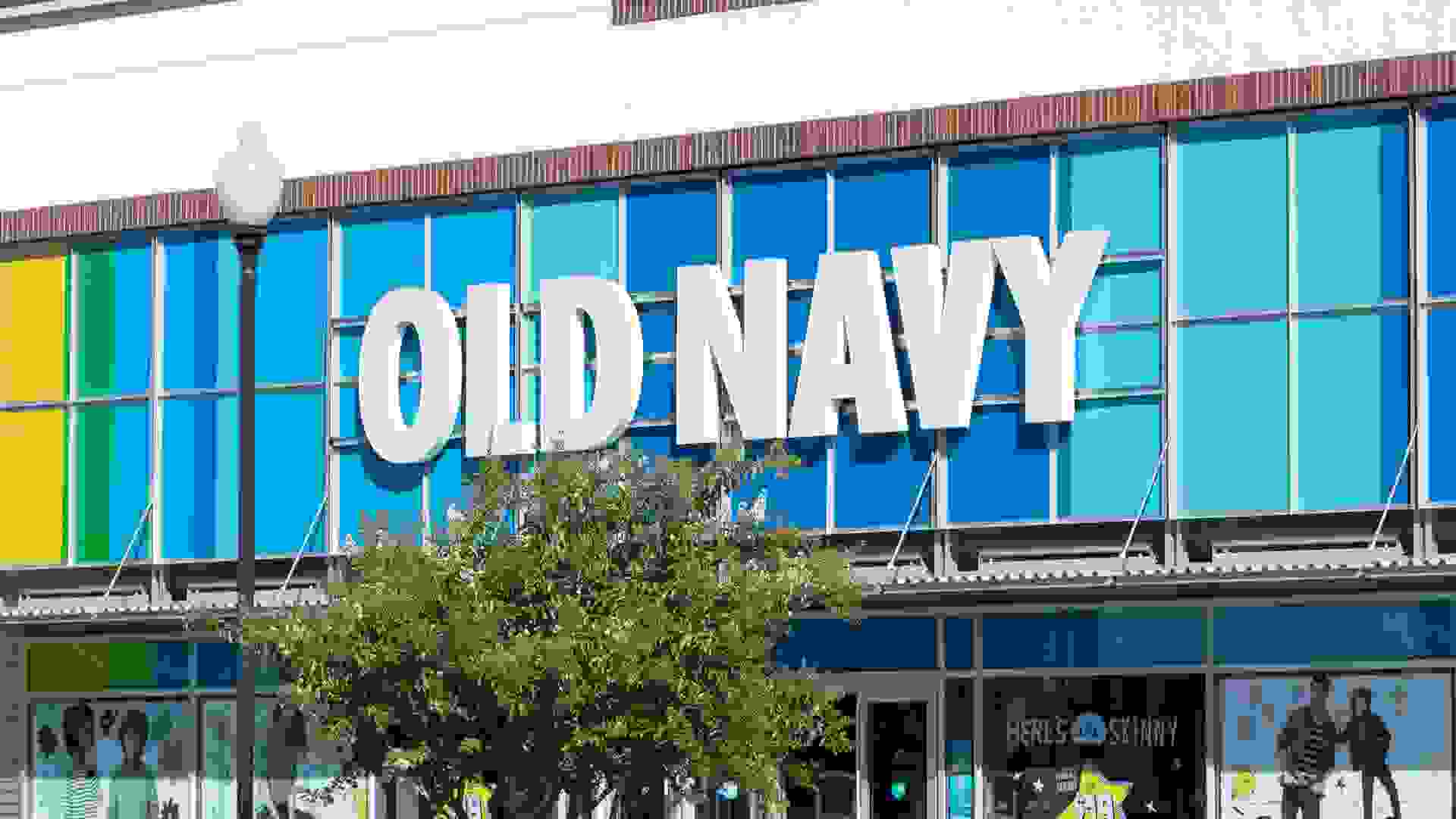 Every customer has their own favorite brands. Walking through the aisles of a grocery store, you no doubt gravitate to certain brand names more than others. What you might be surprised to learn is that a lot of the "independent" brands you support are actually owned by giant, multinational companies. This is particularly true of food and beverage products, where just 10 corporations control almost every brand you know.
To see which companies own popular products, click through to take this quiz.
Make Your Money Work Better for You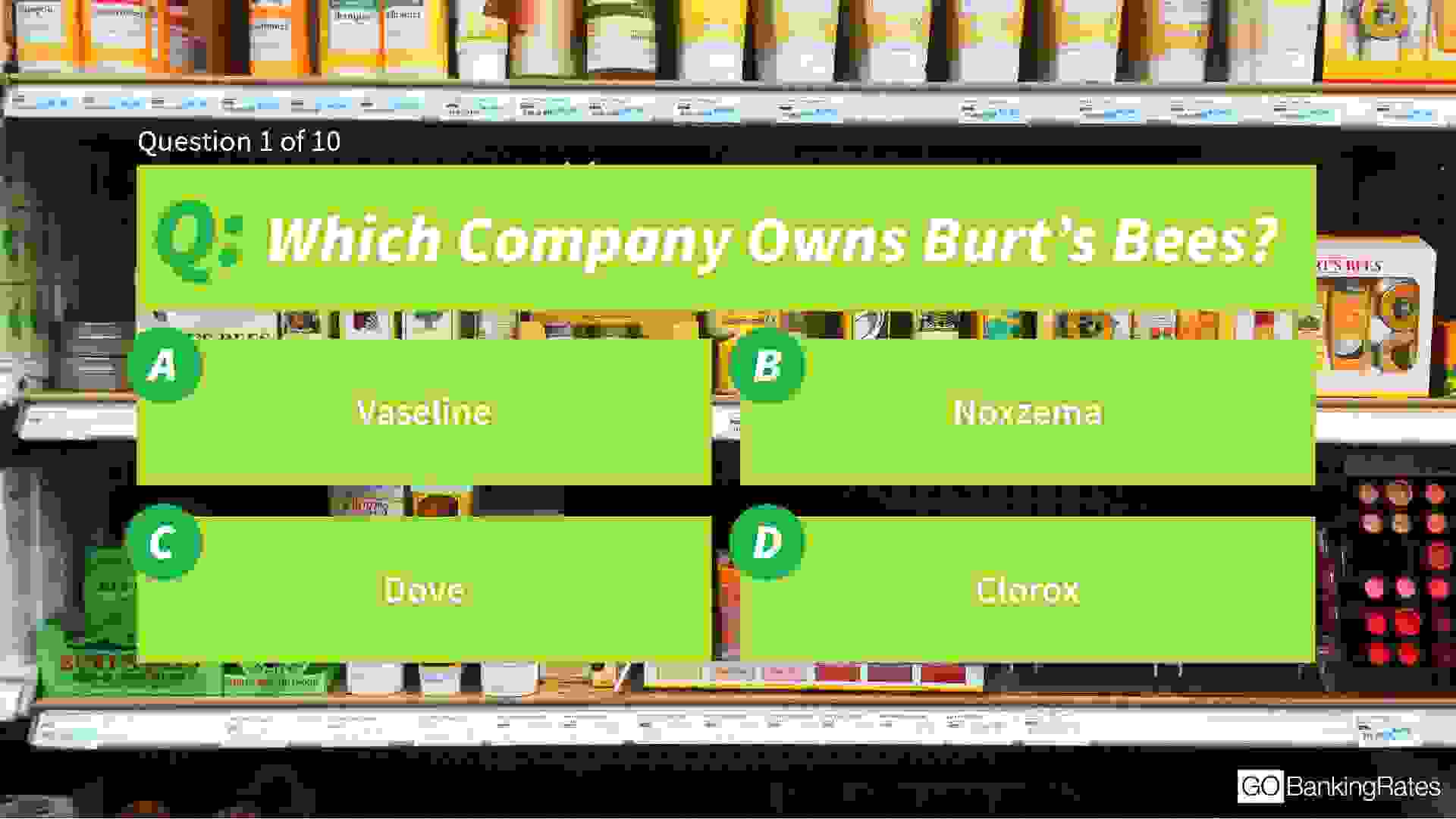 1. Which Company Owns Burt's Bees?
a) Vaseline
b) Noxzema
c) Dove
d) Clorox
Burt's Bees is an American brand that began making candles out of unused beeswax from local hives in 1984. Eventually, the company expanded its offerings to a wide range of beeswax products, including its iconic lip balm. From a modest start, the company was bought out by a large corporation in 2007 for $970 million — but which famous company made the acquisition?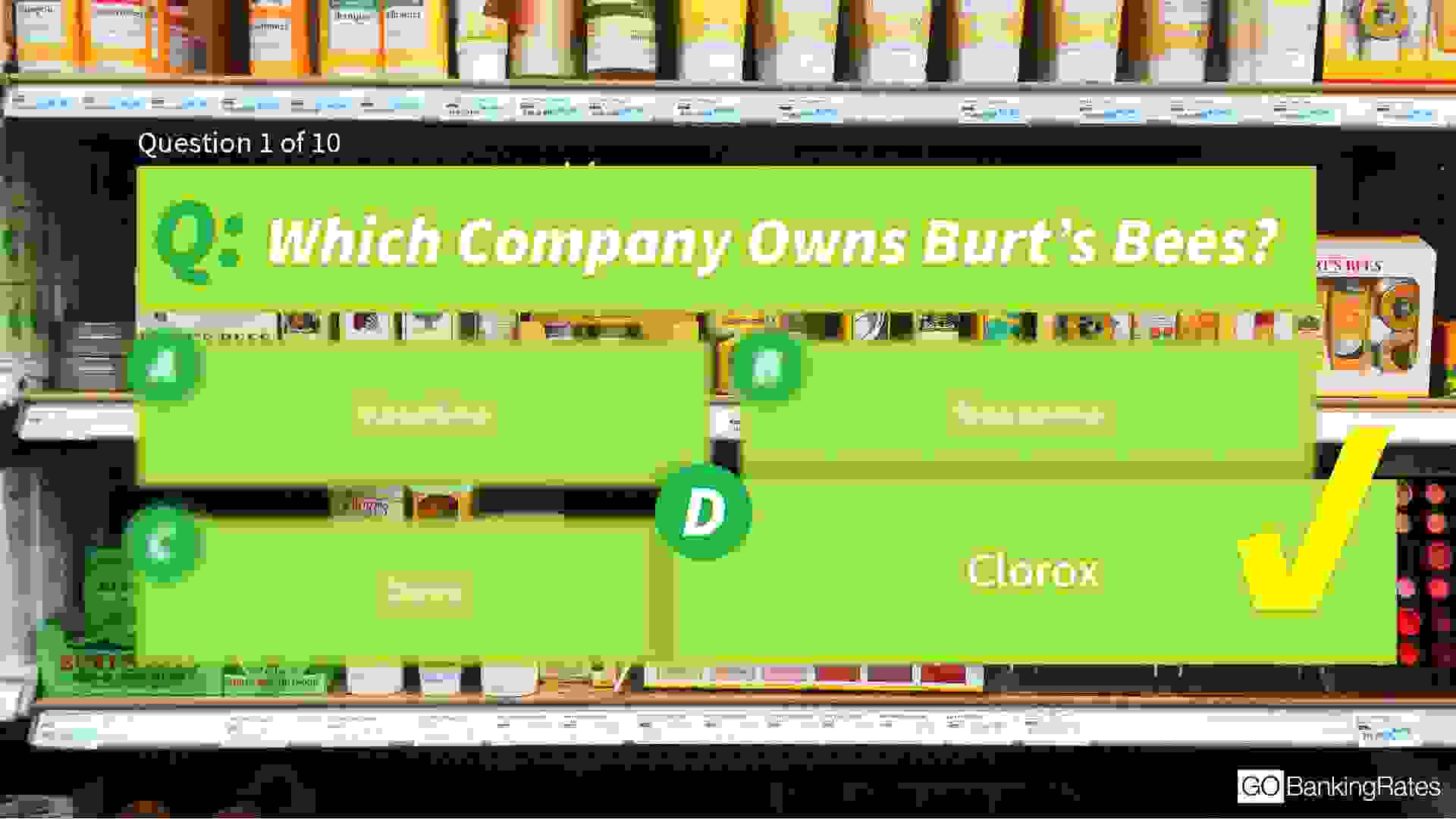 Answer: d) Clorox
Yes, the world-famous maker of bleaches, disinfectants and cleansers, including Formula 409 and Liquid-Plumr, spent nearly $1 billion to buy out the Burt's Bees line of beeswax personal care products. Sadly, legendary Burt's Bees founder Burt Shavitz — whose picture you see on Burt's Bees packaging — sold his half of the company to his partner Roxanne Quimby in 1999 for just $130,000. Quimby did toss $4 million Shavitz's way upon the sale but still pocketed $173 million as her share.
Burt's Bees is one of the many brands owned by this company that contributes to Clorox Chairman and CEO Benno Dorer's massive salary.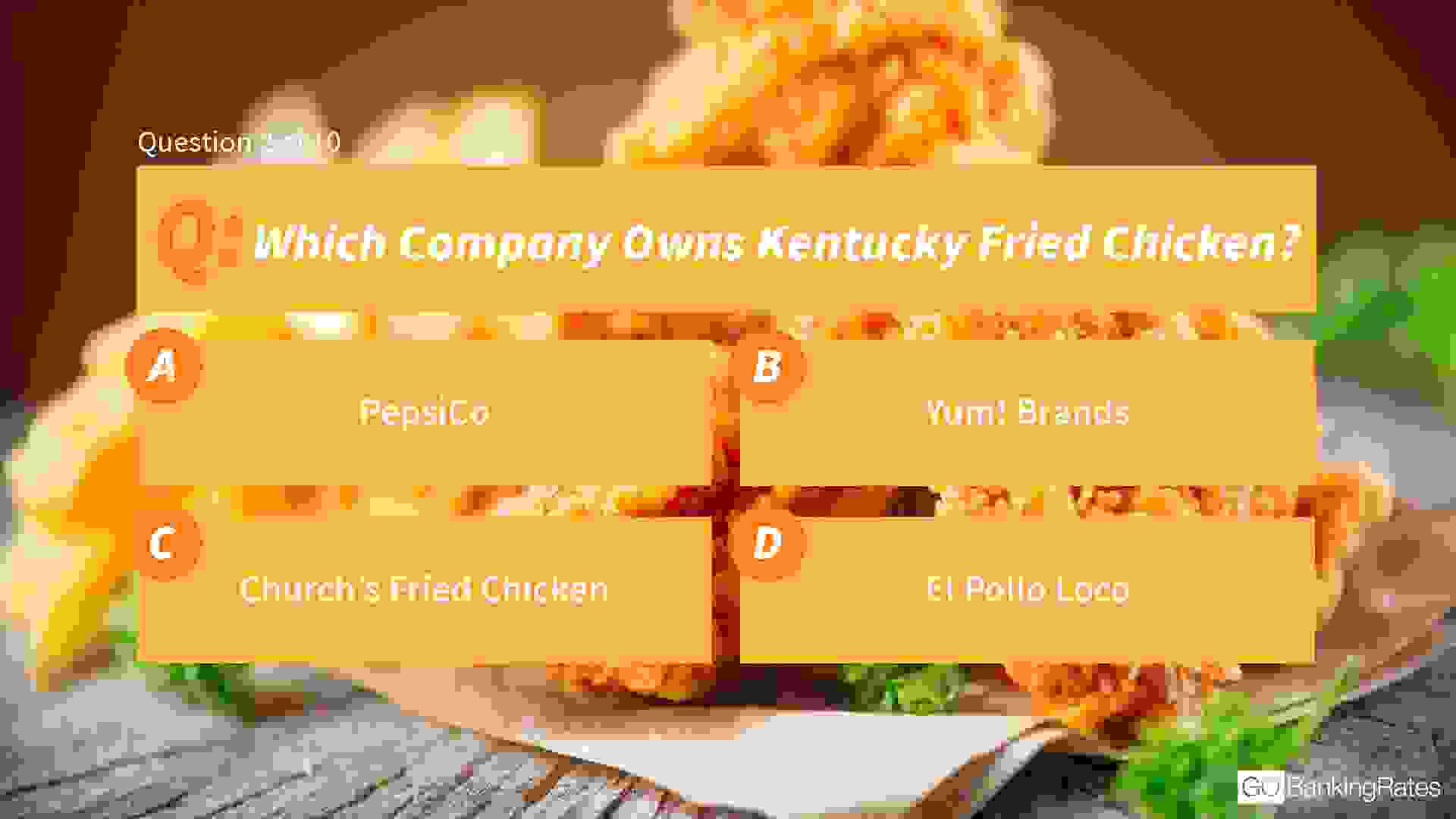 2. Which Company Owns Kentucky Fried Chicken?
a) PepsiCo
b) Yum! Brands
c) Church's Fried Chicken
d) El Pollo Loco
Kentucky Fried Chicken is an iconic American brand, as is its iconic founder, Colonel Harland Sanders. From humble origins in Louisville, Kentucky, KFC has grown to be the most popular chicken restaurant chain the world, boasting over 20,500 KFC outlets in more than 125 countries and territories around the world. But which other company is now the proud owner of KFC?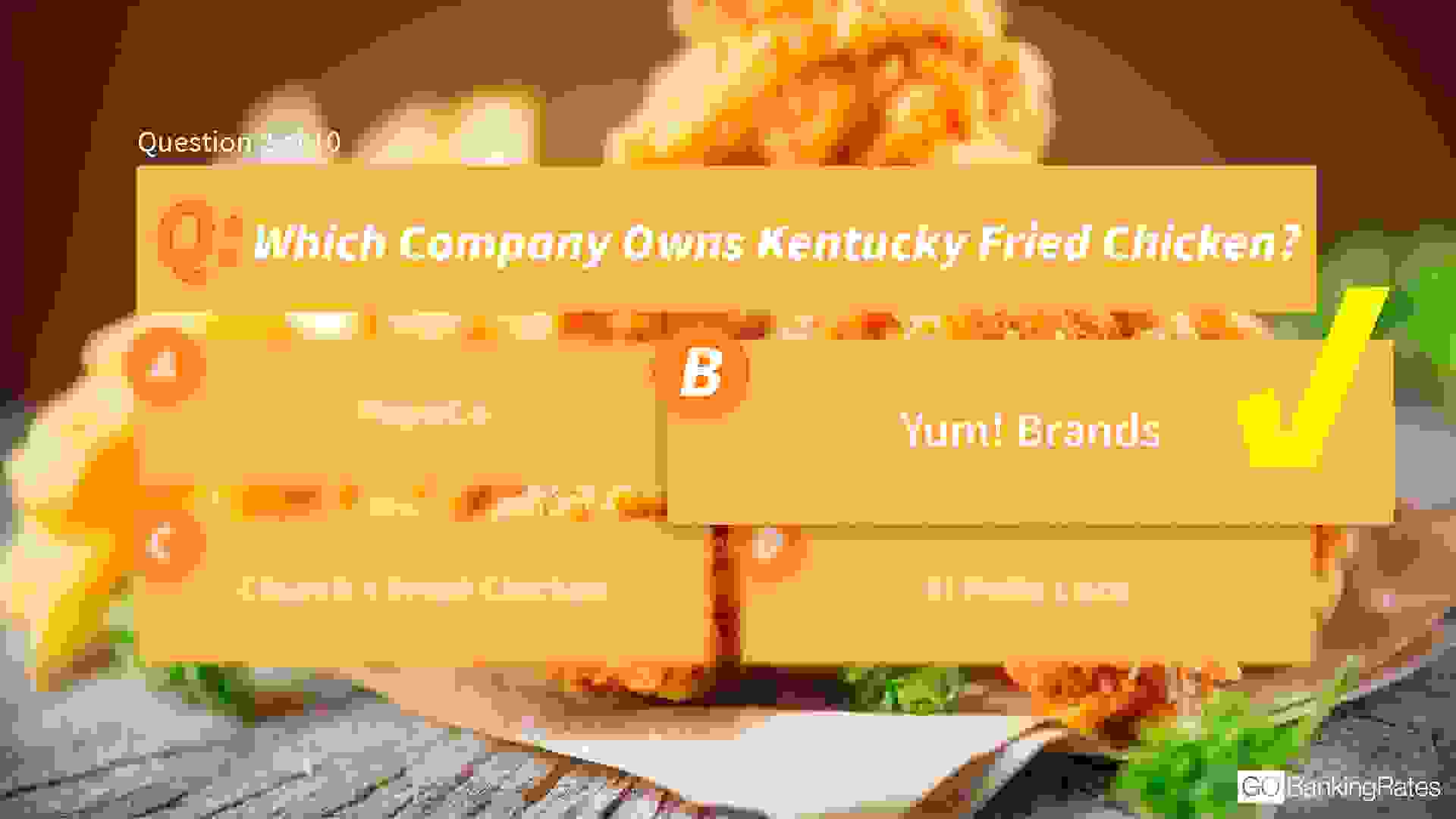 Answer: b) Yum! Brands
Yum! Brands might sound like a made-up name, compared to industry stalwarts like El Pollo Loco, but Yum! is one of the global leaders in the fast food industry. In addition to KFC, Yum! Brands also owns fast-food joints Taco Bell and Pizza Hut. You get partial credit if you chose PepsiCo as your answer — Yum! Brands was spun off from parent company PepsiCo in 1997.
Make Your Money Work Better for You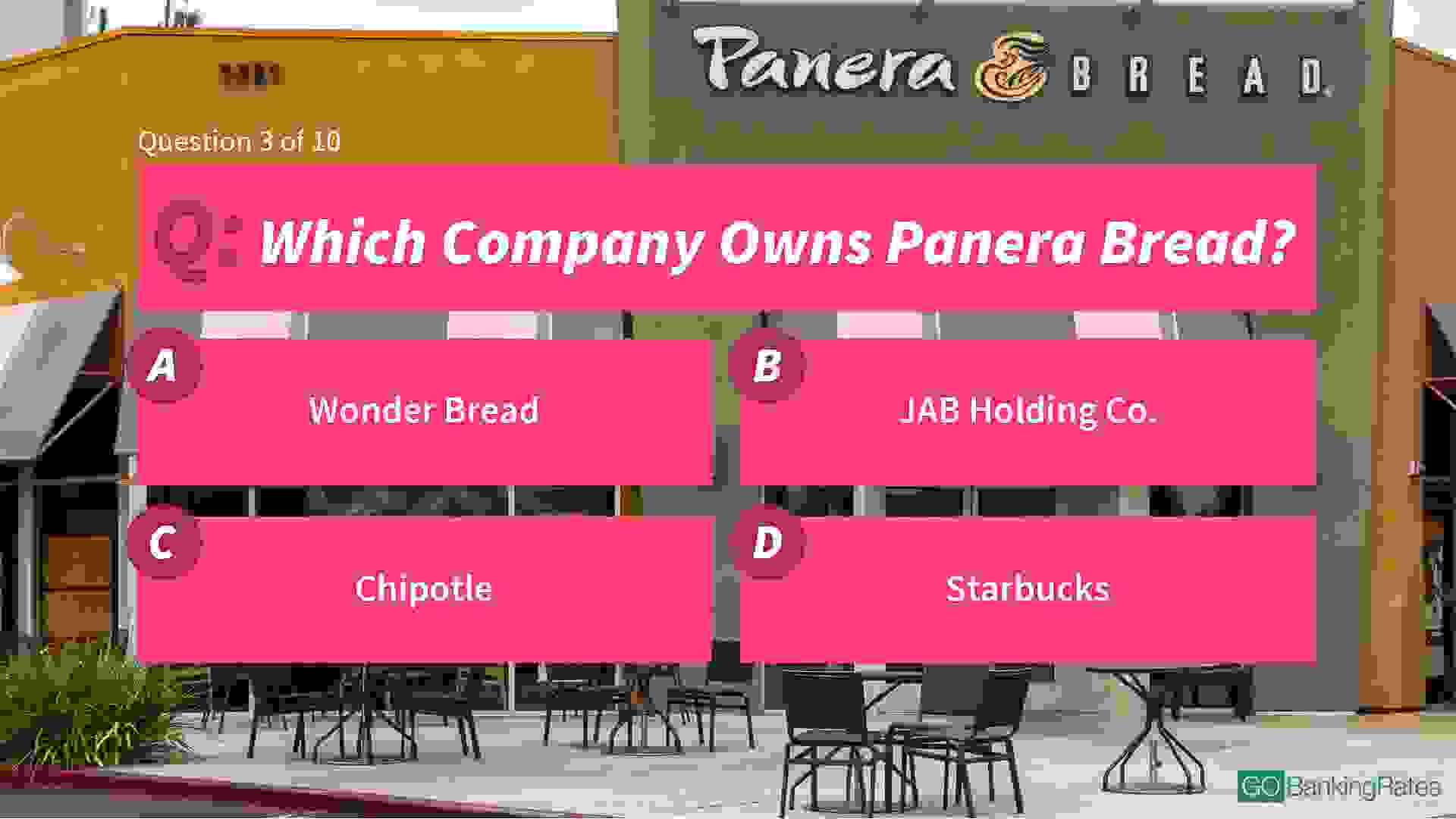 3. Which Company Owns Panera Bread?
a) Wonder Bread
b) JAB Holding Co.
c) Chipotle
d) Starbucks
Panera Bread has made a lot of money for investors since its initial public offering in 1999, returning more than 8,000 percent for those lucky enough to buy in at the start. The fast-casual soup-and-sandwich chain has been one of the most successful restaurants in history, which triggered a stock market buyout. Which company footed the bill?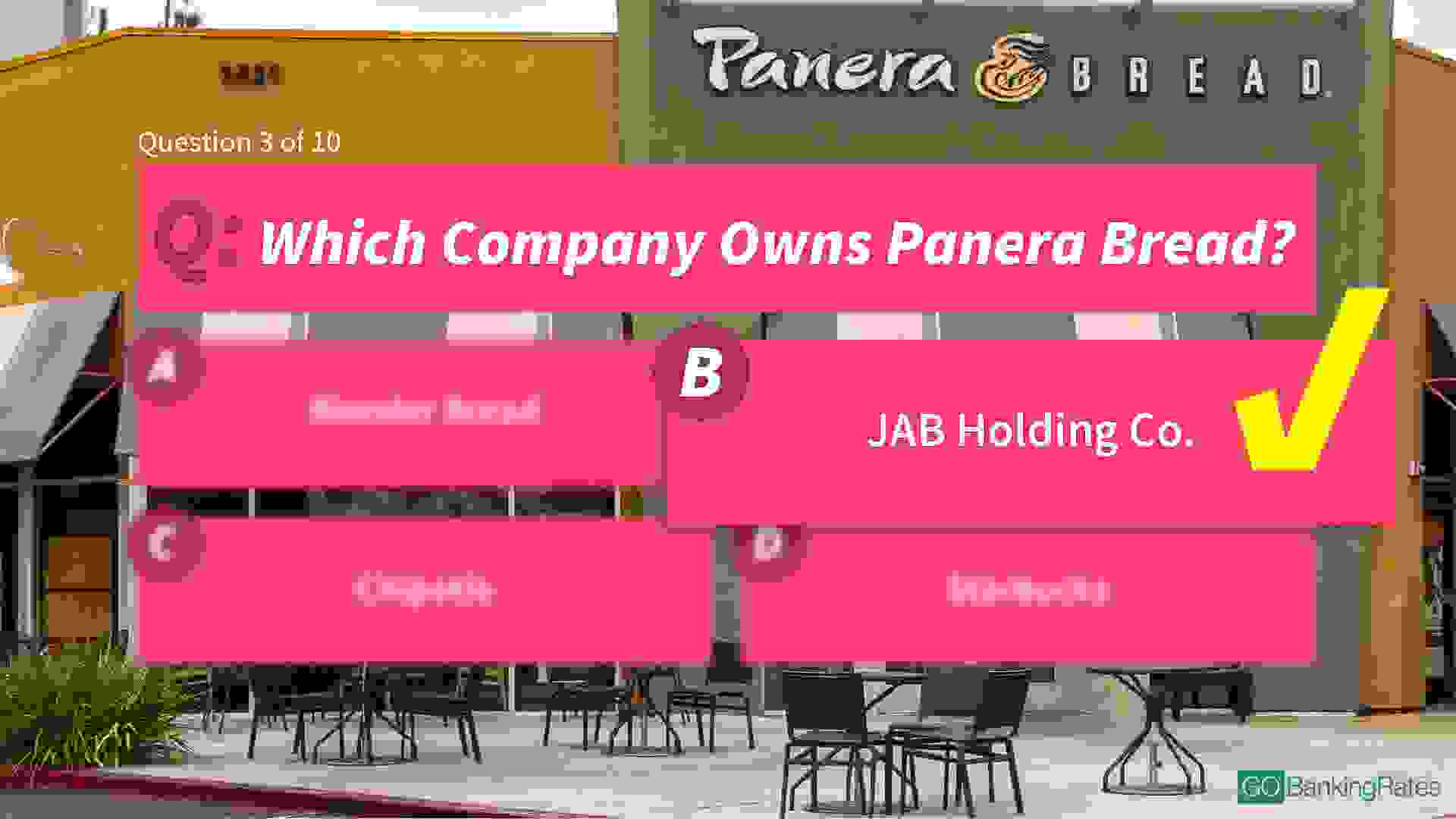 Answer: b) JAB Holding Co.
You might not have heard of JAB Holding Co., with good reason. JAB Holding Co. is not a publicly traded company, but rather a private equity firm. You've no doubt heard of some of their other holdings, however. When JAB Holding Co. paid $7.5 billion to acquire Panera in 2017, it added the chain to its roster of popular American brands that include Peet's Coffee, Keurig Green Mountain, Krispy Kreme, Einstein Bros. Bagels and Noah's New York Bagels.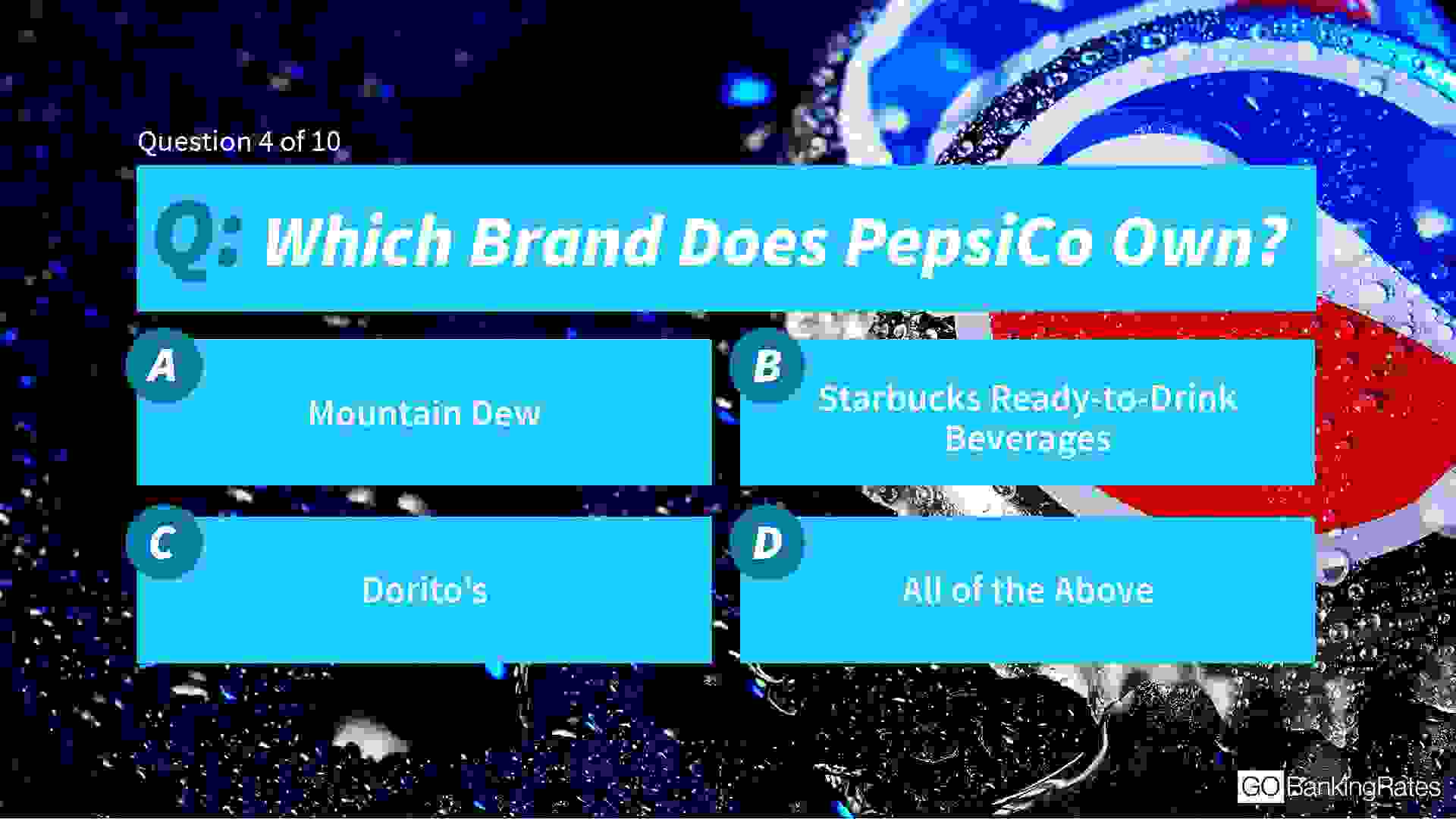 4. Which Brand Does PepsiCo Own?
a) Mountain Dew
b) Starbucks Ready-to-Drink Beverages
c) Dorito's
d) All of the above
PepsiCo has been a soda and snack giant for decades, tracing its history back to pharmacist Caleb Bradham in the late 1890s.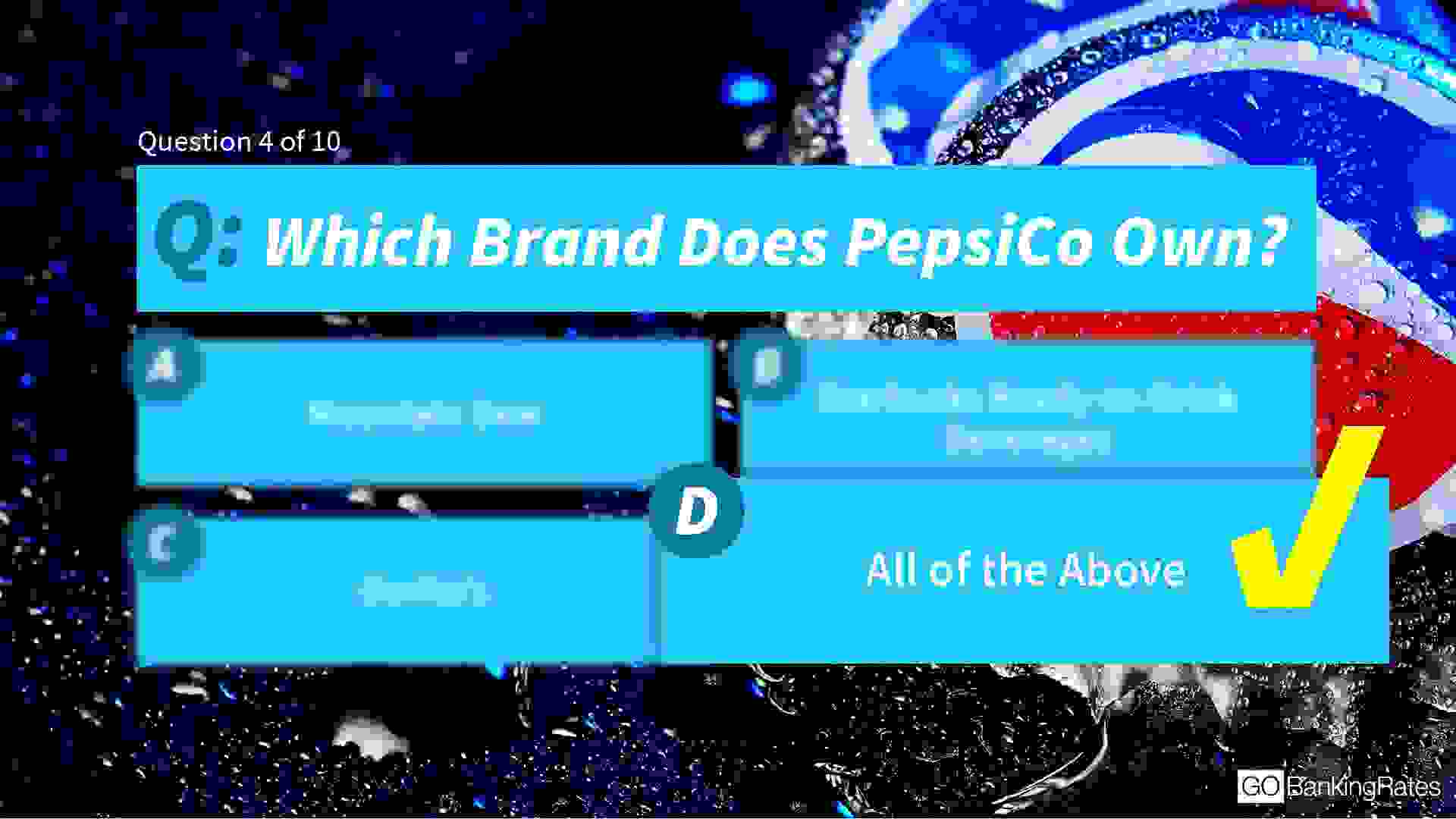 Answer: d) All of the Above
PepsiCo expanded from soda giant to snack food giant in 1965 when it merged with Frito-Lay. The company now owns a large portion of the snack market, with brands including Lay's, Tostitos and Cheetos. However, the company is also a major player in the non-soda beverage category, owning Aquafina, Gatorade and Lipton teas.
Don't Miss: 9 Safe Stocks for First-Time Investors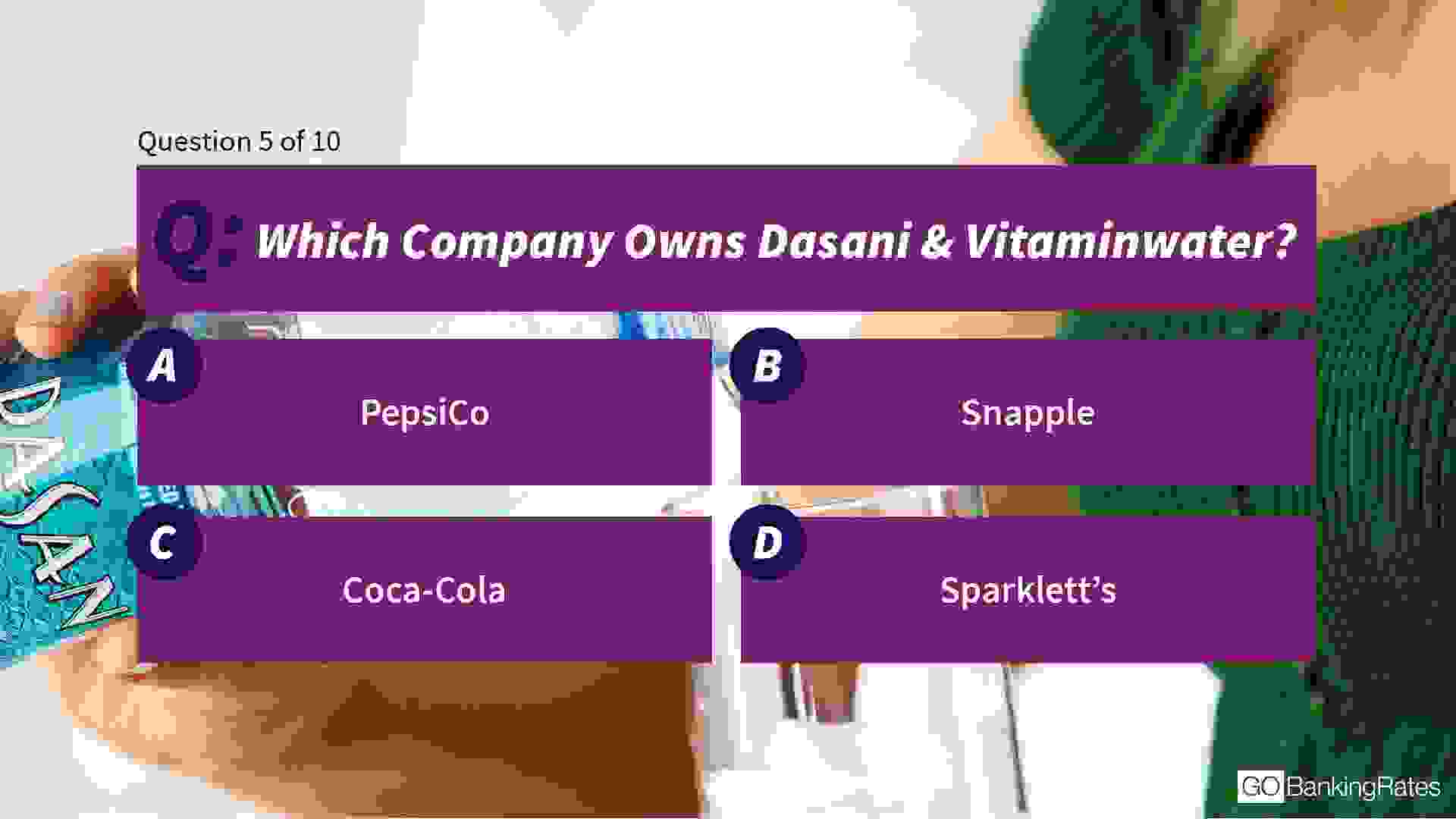 5. Which Company Owns Dasani and Vitaminwater?
a) PepsiCo
b) Snapple
c) Coca-Cola
d) Sparklett's
Dasani and Vitaminwater have become huge sellers in the U.S., as Americans trend away from sugary sodas toward bottled water and alternative beverages. As they share a similar product niche, it's not too much of a stretch to imagine Dasani and Vitaminwater in the same corporate household; the question is, who is the landlord?
Make Your Money Work Better for You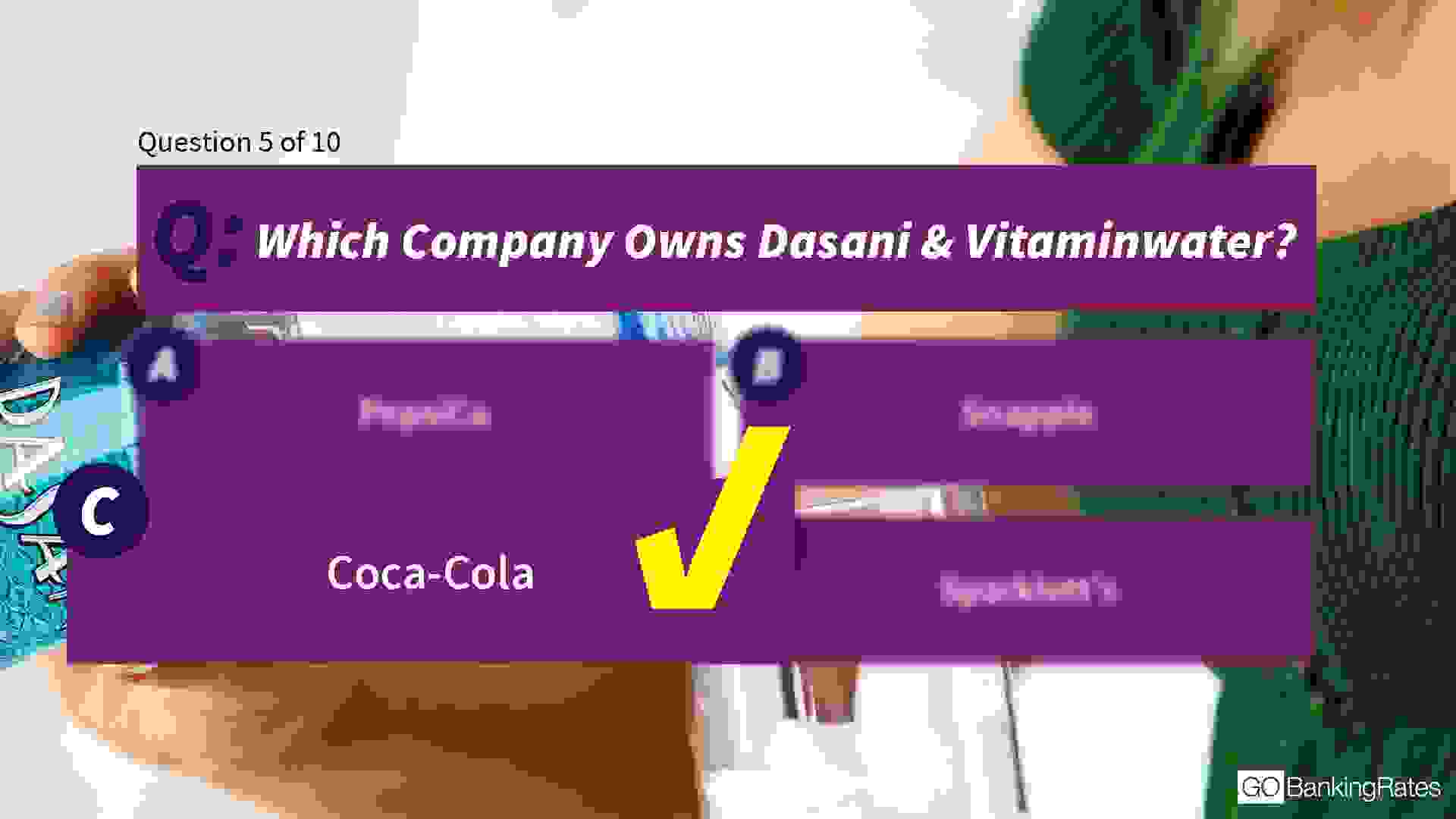 Answer: c) Coca-Cola
Not to be outdone by archrival PepsiCo, Coca-Cola owns its own line of non-soda beverages, and Dasani and VitaminWater are just the tip of the iceberg. Such well-known brands as Minute Maid, Odwalla, Smartwater, Powerade and Honest Tea all fall under the Coca-Cola corporate banner. Together, all Coca-Cola brands generated over $35 billion in sales in 2017 alone.
Find Out: What $1,000 Invested in Coca-Cola 10 Years Ago Is Worth Now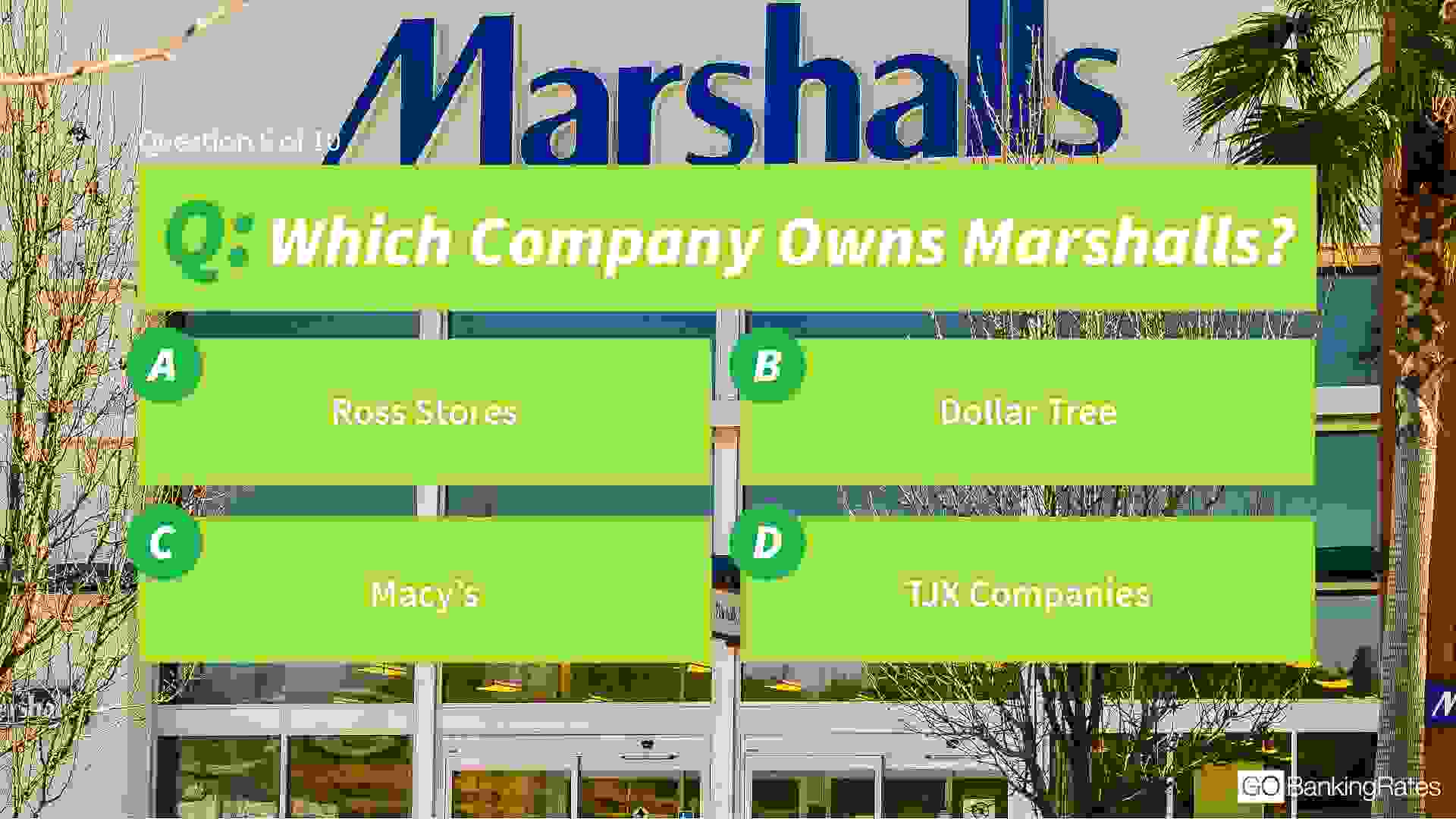 6. Which Company Owns Marshalls?
a) Ross Stores
b) Dollar Tree
c) Macy's
d) TJX Companies
Marshalls is a leading retailer of off-price merchandise, trolling in the same waters as fellow discounter Ross Stores. Marshalls was bought out in 1995, however, so the question is, who was the acquirer?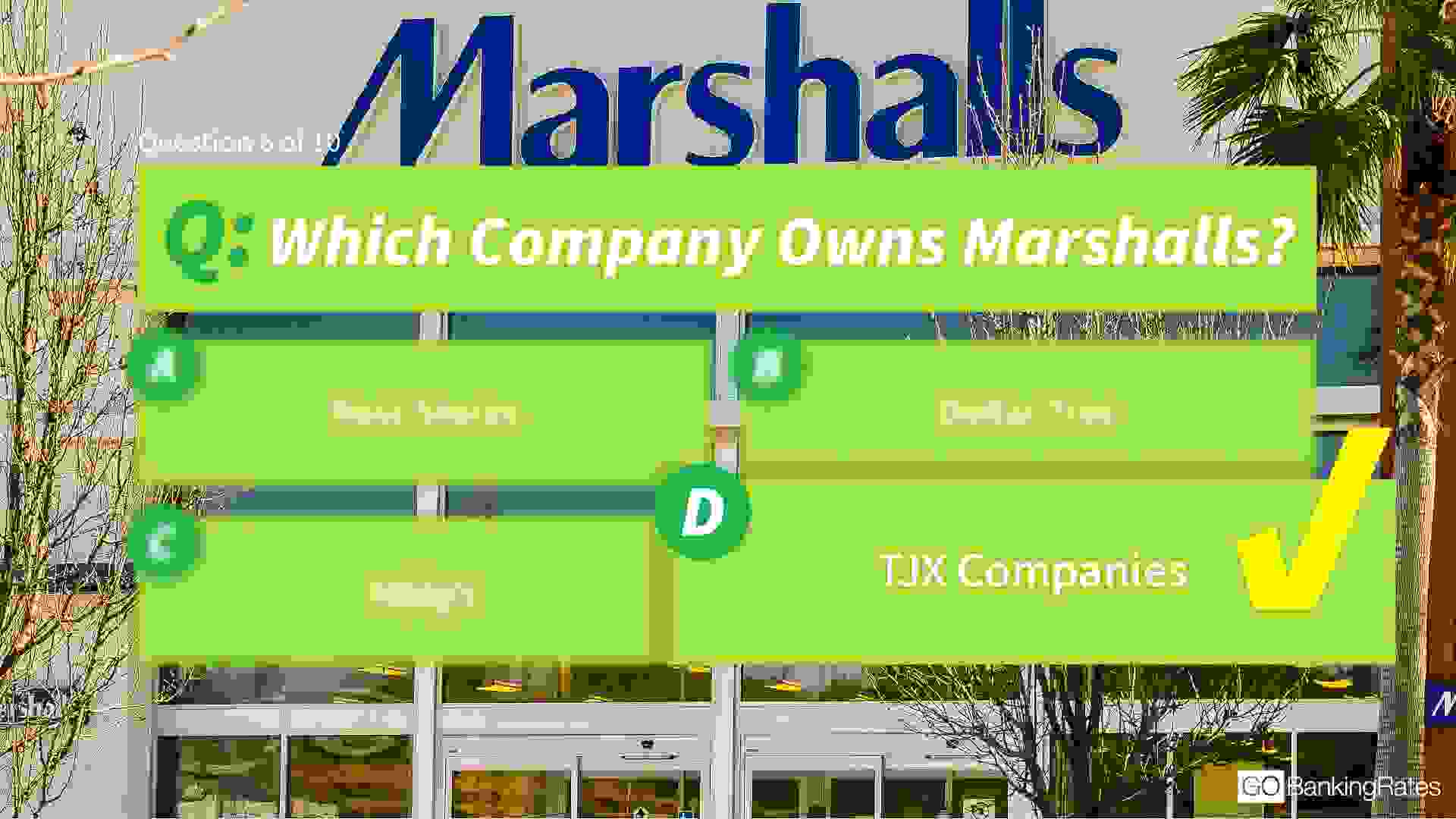 Answer: d) TJX Companies
Although you won't always see a partner store next door, if you find a Marshalls, you'll often see either a Home Goods or a T.J. Maxx nearby, as they are all part of the universe that makes up TJX Companies. The company also owns Sierra Trading Post and Home Sense in the United States, along with Winners in Canada. With all of its individual units combined, the company earned over $33 billion in revenue in 2017, almost as much as the Coca-Cola Co.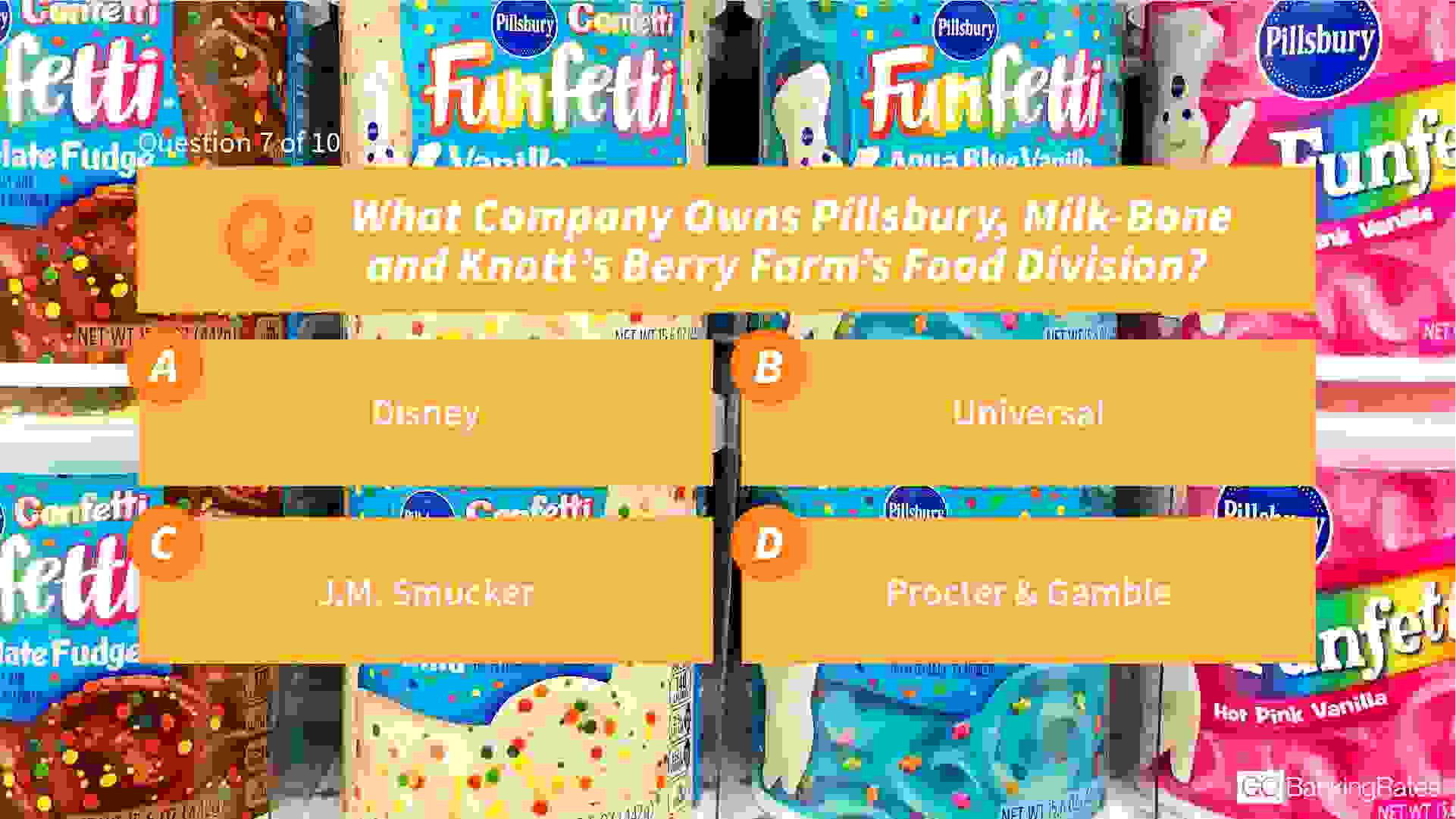 7. What Company Owns Pillsbury, Milk-Bone and Knott's Berry Farm's Food Division?
a) Disney
b) Universal
c) J.M. Smucker
d) Procter & Gamble
Pillsbury is an iconic American brand, known as much for the Pillsbury Doughboy as for its recipes and baked goods. Milk-Bone dog biscuits have been around since 1908. Knott's Berry Farm was America's first theme park and occupies 160 acres in Southern California. What company has its toe in all of these diverse brands?
Make Your Money Work Better for You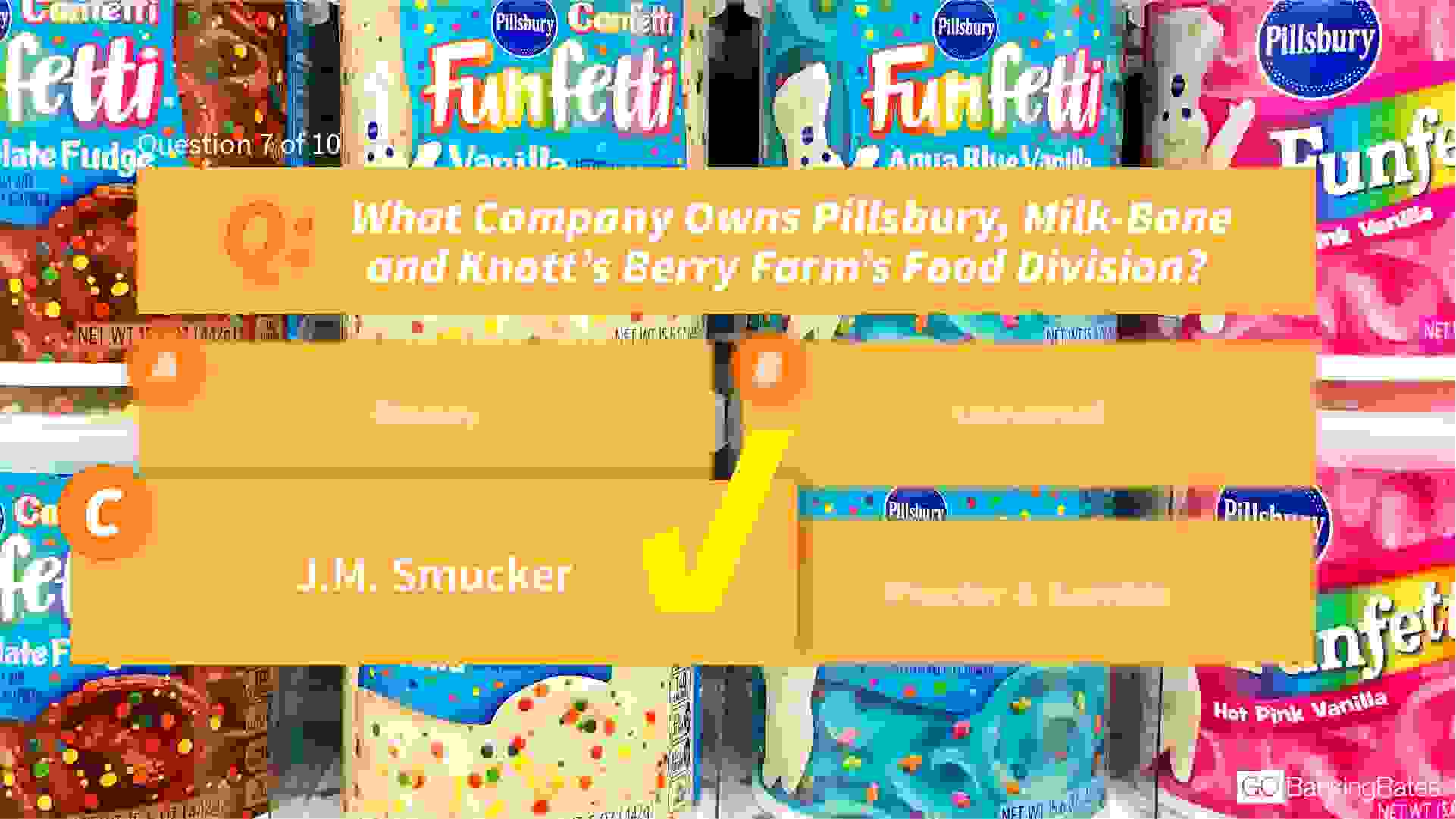 Answer: c) J.M. Smucker
The name J.M. Smucker might not exactly roll off the tongue, but this diverse conglomerate owns plenty of companies that can make your tongue — and your stomach — happy. In addition to its namesake brand of jams, J.M. Smucker owns such common pantry brands as Hungry Jack, Crisco, Jif, Carnation and Laura Scudder's. The company also owns a number of coffee and pet food brands, ranging from Folger's to Milk-Bone. Thanks to its ownership of the food division of Knott's Berry Farm, you'll find plenty of other J.M. Smucker brands for sale at the theme park of the same name.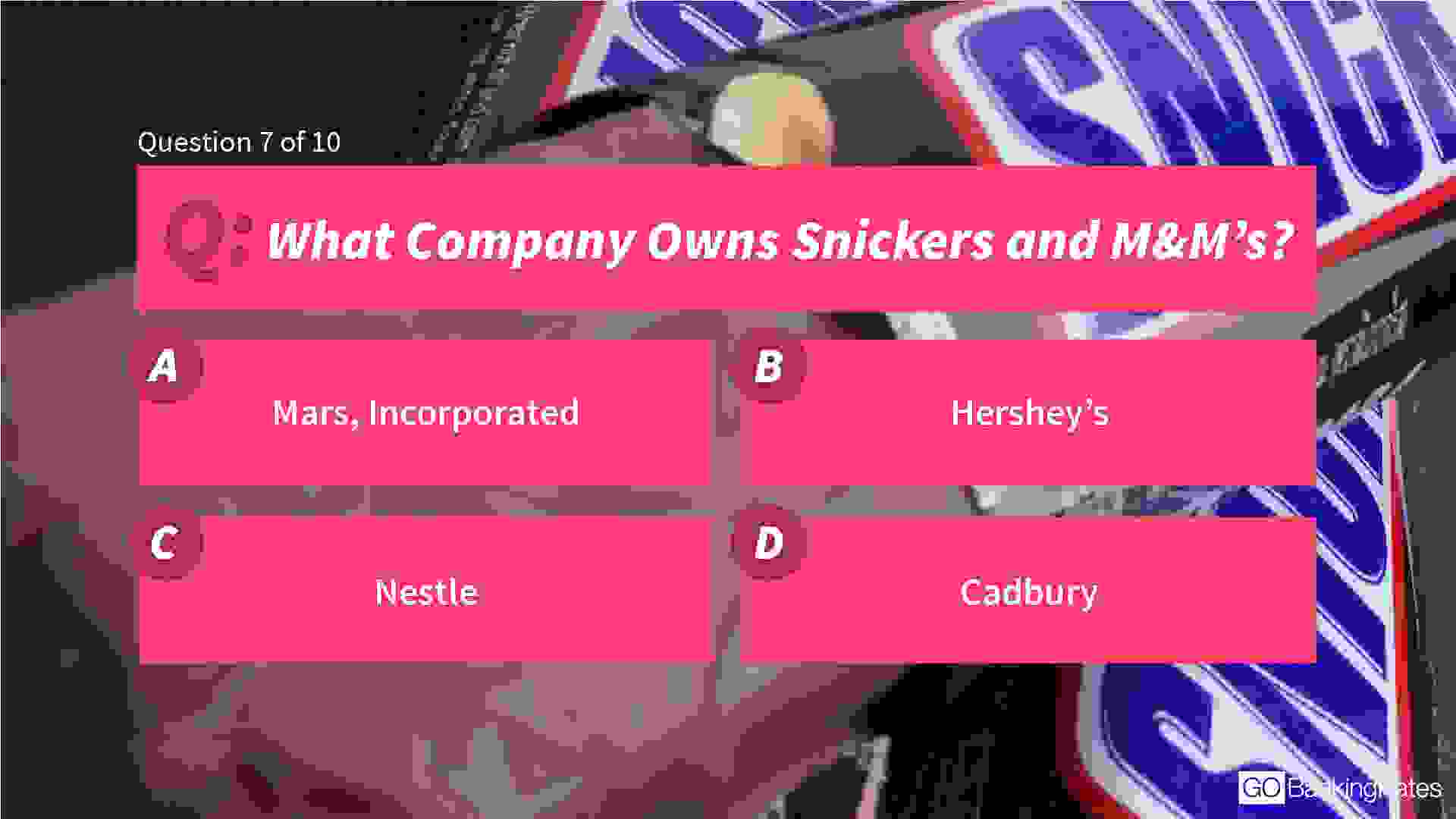 8. What Company Owns Snickers and M&M's?
a) Mars, Incorporated
b) Hershey's
c) Nestle
d) Cadbury
Snickers is the top-selling chocolate candy in the United States, as of 2017, and Peanut M&M's rank No. 5. The two brands are siblings, however, not rivals, which are owned by the same giant candy conglomerate. Which of your favorite brands is the parent company of the No. 1 chocolate bar in America?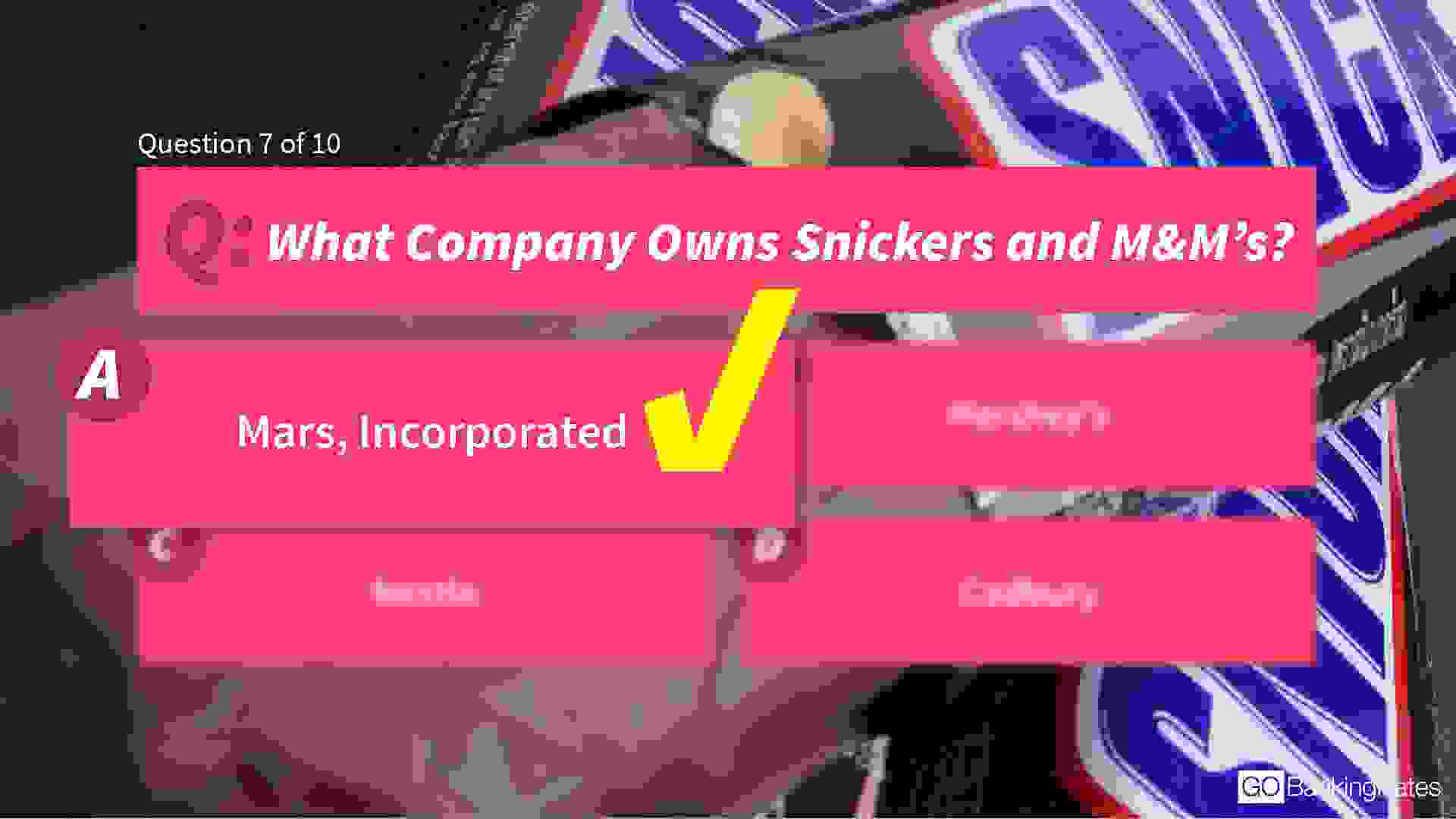 Answer: a) Mars, Incorporated
The Mars bar was created in England in 1932 but vanished from the U.S. market in 2002, although it can still be found in limited locations. It's a good thing Snickers and M&M are around to carry the load, along with other top-selling brands that might surprise you, such as Cesar pet food, Wrigley's chewing gum and Kan Tong sauces. As of 2017, Mars and its subsidiary companies were by far the biggest-selling confectioners in the world.
Just the Facts: This Is No Joke — The Weirdest Money Fact About Each State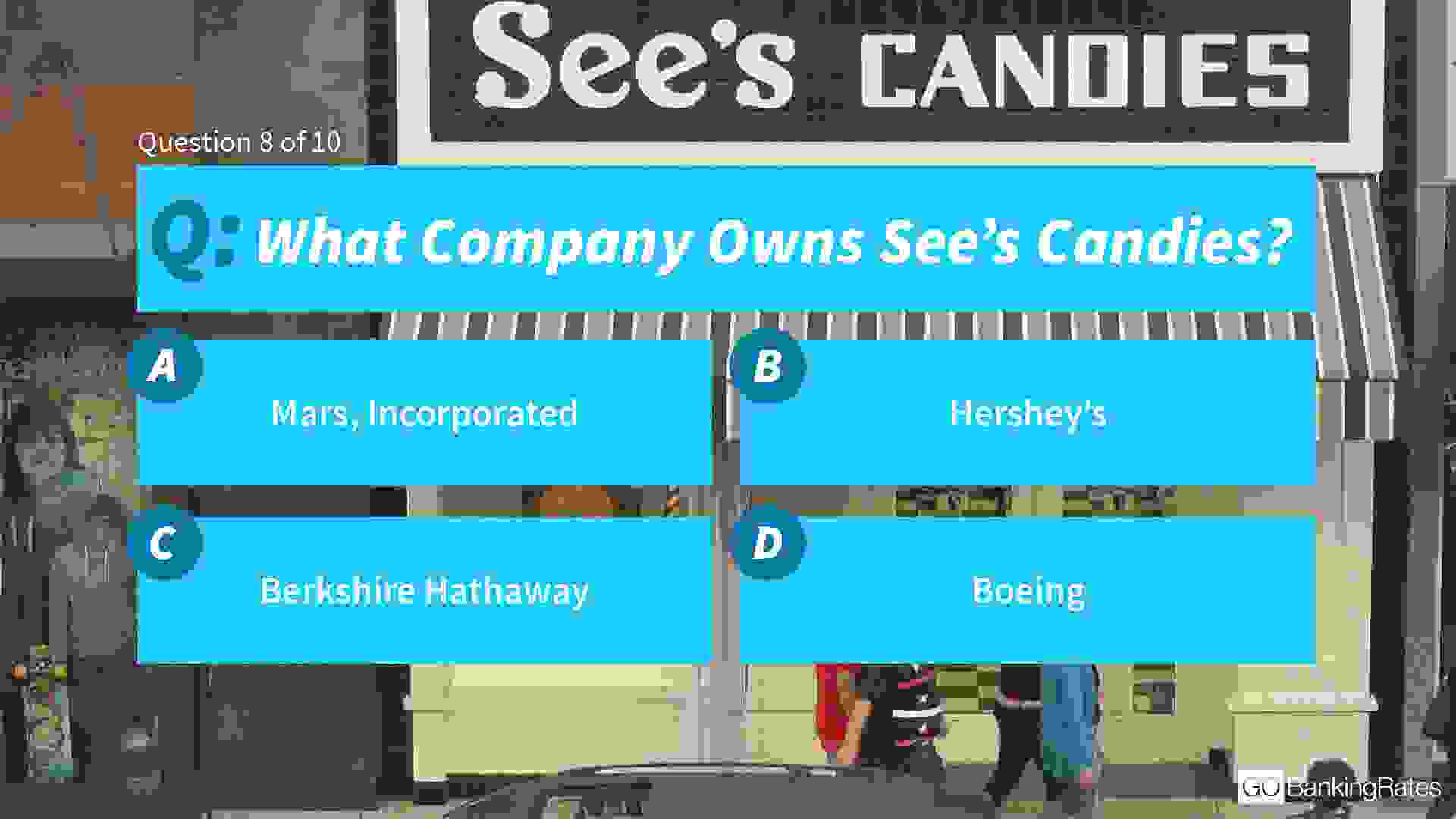 9. What Company Owns See's Candies?
a) Mars, Incorporated
b) Hershey's
c) Berkshire Hathaway
d) Boeing
Founded by Charles See in 1921, the nearly 100-year old company was sold in 1972 for $25 million. Since then, the company has generated more than $2 billion in pretax profits. Needless to say, the company that bought See's has an eye for a good opportunity. Which giant company made the shrewd decision to acquire See's Candies?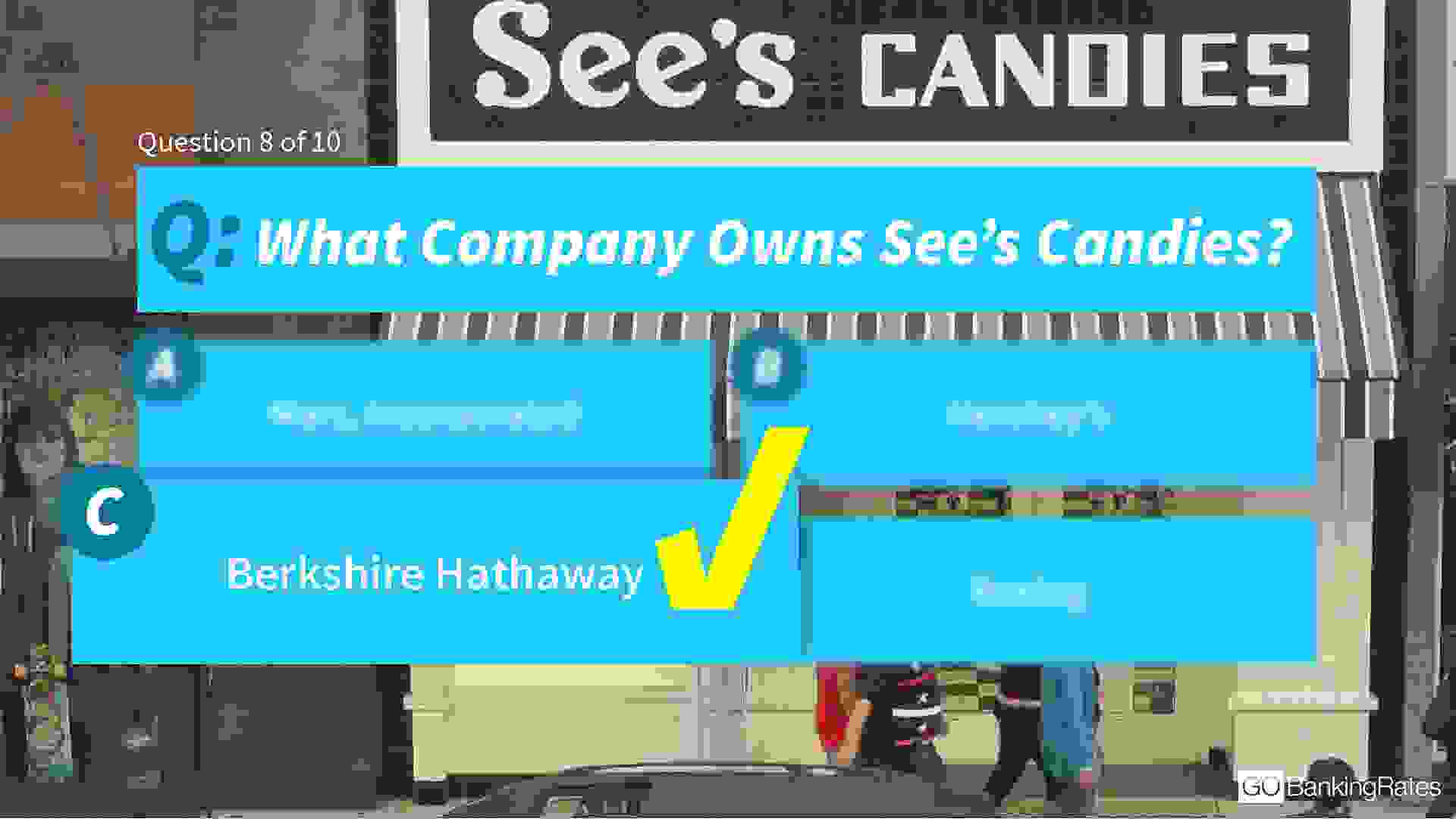 Answer: c) Berkshire Hathaway
The name Berkshire Hathaway might not ring any bells unless you've bought insurance or real estate through the company. But you might be familiar with its most famous CEO, Warren Buffett. Known as "The Oracle of Omaha," Buffett is one of the most famous investors of all time. Berkshire Hathaway owns many businesses but also invests in stocks hand-picked by Mr. Buffett and his investment committee. Famous holdings include Wells Fargo, Apple, Coca-Cola, Bank of America, American Express — and See's Candies.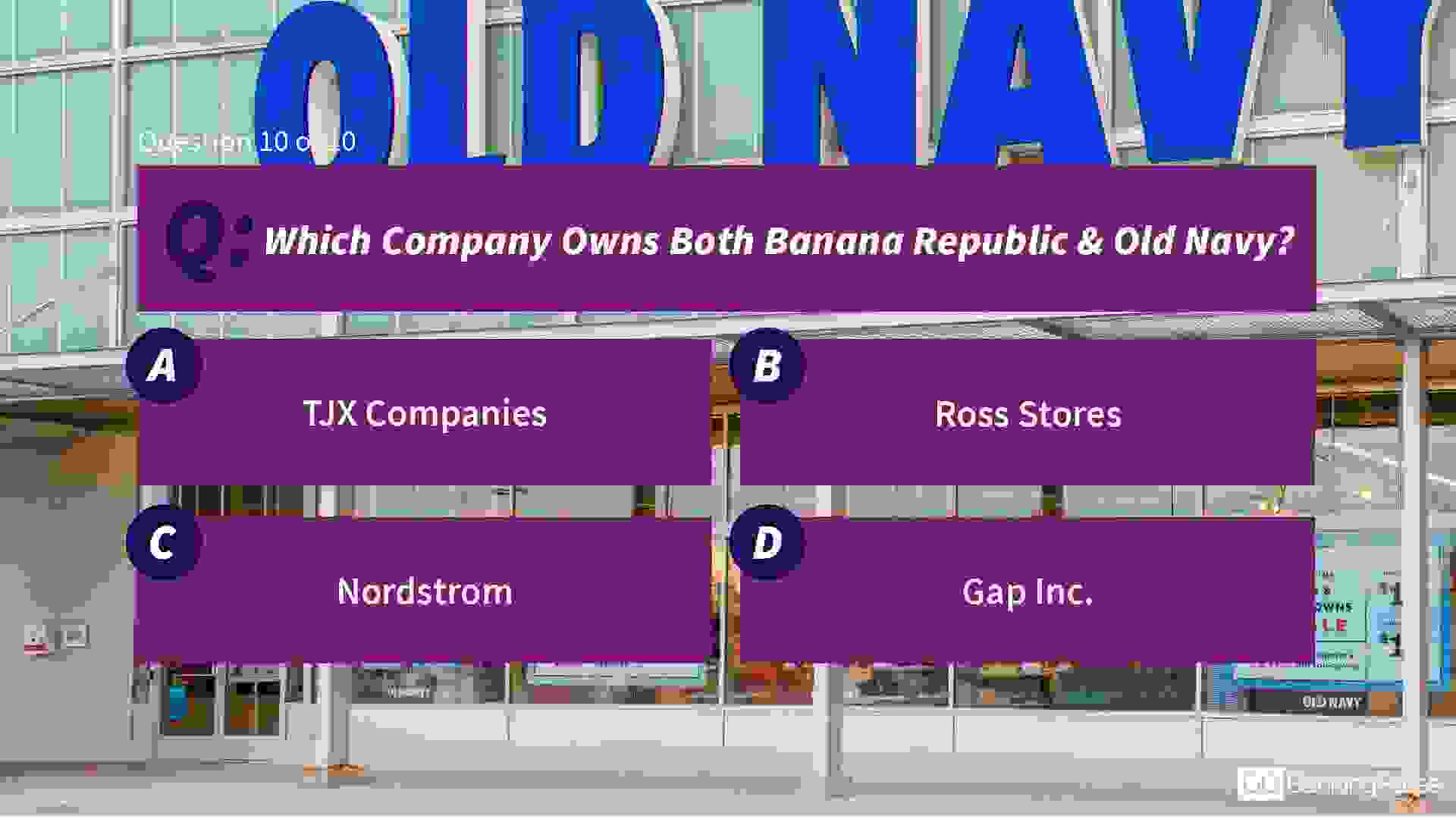 10. Which Company Owns Both Banana Republic and Old Navy?
a) TJX Companies
b) Ross Stores
c) Nordstrom
d) Gap Inc.
Banana Republic and Old Navy serve two different types of shoppers. Old Navy is a cost-conscious clothing retailer, while Banana Republic is more of an upscale brand. Both brands coexist, however, under the umbrella of a third retailer. Which one on the list calls the shots for Old Navy and Banana Republic?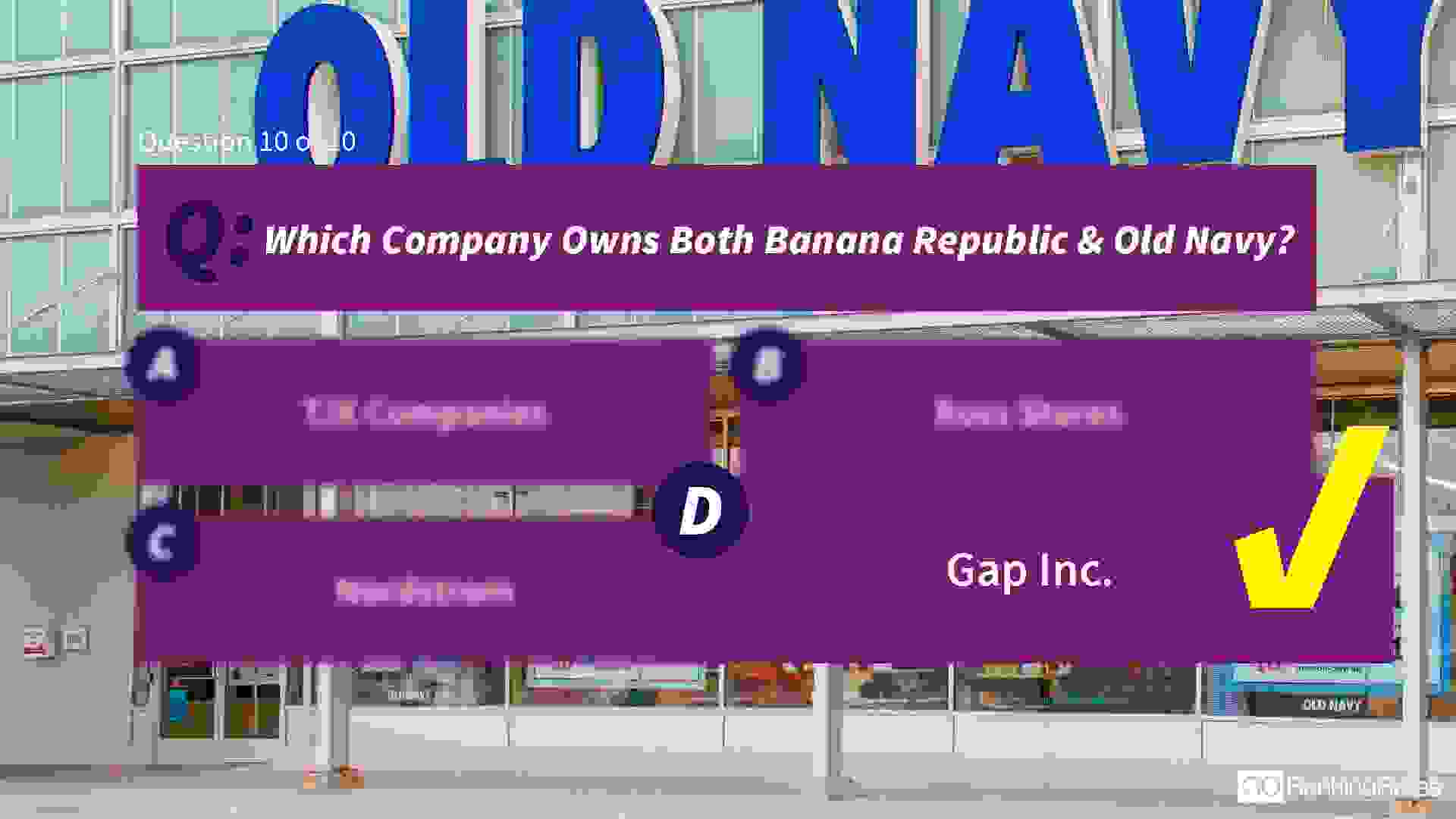 Answer: d) Gap Inc.
Gap Inc. traces its roots to 1969, when founders Doris and Don Fisher opened the store, reputedly, because Don couldn't find a pair of jeans that fit right. Gap Inc. went public in 1976, and the company bought Banana Republic in 1983. Old Navy was a homegrown creation, developed internally at by Gap Stores in 1994. The company is also the parent of brands Athleta, Weddington Way and Intermix.
About the Author