Why It's More Important Than Ever To Support Your Local Small Businesses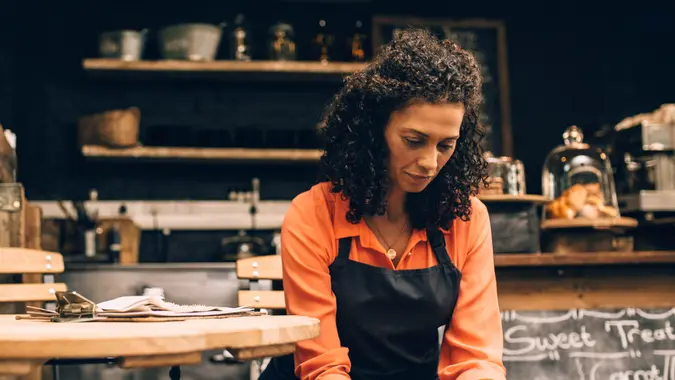 Goodboy Picture Company / Getty Images
At the start of the global pandemic, there was a flurry of attention around the struggles of small businesses. But now, more than a year and a half into the "new normal," the frenzy has died down and the plight of small businesses is going largely ignored.
Your Voice: Nominate Your Favorite Small Business To Be Featured on GOBankingRates
2021 Small Business Spotlight: Check Out Our Small Business Stories, Plus the Nominated Businesses Near You
"Initially, there were a lot of people who came out in support of small businesses," said Jiten Thakkar, founder of Local Forever. "But as time passes by, we have all become slightly complacent and not realizing that it would take months for many businesses to recover and get back on track."
Yet now more than ever is the time to support small businesses. In May, the Small Business Administration said that the Paycheck Protection Program had run dry, after giving out nearly 10.8 million loans worth more than $780 billion since April 2020.
"It took an exhausting amount of effort to bootstrap and get through the economics of COVID-19 to keep the doors open for most businesses," said Blaire Brown, a brand strategist who specializes in working with female entrepreneurs and small businesses. 
Read: Top Small Businesses for the Month of August
See: This Alabama Baker Is Bringing a Slice of Heaven Down to Earth
Make Your Money Work Better for You
The Delta Variant Poses a Threat
And the Delta variant, which has been wreaking havoc around the country (coupled with a large percentage of Americans remaining unvaccinated), isn't helping any. 
"With the lingering Delta variant in question, small businesses are in a limbo," Brown said. "They want to staff up, but they're also wary of what the Delta could become. Will it be as challenging as last year in quarantine? We can't say." 
But we can say that the Delta variant is already hurting small businesses. 
"Due to COVID-19 and the Delta variant, small businesses are facing a shortage problem," said Kirby Wilkerson, PR and digital marketing director at The Impact Kind. "Some of our clients are dealing with a chip shortage and, on a larger scale, an employee retention problem."
Help Out: Quick and Easy Ways To Support Small Businesses Today
Big Names, Small Biz: Big Names Committed To Saving Small Businesses in the Pandemic
Small Businesses May Have Trouble With Employee Retention
Among his small-business clients, Wilkerson also observes difficulty in attracting and maintaining staff. 
Make Your Money Work Better for You
"Hiring and retaining talent is a piece that one would think is easier due to many people out of work, but people are choosing to not work in the same capacities," Wilkerson said. "This choice to not work is rippling throughout the U.S. Higher salaries are not even answering the demand for high quality talent. Small business owners need to really lure their talent with a story that makes them believe their company, their brand is one where growth happens, and talent can make an impact and yield results that are not just monetary."
Supporting Small Businesses Matters for the Whole Economy
By supporting small businesses, we're not only helping keep our local community thriving, we're boosting the economy at large.  
"According to the Small Business Association, small businesses in America make up 44% of our U.S. economy," Wilkerson said. "And according to a SCORE survey, only 34% of small businesses have reported a profit [in 2021] when last year 55% of them were profitable."
Find Out: How Much Small Businesses Contribute To Your Neighborhood vs. Amazon
Learn: How Small-Business Struggles Hurt All Americans
Make Your Money Work Better for You
Certain businesses have been hit harder than others, like those in the hospitality sector. 
"Any support we did get from the federal level is gone now, and it's going to take a long time to climb out of this," said Bob Szuter, co-founder of Wolf's Ridge Brewing in Columbus, Ohio. "The federal support has been instrumental in allowing us to stay in business and keep our staff employed. There's no additional support for those of us in hospitality who have been hit extremely hard by all of this, though, and that's concerning. We're still not fully operational and our sales remain down 40% compared to 2019."
And some small businesses that received government aid are now in the difficult position of having to pay back their loans. 
"We received a low four-figure PPP loan and then had to pay most of it back when based on our understanding of the rules (and that explained to us by our lender) we shouldn't have owed anything," said Calloway Cook, president of Illuminate Labs.
Read: 3 Stories of Small Businesses That Opened During the Pandemic
Check Out: Small-Business Ideas for a Post-Pandemic World
How To Help: It's Pretty Easy!
It sounds all too simple, but the best way to help small businesses is to use their services. Rather than shopping on Amazon for your next read, hit up your local indie bookstore. Instead of patronizing Home Depot, check out what the hardware store around the block has to offer. 
If you're concerned about risking catching or spreading COVID-19 by making an in-person visit, just call ahead to make sure the business has a safety protocol in place, 0r check out their e-commerce offerings. Droves of small businesses have turned to selling goods and services online since COVID-19 struck — rapidly advancing an already growing trend. 
"Also, giving word of mouth referrals in person, on the phone, and by sharing on your personal social media channels online will also provide relatively unknown organizations more visibility and free publicity – it's priceless," said Marcus Clarke, founder of Searchant. "Share an intimate relationship with your town by visiting local shops and establishments. It's an investment in your wants, needs, as well as improved economic flow in your area. Consider this your encouragement to give back to the place that welcomes you."
Discover: Small-Business Industries Hurt Most by the Pandemic
Tips: How To Give Your Small Business a Boost Post-COVID-19
Supporting Small Businesses Is a Good Experience for You, Too
Consumers should keep in mind that supporting small businesses is, to an extent, a two-way street. They, too, are reaping benefits. 
"Supporting local businesses allows you to actually meet the people in charge of the products that they're selling and the services that they're giving out," said Emily Applebaum, contributing writer, Family Destinations Guide. "There isn't some big CEO somewhere in the corporate world that's manning this business, [but] a place that gives an experience to us that is uniquely designed by the person that is in charge. You'll be surprised by how much there are and how many businesses there are that showcase so much creativity [and] hard work."
More From GOBankingRates
Last updated: Sept. 8, 2021
Make Your Money Work Better for You