Why Companies Are Willing To Pay Outrageous Amounts for Super Bowl Ads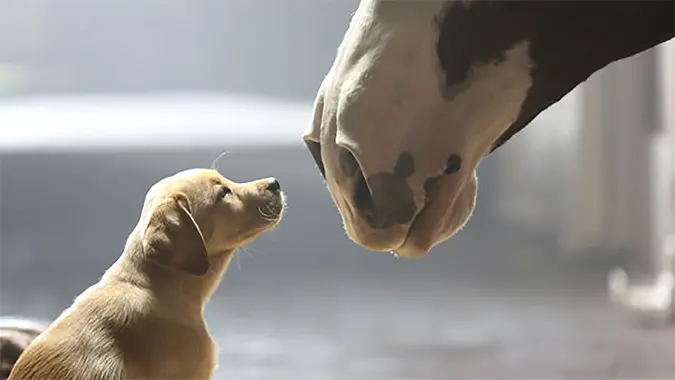 © Anheuser-Busch Companies
When the Los Angeles Rams take on the Cincinnati Bengals on Feb. 13, it will be NBC's 20th time televising a Super Bowl, according to Forbes — only CBS has broadcast more, with 21. You can stream it on Peacock and the NBC Sports app as well, and Telemundo will become the first Spanish-language network to broadcast the Super Bowl this year.
Starting with the 6:30 p.m. ET kickoff on Super Bowl Sunday, more Americans will be watching the same channel all at once than at any other time of the year. Around 100 million people will tune in and, unlike any other event on the TV calendar, many will be watching just for the commercials. The companies paying for those ads are counting on it.
Related: Is Hosting the Super Bowl Worth It for Cities?
Also Learn: How Much It Will Cost To Attend Super Bowl LVI — Plus $5K at Least for Tickets!
In Terms of Eyes on Ads, It's Impossible to Overstate the Enormity of the Super Bowl
Year after year, the culmination of the NFL playoffs is the premier television event in the United States, without any close second. Nine of the 10 most-watched television programs in American history have been Super Bowls.
Make Your Money Work Better for You
Last year, 91.63 million viewers tuned in for the game — thanks to COVID, that was the lowest audience since 2006, according to Sports Media Watch. The game has drawn at least 100 million viewers every year since 2010, except for 2019 and 2021. In more than half of those years, viewership exceed 110 million.
If you want to get your message out to the widest audience possible, the Super Bowl is still without question the best place to do it — but you'd better believe that advertisers have to pay to play.
The Dollars and Cents of Advertising on TV
CBS earned a record $545 million in ad revenue last year during Super Bowl LV, according to Reuters.
This year, NBC sold virtually all of its Super Bowl ad inventory by September. The network had been asking for $6 million for 30-second spots in the summer of 2021; but, as space dwindled, NBC sold some of its most coveted spots for a record $6.5 million. On Feb. 4, Axios reported that some spots had sold for an incredible $7 million, a huge jump from last year's average of $5.5 million.
Make Your Money Work Better for You
This will be the first year that any network airs a Super Bowl alongside its Olympic coverage; even so, is any half-minute worth that much money?
See More: Tips for Throwing a Winning Super Bowl Party on a Tight Budget
Who Comes Up With These Prices?
Ad rates are based on what an advertiser will pay per 1,000 viewers, a metric known as cost per thousand (CPM). According to Fit Small Business (FSB), a spot on network television usually goes for $20 to $30 CPM. A 30-second network spot usually costs $105,000 — but there's nothing usual about the NFL.
"Sunday Night Football" has been the No. 1 show in primetime for an unprecedented 11 straight years, according to NBC Sports Group. Its average viewership was an impressive 19.3 million in 2021.
If 19.3 million people tune in, 30 seconds should cost $482,500, presuming a CPM of $25. But, according to FSB, a 30-second spot on "Sunday Night Football" costs $811,679, nearly double the going rate.
With the Super Bowl, the math strays ever farther from the norm. Using the same formula and presuming 100 million viewers, a Super Bowl ad should cost $2.5 million instead of $6 million or even $7 million.
Make Your Money Work Better for You
So, why doesn't CPM scale proportionally, particularly considering the fact that higher CPM doesn't necessarily translate into higher sales?
The reason is prestige. Budweiser and Nike don't spend millions on Super Bowl ads to sell beer and sneakers. They do it because the Super Bowl is the only television event in America that's remembered the next day for its ads as much as it is for the outcome of the game — more in some cases. For creative marketers, the Super Bowl is, well, the Super Bowl of advertising.
Find: The Cost To Go to the Super Bowl the Year You Were Born
The Intangible ROI of a Super Bowl Ad
The Super Bowl offers a captive audience of 100 million viewers who almost never change the channel — they shush the room when the commercials come on instead of fast-forwarding through them.
For advertisers in the age of cord-cutting and a la carte streaming, that might as well be a unicorn — and the good ones meet the moment. From Mean Joe Greene in 1979 to the Budweiser Frogs in 1995 to Betty White's Snickers bar in 2010, the Super Bowl continues to debut the most iconic and culture-defining ads ever made.
That opportunity for long-term branding makes the high cost of 30 seconds worth it, according to Quartz, thanks to the prestige that comes with nailing a Super Bowl ad — if, of course, you can afford it. 
But Isn't It an Old-World Leftover in the New Age of Media?
Quartz points out that today's viewers are scattered across multiple platforms and are therefore harder for advertisers to find than those in the 20th century. But on the flip side of that coin, Mean Joe Green and the Budweiser Frogs couldn't go viral on social media the next day.
Joe Glennon, a Temple University advertising professor, recently argued that the price of a Super Bowl ad is undoubtedly still worth it for high-roller companies. He argued that a $6 million marketing budget spread across Twitter, Instagram, Google and Facebook would never have as big an impact as delivering a message to 100 million people all at once, yet big companies do that all the time.
The Media Nut blog summed it up neatly with this: "If you are a company that spends hundreds of millions to multi-billions of dollars each year in advertising and marketing, advertising in the Super Bowl makes sense."
More From GOBanking Rates
Make Your Money Work Better for You