5 Industries That Surged in 2021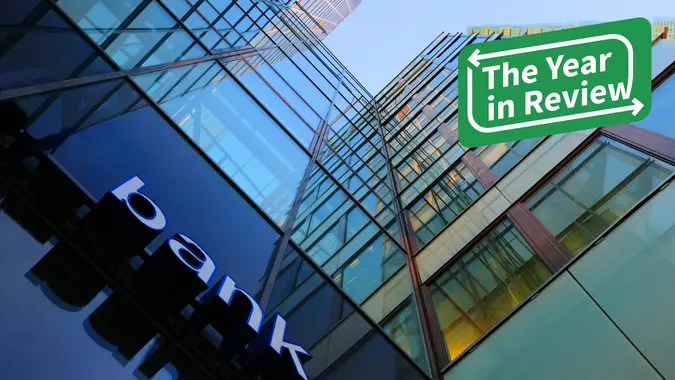 olaser / iStock.com
2021 has been a wild ride, to say the least. It's hard to believe it was all in this year that a new president was inaugurated, COVID-19 vaccinations began in the United States, and the Perseverance rover touched down on Mars.
Explore: Top 10 Most Expensive Stocks: What Is the Highest Priced Stock Right Now?
All of the unusual events of 2021 have led to some peculiarities in the business world as well, from supply chain issues to labor shortages. However, strange times usually lead to opportunity, and that has certainly been the case in 2021. While some businesses have struggled or even closed their doors for good, others have done extremely well.
We'll take a look at some of the industries that were major winners this year and how 2021 went for them. While some of those industries have since cooled down, they nevertheless saw rapid growth during 2021 that may not be matched any time soon.
Construction
Whether due to people relocating or renovating their existing homes, this year saw unprecedented growth in the construction industry. As a result, Zacks industry data shows several construction sectors surging throughout 2021. The hottest sectors, mostly in the first half of 2021, were home builders, wood and heavy construction. All three surged in late spring to early summer, notching investment returns of three to four times the S&P 500 return at the time.
Make Your Money Work Better for You
While the aforementioned construction sectors have since cooled, three sectors have maintained their high returns: mobile homes, lighting and concrete. All three are still hot with returns above the S&P 500 throughout the year.
Healthcare
In the midst of vaccine administration and ongoing COVID-19 treatment, it shouldn't be a big surprise to see that the healthcare industry has surged in 2021. But some parts of the industry saw bigger increases than others. As you might expect, one such sector has been hospitals; hospital stocks, for example, have outpaced the S&P 500 by a significant margin. Only now are hospital volumes beginning to return to 2019 levels, a McKinsey survey reports. However, that will be something to watch as news about the new variant develops.
In addition to hospital stocks, an even more jarring tidbit is that nursing home stocks also surged in 2021. They have since cooled but experienced another spike in early November. Despite the surge in share prices, the Kaiser Family Foundation reports a lower number of nursing facility residents in 2020 compared to previous years.
Computers and Tech
While some people returned to "normal" in some capacity, many of us continued to work remotely. At the same, microchip shortages caused a surge in that sector. Also included in this industry is measuring instruments which, in terms of investment returns, saw some of the most remarkable growth of 2021. Companies like Fitbit are included in this category. Network software also exploded and power generation also continues to do quite well.
Make Your Money Work Better for You
Then there is semiconductors, which has a number of sectors doing well, although not as well as measuring instruments, for example. Still, several semiconductor sectors, including wafer components, water fabrication and general semiconductors. All of them have been growing at a rapid rate throughout 2021.
Energy
Energy is another industry that saw rapid growth, due largely due to a fast economic recovery and insufficient supply to meet surging demand. Simply put, people have been traveling more in addition to the typical need to heat homes. The result has been an increase in the price of crude oil from $39.17 per barrel in 2020 to $69.02 in 2021. As the IEA reports, the rise in natural gas prices has led to an increase in the use of coal in the United States, Europe and Asia.
The result of these increases has been a rise in stock prices, too. The coal industry surged to greater than 160% returns in mid-October; drilling reached 140% in mid-June and then nearly 120% in late October.
See: Don't Be Fooled: Retailers Could Be Boosting Stocks With Buybacks
Finance
Worries about the economic consequences of COVID-19 may help explain the surges in some parts of the finance industry. This industry is currently ranked No. 2 on the Zacks Industry Outlook, second only to oils and energy. Most notably, various bank stocks have done quite well, such as banks in the Northeast. Morningstar reports this is largely due to banks reporting strong earnings, which is always an encouraging sign for investors. In addition, it says a reduction in bad loans has also propelled bank stocks.
Make Your Money Work Better for You
Another sector that has done well within the finance industry is consumer loans; this sector has seen strong performance throughout 2021.
More From GOBankingRates