25 Richest Actresses of All Time
These leading ladies are all worth nine figures or more.
Danny Moloshok/Invision/AP/REX / Shutterstock.com
Starring in a blockbuster film not only generates a big paycheck for any actress, but it also opens the door to pursuing more business opportunities — which makes it easier to amass a multimillion-dollar fortune. Most of the richest actresses alive today have parlayed their 15 minutes of fame into mogul status, with production companies, beauty lines and more adding to their impressive incomes. Whether they're earning big bucks on or off the screen, find out which actresses are worth at least nine figures.
1/25
Anthony Harvey/BAFTA/REX / Shutterstock.com
25. Angelina Jolie Net Worth: $100 Million
The daughter of actor Jon Voight and actress Marcheline Bertrand, Angelina Jolie was introduced to the entertainment business at a young age. As a teenager, Jolie spent time modeling and appearing in music videos. In the 1990s, she began her film career, starring in movies that included "Gia," for which she won a Golden Globe; "Girl, Interrupted," which earned her an Academy Award; and the cult classic "Hackers." Jolie has since gone on to star in a wide variety of films, including the popular "Lara Croft" series, "Mr. & Mrs. Smith," "Salt," "Maleficent," and its upcoming sequel, "Maleficent: Mistress of Evil."
Known as much for her humanitarian efforts as her acting, Jolie has made headlines for her work with refugees in many countries, including Cambodia, Darfur and Jordan.
2/25
Gael Colliguet/REX / Shutterstock.com
24. Sarah Jessica Parker Net Worth: $100 Million
Sarah Jessica Parker first made waves as a theater actress but gained new levels of fame as Carrie Bradshaw in the HBO series "Sex and the City," which ran from 1998 to 2004 and inspired two spinoff films. Parker returned to HBO in 2016 as the star of "Divorce," which has been renewed for a third season.
Parker keeps herself busy outside of the acting world: She is the editorial director of the publishing imprint SJP for Hogarth; has a fragrance line, SJP Beauty; and created her own line of shoes, SJP by Sarah Jessica Parker.
3/25
Rob Latour/Deadline/REX / Shutterstock.com
23. Catherine Zeta-Jones Net Worth: $105 Million
Catherine Zeta-Jones got her breakthrough role in 1998 as Elena in "The Mask of Zorro," and many high-profile films followed — including "Entrapment," "Traffic,"  and "Chicago," for which she won an Oscar. She most recently starred in the Facebook Watch show "Queen America," which reveals the dark side of beauty pageants.
Zeta-Jones is also a self-proclaimed "interiors fanatic" and has a line of home goods with QVC called Casa Zeta-Jones.
Read More: Businesses You Didn't Know Your Favorite Celebrity Owns

4/25
Rob Latour/Variety/REX / Shutterstock.com
22. Courteney Cox Net Worth: $120 Million
Even though "Friends" has been off the air for over 15 years, Courteney Cox is probably still best known for portraying Monica Gellar on the hit series from 1994 to 2004. She has since starred in a number of notable TV series and films, including the "Scream" movies and the show "Cougar Town," on which she was also an executive producer. "Cougar Town" ran from 2009 to 2015, and Cox reportedly earned $275,000 per episode as its producer, according to Forbes.
Cox recently narrated and produced "9 Months With Courteney Cox," a weekly docuseries about pregnancy that streamed on Facebook Watch.
5/25
©Gregory Pace/REX/Shutterstock
21. Amy Irving Net Worth: $120 Million
Trained at the American Conservatory Theater and the London Academy of Music and Dramatic Art, Amy Irving got her start in theater. She made her off-Broadway debut at age 17 and went on to star in many other plays.
Irving's on-screen break came in 1976 with Stephen King's "Carrie," and she proceeded to make big-time films such as "The Fury." She recently appeared in an episode of "The Affair," and is set to star in the upcoming films "My Cricket and Me" and "Confetti."
Related: 24 of the Most Expensive Celebrity Divorces To Rock Hollywood
6/25
Invision/AP/REX / Shutterstock.com
20. Drew Barrymore Net Worth: $125 Million
Drew Barrymore has come a long way from her debut in "E.T. the Extra-Terrestrial" at just 7 years old. She has had a string of successful projects spanning genres from "The Wedding Singer" and "Never Been Kissed" to "Scream," dominating the silver screen in the late '90s and early 2000s.
Beyond her acting career, Barrymore's production company, Flower Films, has produced a number of lucrative features, including her directorial debut with "Whip It" in 2009 and the Netflix series "Santa Clarita Diet." Barrymore has also launched her own affordable beauty line, Flower Beauty, which is being sold at Walmart and Ulta.
Then and Now: 30 Former Child Stars Striking Hollywood Gold
7/25
Jordan Strauss/Invision/AP/REX / Shutterstock.com
19. Nicole Kidman Net Worth: $130 Million
Nicole Kidman's first love was ballet, but she also took up mime and drama as a child. Dropping out of high school to pursue her passion, she played her first movie role in the Australian film "Bush Christmas" in 1983. Kidman got an American agent and made her U.S. debut in "Dead Calm" a few years later.
Since then, she has gone on to win numerous awards, including the best actress Oscar in 2002 for "The Hours" and two Emmy Awards in 2017 for "Big Little Lies." Kidman will reprise her role as Celeste for season two of the series — on which she is also an executive producer — and she'll star in the upcoming film "The Goldfinch."
8/25
Thibault Camus/AP/REX / Shutterstock.com
18. Jennifer Lawrence Net Worth: $130 Million
Jennifer Lawrence became a household name thanks to the "Hunger Games" trilogy, but it was "Winter's Bone" where she really got her big break — along with Academy Award and Golden Globe nominations. Lawrence became the youngest person ever nominated for two Academy Awards for best actress, and the second-youngest winner for "Silver Linings Playbook" in 2012.
Her films have grossed over $5.7 billion worldwide, according to Box Office Mojo, and she was the world's highest-paid actress in 2015 and 2016. Up next, Lawrence will star alongside Sophie Turner in the "X-Men" film "Dark Phoenix."
You Might Be Surprised: Celebrities Who Are Richer Than You Think
9/25
Ovidiu Hrubaru/REX / Shutterstock.com
17. Charlize Theron Net Worth: $130 Million
Charlize Theron grew up as a ballet dancer, performing in both "Swan Lake" and "The Nutcracker." She eventually moved to New York to join the Joffrey Ballet, but a knee injury ended her dancing career.
Theron's first notable big-screen performance was in "That Thing You Do!" Since then, she has starred in major films such as "The Cider House Rules" and "Monster," for which she won her first Academy Award. Theron will be the voice of Morticia Addams in the upcoming animated film "The Addams Family," and is set to star as Megyn Kelly in a yet-untitled film about Roger Ailes.
The South African actress is just at home behind the camera — she's one of the producing partners behind Denver & Delilah Productions, which has produced "Atomic Blonde," "Gringo" and "Mindhunter," among others.
10/25
Joel Ryan/Invision/AP/REX / Shutterstock.com
16. Cameron Diaz Net Worth: $140 Million
After traveling all over the world for her modeling career, Cameron Diaz auditioned for a part in "The Mask" in 1994, despite having no acting experience — and she was cast as the female lead. Her career really took off with starring roles in "My Best Friend's Wedding" and "There's Something About Mary."
Diaz has since stepped away from acting and shifted her focus to wellness, releasing the health-based books "The Body Book" in 2013 and "The Longevity Book" in 2016. "The Body Book" went on to become a No. 1 New York Times bestseller.
Can You Afford It? What You'll Have To Pay For Crazy Celebrity Beauty Treatments
11/25
Matt Baron/REX / Shutterstock.com
15. Scarlett Johansson Net Worth: $140 Million
Scarlett Johansson topped Forbes' list of the highest-paid actresses in 2018 with $40.5 million in earnings. Her most lucrative role has been portraying Black Widow in Marvel's "Avengers" films. She has also earned prestigious award nominations for several other roles, including Golden Globe nominations for the films "Girl With a Pearl Earring," "Lost in Translation," "A Love Song for Bobby Long" and "Match Point." Up next, Johansson will star in the dark comedy "Jojo Rabbit."
12/25
Jason Merritt/Radarpics/REX / Shutterstock.com
14. Demi Moore Net Worth: $150 Million
Demi Moore quit school at age 16 to work as a debt collection agent before turning to modeling, and soon landed a recurring role on "General Hospital." She has since earned three Golden Globe nominations: one for "Ghost" and two for "If These Walls Could Talk." Most recently, Moore starred in the film "Corporate Animals."
Moore is also an activist in the fight against child sex trafficking and founded the nonprofit Thorn in 2012 with her ex-husband Ashton Kutcher.
When Superstars Collide: 25 Rich Celebrity Power Couples

13/25
Richard Shotwell/Invision/AP/REX / Shutterstock.com
13. Reese Witherspoon Net Worth: $150 Million
Reese Witherspoon has been acting since the early '90s but had breakout roles toward the end of the decade with "Pleasantville" and "Election." She won an Oscar in 2006 for "Walk the Line," and was nominated again in 2015 for "Wild."
Witherspoon has also received acclaim for her small-screen work on the HBO show "Big Little Lies," with an Emmy win for her work as an executive producer on the series and a nomination for her acting in the show. Additionally, Witherspoon's production company, Pacific Standard, produced "Gone Girl."
Outside of the entertainment world, Witherspoon is the founder of Draper James, an apparel, accessory and home goods line infused with the actress's signature Southern charm.
14/25
Matt Baron/REX / Shutterstock.com
12. Sofia Vergara Net Worth: $160 Million
Discovered by a photographer in her home country of Colombia, Sofia Vergara gave up a career in dentistry to become a runway model at age 23. Her first job was hosting a travel show called "Fuera de serie," which exposed her to an American audience. Her big break came in 2009 on the hit series "Modern Family" — featuring one of the highest-paid TV show casts of all time — for which she received four Emmy nominations. Vergara has been the highest-paid TV actress for seven years in a row, earning $42.5 million in 2018, according to Forbes.
15/25
John Salangsang/WWD/REX / Shutterstock.com
11. Jessica Alba Net Worth: $200 Million
Actress-turned-businesswoman Jessica Alba has made a name for herself on and off the screen. Although Alba first appeared in the 1994 comedy "Camp Nowhere," audiences across America learned the star's name thanks to her breakout role on the short-lived TV show "Dark Angel." Since then, she has starred in a number of films, including "Fantastic Four," "Good Luck Chuck" and "The Love Guru." Alba's most recent role was in the TV show "L.A.'s Finest," and she will star in the upcoming movie "Killers Anonymous."
Outside of acting, Alba founded The Honest Company, a billion-dollar consumer products startup that has transitioned into a business empire for the actress. The brand focuses on creating safe and effective products for the entire family.
See More: 21 Celebs Who Are Doing Business Overseas — and Making a Killing
16/25
Erik Pendzich/REX / Shutterstock.com
10. Sandra Bullock Net Worth: $200 Million
Born to a German opera singer and a voice teacher, Academy Award-winning actress Sandra Bullock first appeared on stage in a German opera at just 5 years old. However, her breakthrough role wouldn't come until 1994, when she appeared alongside Keanu Reeves in "Speed." Bullock went on to star in many successful films, and continues to land leading roles in movies such as "Oceans 8" and "Bird Box," the latter of which she also executive produced. Bullock won a Golden Globe and an Oscar for her work in "The Blind Side," based on the real story of NFL player Michael Oher.
17/25
David Buchan/Variety/REX / Shutterstock.com
9. Jane Fonda Net Worth: $200 Million
As the daughter of legendary actor Henry Fonda and New York socialite Frances Seymour Brokaw, Jane Fonda was almost destined for stardom. She initially appeared with her father in Omaha Community Playhouse and took acting lessons from famous coach Lee Strasberg. Fonda won Academy Awards for her performances in "Klute" and "Coming Home," and was nominated for the best actress Oscar seven times. Currently, she stars in the Netflix series "Grace & Frankie."
Best known for her 1980s workout tapes, Fonda sold more than 200,000 copies a year and topped the Billboard charts, making her one of the richest celebrities over age 70.
18/25
Stephen Lovekin/Variety/REX / Shutterstock.com
8. Julia Louis-Dreyfus Net Worth: $200 Million
Julia Louis-Dreyfus launched to stardom by making America laugh as Elaine Benes on the hit sitcom "Seinfeld." However, her career really began with Chicago's Second City comedy troupe. Louis-Dreyfus later moved to New York to star on "Saturday Night Live" for two seasons, and in 1989, she joined the cast of "Seinfeld" after producers insisted that the show needed a female perspective. Her performance on "Seinfeld" earned Louis-Dreyfus her first Golden Globe in 1993 and her first Emmy in 1996.
The star's recent work includes her role in HBO's "Veep," which earned the actress six Emmys — putting Louis-Dreyfus among the top-nominated female performers.
Although rumors have long circulated that the actress is actually worth billions due to her father's business, Louis-Dreyfus dispelled this buzz in a 2014 Rolling Stone interview. "It's unbelievable, because whatever I do, people just assume it's true," she told the magazine.
19/25
Jordan Strauss/Invision/AP/REX / Shutterstock.com
7. Julia Roberts Net Worth: $200 Million
Academy Award-winning actress Julia Roberts rose to Hollywood fame with roles in movies that included "Steel Magnolias," "Pretty Woman," "My Best Friend's Wedding" and "Erin Brockovich." Her performance in "Erin Brockovich" earned Roberts an Oscar, and it also netted her a $20 million salary, making her the first actress to be paid such a high sum for her work.
Roberts' acting career shows no sign of slowing down. She recently appeared in the much-anticipated "Ben Is Back," as well as the Amazon Prime series "Homecoming," on which she was also an executive producer.
Find Out: The Salaries of the Richest Actresses Compared To the Richest Actors

20/25
Matt Baron/REX / Shutterstock.com
6. Jennifer Aniston Net Worth: $240 Million
Jennifer Aniston, America's favorite girl next door, rose to fame as the entitled Rachel Green on the hit 1990s sitcom "Friends," which aired for 10 seasons. During the last three years of the show's production, Aniston reportedly earned $1 million per episode. She has gone on to star in several major motion pictures and small independent films, including "Office Space," "He's Just Not That Into You" and "The Yellow Birds." Up next, Aniston will star alongside Adam Sandler in the movie "Murder Mystery," and alongside Steve Carrell in the TV series "The Morning Show."
Outside of acting, Aniston brings in big bucks from endorsements. She is currently a spokesperson for Aveeno and other major brands.
21/25
s_bukley / Shutterstock.com
5. Victoria Principal Net Worth: $250 Million
Best known for her role as Pamela Barnes Ewing on the popular TV show "Dallas," Victoria Principal didn't intend to become an actress, despite several early parts in commercials. Born in Japan to a military family, Principal moved around the world many times as a child. It wasn't until she was in a car accident in college that the star decided to move to Los Angeles and pursue an acting career. After working as both an actress and an agent in Hollywood, Principal was approached for a role in "Fantasy Island," which led to her breakout role in "Dallas."
Additionally, the actress has found financial success with her skin care line, Principal Secret, which has brought in more than $1 billion in revenue.
22/25
Anthony Harvey/REX / Shutterstock.com
4. Cher Net Worth: $360 Million
Singer and actress Cher is so iconic that she only goes by one name. A master of many trades, Cher has won an Oscar, Grammy and Emmy over the course of her career, and is poised to complete the "EGOT" with her new Broadway show, "The Cher Show." The entertainer has been performing steadily on stage and on screen ever since she reached fame with the hit "I Got You Babe" in 1965. As an actress, Cher most recently starred in the 2018 musical sequel "Mamma Mia! Here We Go Again," and she is set to act in the upcoming films "Artist in Residence" and "Disco Fever 1977."
23/25
Andrew H. Walker/BEI/REX / Shutterstock.com
3. Jennifer Lopez Net Worth: $400 Million
Jennifer Lopez is a true multihyphenate, first making her on-screen debut as a dancer in "In Living Color" and then creating a name for herself as an actress with her starring role in the 1995 biopic "Selena." Lopez has since added singer, producer, reality show judge and designer to her resume.
Lopez is currently a judge and executive producer on the reality competition show "World of Dance," and recently released a new single, "Medicine." She is about to embark on the "It's My Party Tour," has a makeup collaboration with Inglot and a sunglasses collection with Quay, and will star in the upcoming film "Hustlers." Lopez was one of the top-earning celebrities in 2018 with $47 million in earnings for the year, Forbes reported.
24/25
Steve Eichner/Penske Media/REX / Shutterstock.com
2. Mary-Kate and Ashley Olsen Net Worth: $400 Million
With a combined net worth of $400 million, the Olsen twins are two of the richest people in the world. The fraternal twins grew up on screen sharing the role of Michelle Tanner on "Full House." They built an empire under their label Dualstar Entertainment, producing the popular home video series "The Adventures of Mary-Kate & Ashley." The wildly successful videos resulted in a number of spinoff books and products that banked about $1 billion in retail per year.
Now grown up, the Olsen twins are award-winning fashion designers for their upscale line The Row and lower-priced contemporary line Elizabeth and James, which will soon be available at Kohl's.
Up Next: Kylie Jenner and 19 Other Extremely Successful Celebrity Entrepreneurs
25/25
Broadimage/REX / Shutterstock.com
1. Jami Gertz Net Worth: $2 Billion
Actress and philanthropist Jami Gertz has an impressive $2 billion net worth to her name, mostly thanks to her marriage to billionaire Tony Ressler, who is the co-founder of Ares Management and majority owner of the NBA's Atlanta Hawks.
Gertz began her acting career in the 1980s with appearances in "Square Pegs," "Diff'rent Strokes," "Family Ties," "Sixteen Candles" and "The Lost Boys," to name a few. She then spent a few years on hiatus from acting, during which she moved to France and worked as a scent designer for Lanvin. After returning to Hollywood, Gertz appeared on TV shows including "ER," "Ally McBeal" and "Entourage." She also guest-starred on the hit comedy series "Modern Family" and "This Is Us."
In her spare time, Gertz serves as a trustee for the Ressler/Gertz Foundation, which supports a number of educational causes in Los Angeles.
Click through to see former celebrities who have normal jobs now.
More on Celebrities
Autumn Rose contributed to the reporting for this article.
All net worth figures were sourced from Celebrity Net Worth and are accurate as of May 24, 2019.
About the Author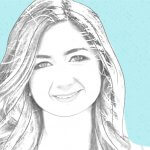 Gabrielle joined GOBankingRates in 2017 and brings with her a decade of experience in the journalism industry. Before joining the team, she was a staff writer-reporter for People Magazine and People.com. Her work has also appeared on E! Online, Us Weekly, Patch, Sweety High and Discover Los Angeles, and she has been featured on "Good Morning America" as a celebrity news expert.