1 in 20 New Yorkers Has Moved Since the Pandemic — Why People Are Leaving America's Largest Metro Areas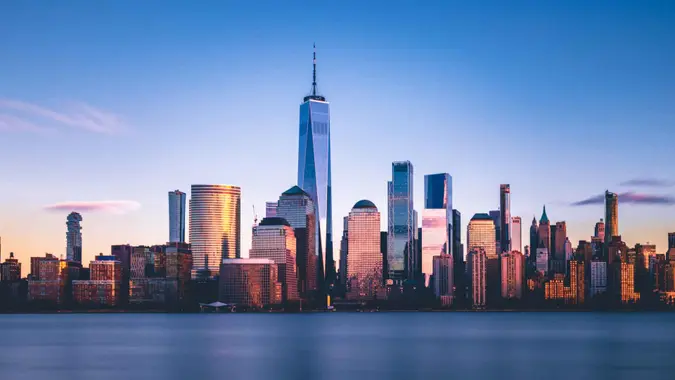 cmart7327 / Getty Images/iStockphoto
The COVID-19 pandemic affected everyone's daily life in ways large and small. Lockdowns, social distancing and remote working options kept many families and households stuck together at home for extended periods of time — and forced a reevaluation of living situations that so many of us had taken for granted.
It's probably no surprise then that many of those able to move away from big cities did just that. According to Census Bureau data, around 468,000 left New York between the start of the pandemic and July 2022, over 5% of the city's total population. Other major metros like San Francisco have seen a similar trend over the same time period. Beyond the realities of a pandemic, though, exactly what is driving this migration? Let's explore.
High Cost of Living
Cost of living is probably the most obvious factor driving people to move away from New York and other metros. Most big cities are getting more expensive every day, as any resident of New York, San Francisco, Seattle, Boston or Los Angeles can tell you. Historically, in exchange for the cost you have access to amenities like world-class museums, theaters, parks, libraries and restaurants.
"Daily expenses like groceries and coffee are notably lower in suburban areas, making life more affordable for those who choose to move away from the city. Buyers will get more for their money the further out of the city they go, but may sacrifice commuting distance and community enrichment [they have access to] with proximity to New York City," said Fiona Dogan, global real estate advisor at Julia B. Fee's Sotheby's International Realty.
Make Your Money Work for You
Housing Affordability and Density
The cost of housing — and what you get for the money — is another obvious factor encouraging people to migrate out of big cities. Housing in metro areas is much more expensive than suburban or rural areas while also being much smaller.
Paying more for less is a lot easier to swallow when you have access to all that bigger cities offer, but the pandemic changed all of that. Lu Chen, senior economist at Moody's Analytics, specializes in real estate and housing affordability. She cites these two factors as major contributors to migration out of cities.
"First, low density housing is a scarce resource in the city. Homeownership is slightly above 50% and well below the national average. Many households started by renting but the median income household has to pay nearly two-thirds of their monthly income on renting an average-priced apartment in the metro area. Second, high density rental units are not big enough for expanded families or families with kids. Leasing prices per sqft are the highest in the New York metro which slowed renter households from saving up for houses," Chen said.
Lifestyle Change
Many remote workers probably thought that moving out of the city would be a temporary thing — but after having the chance to try out a different lifestyle, some were pleasantly surprised. Suburban and rural life has its own appeal, and for those who enjoyed it and were also able to keep their big city jobs and salaries, making the move permanent was a no-brainer.
Make Your Money Work for You
"Outside of the lower cost of living a rural lifestyle may offer, I see that many of our customers find living outside of a major city center a peaceful and slower pace of life. When you purchase a rural property, there is often more land for your family and your hobbies, even if you are in a subdivision. Many customers find rural land that is a short drive to the amenities and infrastructure of a major city, truly getting the best of both worlds," said Brett Butler, regional vice president at lender Rural 1st.
Will It Last?
While the pandemic was the impetus for the migration trend out of major metros, the underlying reasons have not really changed. Big cities are still crowded and expensive, the traffic is still terrible, and none of that is changing any time soon. Ironically, it's the areas that city dwellers migrated to that have perhaps experienced the most change.
"When given the option, many have been lured to tax-friendly states such as Florida and Texas that provide warmer weather and affordability. These states were extremely affordable before the significant influx of new residents, but that has begun to change," said Peter Anastasian, senior vice president at Wealth Enhancement Group. Ask any long-time resident of Austin or the suburbs surrounding Houston or the Dallas-Fort Worth area and they will probably tell you the same.
So will people keep migrating out of cities, even beyond the pandemic? It's hard to say, but as Anastasian reminded us, "Time will tell if this trend continues, but there is a saying: 'Don't bet against New York.'"
Make Your Money Work for You
More From GOBankingRates