15 Cheapest Places to Live with Lots of Affordable Thrift Shopping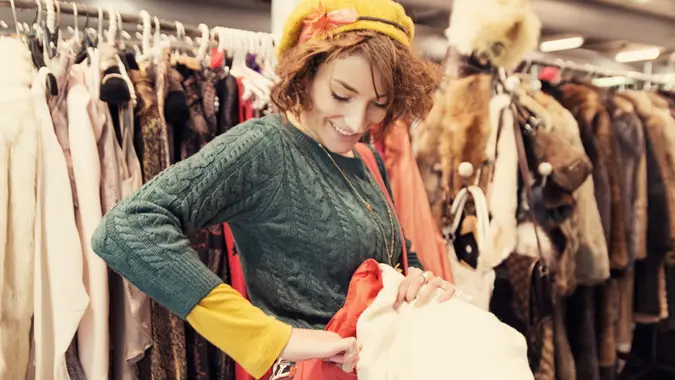 martinedoucet / iStock.com
As the cost of living continues to skyrocket in certain parts of the United States, more people are exploring alternative options that offer an affordable lifestyle and a unique thrift shopping experience.
I'm a Real Estate Agent: Here Are the 6 Cities Where You Should Avoid Buying a Home This SummerMore: How To Get Cash Back on Your Everyday Purchases
Many cities stand out not only for their lower cost of living but also for their thriving secondhand shopping scene. Below, we'll take you through our rankings of the 15 best cities for cost-effective living and excellent thrift shopping, bearing in mind factors like consumer satisfaction and pricing level.
Riverside, CA
Riverside, California not only offers a low cost of living but also a flourishing thrift shop scene. In addition to its rich cultural history and beautiful landscapes, Riverside gives you the chance to find rare vintage treasures within its borders.
Atlanta, GA
Atlanta, Georgia boasts both southern charm and affordable living, accompanied by a variety of secondhand shops. Beyond its globally recognized food scene and music culture, Atlanta's thrift stores offer an eclectic mix of items that reflect the city's diverse history and creativity.
Columbus, OH
Columbus, Ohio, despite not being traditionally recognized for thrifting, provides an affordable lifestyle and a unique thrift shopping experience. As one of the fastest-growing cities in the Midwest, Columbus combines urban development with a treasure trove of antique and vintage goods waiting to be discovered.
Orlando, FL
Orlando, Florida is known for its world-famous theme parks but also offers an intriguing and cost-friendly thrift shopping scene. Beyond the roller coasters and attractions, Orlando's thrift stores are packed with unique finds that cater to both local residents and the many tourists who visit the city each year.
Make Your Money Work for You
Tampa, FL
Tampa, Florida offers a blend of an affordable lifestyle with a vibrant secondhand shopping scene. The city's rich cultural diversity is reflected in its wide array of thrift stores, offering everything from clothing to home décor and vintage collectibles.
San Francisco, CA
Despite being one of the more expensive cities to live in, San Francisco, California makes the list because of its high-quality thrift shops, which, interestingly, are among the highest-rated in the nation. Beyond the iconic Golden Gate Bridge and tech startups, San Francisco's thrift shops offer a taste of the city's unique culture and eclectic style.
Pittsburgh, PA
Pittsburgh, Pennsylvania provides a low-cost lifestyle with a strong and affordable thrift shop scene that attracts secondhand shoppers from all over. The city's storied industrial past is reflected in its variety of thrift shops, which often carry vintage and retro items that echo its rich history.
Hartford, CT
Known for its rich history and cultural sites, Hartford, Connecticut also offers its residents an affordable lifestyle and numerous thrift shopping outlets to choose from. The thrift shops here provide a diverse selection of secondhand goods, offering a unique insight into the city's culture and history.
Buffalo, NY
Buffalo, New York, is a city that combines a cost-effective living experience with a myriad of thrift shopping opportunities. Beyond its well-known food scene, Buffalo's thrift shops are a treasure trove of unique finds, from vintage clothing to home goods and collectibles.
Sacramento, CA
Another Californian city, Sacramento, offers an affordable lifestyle with an interesting array of secondhand shopping experiences. The city's thrift stores often feature locally made products and vintage goods that highlight the area's unique history and culture.
Make Your Money Work for You
Miami, FL
Known for its beautiful beaches, Miami, Florida is also home to a thriving and affordable thrift shopping scene. The city's diverse mix of cultures is evident in its numerous thrift stores, where shoppers can find items that range from Cuban memorabilia to vintage art deco pieces.
Portland, OR
Though the cost of living can be a bit higher in Portland, Oregon, the city is renowned for its quality thrift shops, ranking among the top 25 cities for thrifting. The city's thrift stores mirror its unique, creative culture, offering a wide array of vintage, artisan, and eco-friendly finds.
St. Louis, MO
The Gateway to the West, St. Louis, Missouri, offers a cost-effective lifestyle and a unique thrift shopping experience for both its residents and visitors. The city's rich musical and brewing heritage is reflected in its secondhand shops, which often carry vintage vinyl records and brewery memorabilia.
Salt Lake City, UT
Salt Lake City, Utah, provides an affordable living experience with an appealing variety of secondhand shopping options to explore. The city's breathtaking landscapes inspire its thrift shops, which often carry outdoor gear and vintage clothing that reflect its residents' love for adventure.
Los Angeles, CA
Although Los Angeles, California, might be known for its high cost of living, it has an abundance of thrift shops offering affordable treasures to all. The city's diverse entertainment industry and fashion-forward culture are reflected in its thrift stores, where shoppers can often score designer labels and vintage Hollywood memorabilia at a fraction of their original cost.
When assessing these cities, we considered more than just the sheer quantity of thrift shops. We looked at consumer satisfaction, price levels, and overall shopping experience.
Make Your Money Work for You
While some cities might be pricier, like San Francisco, their high-quality thrift shops ended up boosting their scores, making them worth consideration.
See: 9 Things You Should Never Buy at Thrift Stores
On your next thrift shopping adventure, consider exploring these cities. You might stumble upon an affordable masterpiece to enhance your home décor or add to your unique fashion collection.
These cities offer a perfect blend of new, old, and off-beat to match your style. Remember, the thrill of thrift shopping is not only about finding affordable items but also about unearthing unique treasures that tell a story. Who knows what you might find on your next thrifting excursion?
Editor's note: This article was produced via automated technology and then fine-tuned and verified for accuracy by a member of GOBankingRates' editorial team.
More From GOBankingRates