The $2,000 Stimulus Still Isn't Official – Here's What Happens Now (and Who to Blame)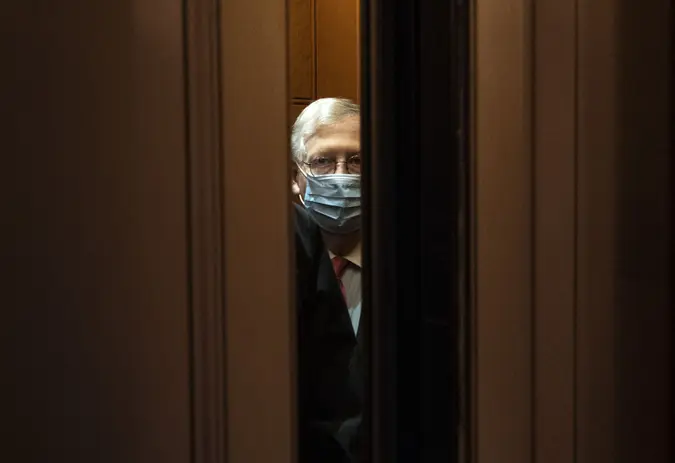 Kevin Dietsch/UPI/Shutterstock / Kevin Dietsch/UPI/Shutterstock
Trump wants the stimulus. The House wants the stimulus. Americans want the stimulus. So what's going on with it now? Yesterday, the House of Representatives approved an expansion of the stimulus payments from $600 to $2,000 per person. This was the increase that President Trump had asked for when he considered vetoing the bill.
See: Trump Signs the Stimulus, Retailers Slash Prices
Explore: The Stimulus Check Secret You Need to Know Before You File Your 2020 Taxes
Now, the ball is in the Senate's proverbial court. Senate Majority Leader McConnell (R-KY) will set the tone. He has maintained tight discipline over his caucus, and if he doesn't support $2000 in payments, it won't happen. The larger payments are popular — who doesn't want extra spending money? — but they are expensive. The Senate will have to balance making voters happy with fiscal conservatism, and CNN reports that there are many procedural hurdles that will drag out the vote.
84% of Democrats want the Senate to pass a $2,000 direct payment

73% of Republicans want the Senate to pass a $2,000 direct payment

74% of Independents want the Senate to pass a $2,000 direct payment

The House approved a $2,000 direct payment

Let the Senate vote, Mitch!
— Bernie Sanders (@SenSanders) December 29, 2020
The original draft of the bill, announced with great fanfare on December 14, had no direct payments. Instead, it called for an increase in unemployment benefits and support for state, local, and tribal governments. The debate over stimulus checks pushed the bill out for a week, when the $600 payments were added in exchange for a shorter extension of unemployment benefits and no local government support. Republican legislators in particular wanted to keep the total value of the bill under $1 trillion, so this seemed like a good compromise. President Trump refused to sign the bill without payments of $2000 per person, threatening a government shutdown before relenting on Sunday evening.
Make Your Money Work for You
See: What a $600 Stimulus Check Can Actually Buy You in America
Explore: Refusing to Wait for Congress, These Cities and States Are Handing Out COVID-19 Relief
The stimulus is intended to provide an influx of spending to boost the economy, but it has been dragged out by political maneuvers. Individuals looking for help paying bills and businesses looking for increased revenue will have to wait a little longer.
More From GOBankingRates
Make Your Money Work for You