$300 Parking and Other Outrageous Expenses at This Year's Super Bowl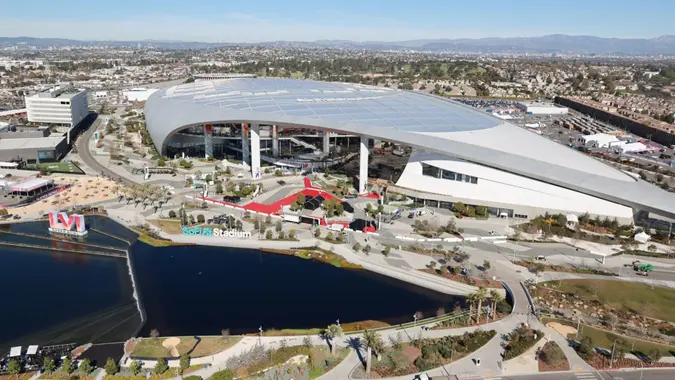 MediaPunch/Shutterstock / MediaPunch/Shutterstock
According to SeatGeek, "the average Super Bowl ticket costs between $4,000 and $5,000." But the Bengals/Rams matchup on Feb. 13 is no ordinary Super Bowl — and SoFi Stadium is no ordinary venue.
In the opening days of February, TicketIQ reported that the average cost for a ticket to Super Bowl LVII in Inglewood, California, was $9,496, the second-highest on record. A few days later, the most expensive ticket on the market had reached an incredible $70,891, according to SeatGeek.
See: Tips for Throwing a Winning Super Bowl Party on a Tight Budget
Check Out: The Cost To Go To the Super Bowl the Year You Were Born
If you managed to score tickets to watch L.A. take on Cincinnati at the $5 billion SoFi Stadium — the newest, most expensive and most technologically advanced facility in the NFL — you don't need a lesson on the outrageous state of ticket prices. You've already paid big bucks to snag a seat, and now that you have, all you have to do is find your section, sit down and enjoy the game, right?
Not so fast.
Unless you have a very generous benefactor, your entry pass will certainly be your biggest expense — but don't leave your wallet at home.
Make Your Money Work for You
To Help You Pay For It: 7 Fastest Ways To Save $20K, According To Experts
Good Luck With Parking
The NFL made history in 2022 as the first year when a team hosted both the NFC Championship Game and the Super Bowl at the same stadium — and the result was a logistical nightmare. When the Rams took on the 49ers for the conference title, USA Today's RamsWire reported on a shocking surge in the price of parking.
NFL staff preparing for the Super Bowl had already gobbled up a huge number of the choicest spots by the time fans started flooding in to see the contest for the NFC crown. Just as the "get-in" price dropped to $600 — still the season's most expensive ticket — the price for on-site parking passes jumped to an incredible $300.
Think about that — for at least a few moments that day, it cost 50% as much to park your car as it did to enter an NFL conference championship game.
It wasn't just the stadium lots, either. The Super Bowl effect spurred locals to take advantage of the moment by renting out their own parking spots or even their driveways for $175, $200, $300 and, in the case of one nearby medical center, $498.23.
That was just the warm-up.
Take a Look: Who Are the Richest Quarterbacks in 2022?
Make Your Money Work for You
At the actual Super Bowl, parking will be even more scarce thanks to the event spaces and stages that will be occupying several of the surrounding parking lots, according to the Los Angeles Times. Season ticket holders and other VIPs get most of the official parking spots at SoFi, so with 150,000 out-of-towners expected to flood the area and nowhere to park, businesses and homeowners with driveways are having no trouble renting their spots on sites like SpotHero and StubHub for $300-$400. Some are selling in the thousands, with one spot going for an outrageous $4,850.
Do Yourself a Favor — Eat at Home
At last year's Super Bowl in 2021, fans spent more at the stadium on average than they ever had before — $212 per fan, according to stadium operations company Legends. A whopping 132 of those dollars went to food and drink, and looking at the menu, it's not hard to understand why.
Last year, the Super Bowl was held at Raymond James Stadium in Tampa, Florida, where Reuben sandwiches cost $18, according to CBS Sports, which called concession prices "outrageously high." Loaded nachos were $14 and standard domestic draft beers were $13.
Make Your Money Work for You
There's no word on what SoFi plans on charging hungry Super Bowl attendees this year, but the 2021 spending figures were largely in line with concession prices from Super Bowls over the past few years, according to Sportico.
Tax Season: How Much Do These 30 Star Athletes Pay in Taxes?
You're Shopping in a Store Where T-Shirts Cost $45
The Legends report showed that the average fan spent $80 on merchandise at last year's Super Bowl, none of which was exactly selling at a discount. T-shirts, for example, were going for $45. During the 2020 Super Bowl the year before, ABC profiled the high cost of official NFL Super Bowl apparel and merchandise and found that a Super Bowl jacket could easily run $350 — and that's at the NFL Super Bowl Experience Shop, not the stadium, where prices are sure to be higher.
The Equipment Room, which is the official shop of SoFi stadium, opened in May 2021 to much fanfare. Almost right away, Rams fans on Reddit began griping that while the shop did have stadium-exclusive merch and helpful staff, prices were high, even by NFL stadium standards — and that wasn't during the Super Bowl. Today, the Equipment Room is temporarily closed until after the big game, and while there's no word on exact prices for Super Bowl merch on game day, don't expect a lot of discounts.
More From GOBankingRates
Make Your Money Work for You