5 Tips for Taking Advantage of a Recovering Economy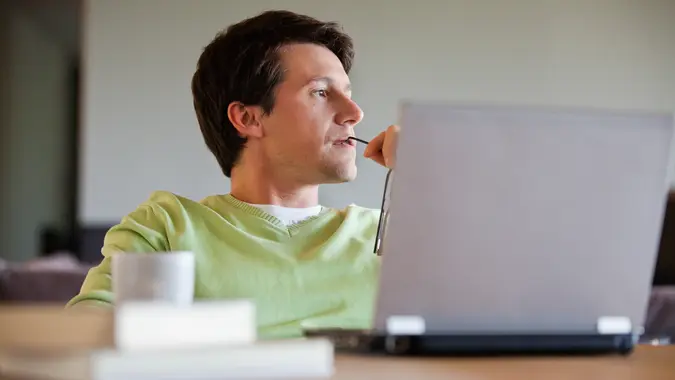 Sam Edwards / Getty Images
While the world debates how long the virus will linger, how high inflation will rise, how long supply shortages will last and when the seemingly endless bull market will finally turn to bear, smart people are doing what they've always done — seeking hidden opportunities. As the economy recovers, there will be no shortage of chances to improve your finances, your career and your life — as long as you know where to look. GOBankingRates asked the experts to find the best places to look for room to improve, here's what they said. 
Important: 7 Areas Where You Should Continue To Be Financially Conservative While the Economy Recovers
Don't Miss: 37 Life Hacks That Will Save You Money
Quitting Work Is in Vogue — That's Opportunity Knocking
At the end of June, NPR reported on a phenomenon of millions of gainfully employed people quitting their jobs, reconsidering their work-life balance and reevaluating what they were and weren't willing to do to pay the bills.
To Jodi Smith, a personal finance coach and founder of the site Abundanceofjo.com, that spells opportunity. 
Make Your Money Work for You
"With people leaving their jobs in large numbers in what is called the 'Great Resignation,' now is the time for people who are looking for jobs and receiving offers to negotiate add-on benefits like sign-on bonuses, flexible work arrangements, and more vacation time," Smith said. "This is critical as companies are looking to hire and retain top talent and are willing to go the extra mile."
See: 10 Career Moves To Make During an Economic Recovery
Helpful: 24 Tips To Change Your Career and Land Your Dream Job
Time Is Running Out on Wiggle Room With Student Loans
The federal government announced that student loan repayments are set to start again after Jan. 31, 2022. That means the clock is ticking on the final extension of the repayment pause and other COVID-19-era student-debt-relief programs — use the remaining time wisely.
"For those who carry student loan debt, with the extension on the student loan repayment freeze, this creates an opportunity for young people to assess their financial position and create an aggressive plan to pay off this debt," Smith said. "Now is the time to make serious dents on their student loans and capitalize on this opportunity."
Make Your Money Work for You
Get Help: How To Determine Your New 'Financial Normal' After the Pandemic
Read: What It Means To Live a Truly Rich Life and How To Achieve It
Thinking of Trading Up for a Roth IRA? A Window To Act Might Be Closing
If you're saving for retirement but you don't have an employer-based 401(k), you probably have an IRA — but Roth IRAs come with flexibility and benefits that make them a much better choice for so many savers. With Roth IRAs, you contribute after-tax money that you can withdraw later tax-free — and if you wish you had known about them before you had opened your current retirement plan, there's still time to act, but hurry.
"This year is a great time to evaluate converting some of your traditional IRA money to Roth IRA," said Todd Bryant, CFP, a founding partner and financial planner with Signature Wealth Advisors. "Many believe that taxes will be going up, and many are still making less money in 2021 than they made in 2019 and prior. Now could be a good time to pay some taxes on those traditional IRA dollars now, convert them to Roth, and never pay taxes on those dollars — and the growth — again."
Make Your Money Work for You
Read: What It Means To Live a Truly Rich Life and How To Achieve It
2 CTC Payments Have Come and Gone — How Have You Used the Money?
The pandemic triggered an unprecedented flow of direct cash payments from the government to the people. Most recently, the IRS and U.S. Treasury began issuing advances on the newly expanded Child Tax Credit (CTC), which is worth up to $300 per child per month. If you're a parent with qualifying children, do you have anything to show for the two payments that have already been distributed or any plan for the four yet to come?
"The advanced Child Tax Credit payments are a good opportunity for many families to build up their emergency fund or to accelerate debt payoff," said Jerry Zeigler, a tax professional, enrolled agent, personal financial counselor and the owner of JZ Financial Management. "Although one thing to remember is that the advance payments will cause some taxpayers to get smaller refunds — or in some cases to owe money — when filing their tax returns." 
Read More: How the Child Tax Credit and Other Stimulus Packages Benefit the Full Economy and Not Just Recipients
It's an Awful Time To Buy a Used Car, but a Great Time To Sell One
Throughout the inflation scare of the spring and summer, the used car segment epitomized the shortages and supply chain bottlenecks that were behind the rising prices — and rise they did. Used car prices broke records in recent months, but in June, publications like Bloomberg started predicting that prices would soon fall or perhaps even crash. If you were considering selling a used car while demand and prices were still sky-high, it's time to act.
"We're in the middle of a used car crisis," said Catherine Van Der Laan, a financial and career coach at Saver Street. "It sounds funny until you need to buy a car. But for all of you who have a car you could sell, now's your opportunity. If you have a second or third car that's just sitting around costing you insurance and taxes, then now's the time to sell it on the private market or to Carvana."
More From GOBankingRates
Last updated: Aug. 24, 2021
Make Your Money Work for You