Almost One-Fourth of Americans Are Living Paycheck to Paycheck Going Into 2023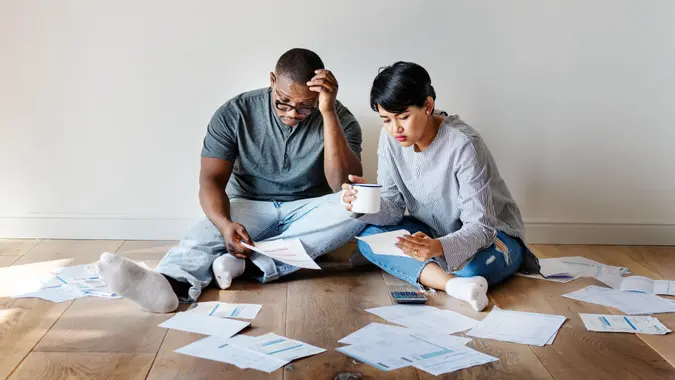 Rawpixel / Getty Images/iStockphoto
We often hear from financial experts that it's important to have an emergency fund and always maintain sizable savings for unexpected expenses or income loss. This issue Americans are facing this year is soaring inflation rates that have left many workers penny-pinching and living paycheck to paycheck. 
Take a Look Back: 2022 Year in Review
Learn: 3 Easy Tips To Turn Your Credit Woes Into Wows
In fact, according to a recent survey conducted by GOBankingRates, 24% of Americans are living paycheck to paycheck heading into the new year. Here's a closer look at the survey results and expert insights on how to become more financially stable in 2023.
Gen X Is Most Worried About Living Paycheck to Paycheck
Overall, 24% of Americans' top financial stressor heading into 2023 is living paycheck to paycheck. But Gen X is the most concerned — though not by a wide margin.
Over one-quarter (28%) of those stressed about this financial situation fall into the Gen X age range. Another 22% fall on the Gen X-baby boomer cusp (aged 55-64). But younger Americans are also feeling the pressure of living paycheck to paycheck, as 24% of the respondents who answered this way are aged 18-24. Another 24% are aged 25-34, and 25% are 35-44. Lastly, seniors make up the smallest group with only 16% of Americans over 65 feeling affected by this financial stressor. 
Make Your Money Work for You
Take Our Poll: How Has Inflation Impacted Your Holiday Shopping Plans?
Women Are More Concerned Than Men
There is a significant gender difference in the number of men versus the number of women living paycheck to paycheck. According to GOBankingRates' survey, only 18% of men cited this as a financial stressor, whereas 29% of women are concerned about it going into 2023.
While there are a multitude of factors that could contribute to this disparity between men and women, one important factor to consider is the gender pay gap. For every dollar men earn in the U.S., women earn 77 cents, according to the UN. While a few cents might not seem like much, it becomes a bigger issue when looking at male-dominated versus female-dominated professions. The occupations that are dominated by women, such as teaching, nursing and social services, are paid less than fields that are dominated by men, such as engineering, medicine and law. Because of this, women face lower lifetime earnings, less consistent schedules and lower savings than men, on average. 
For single mothers, the situation is even worse. Although single parenthood is common, 80% of single parents are single mothers, according to the Census Bureau. Additionally, 23% of single-mother families were poor in 2021, 29% were jobless the entire year and 28% were food insecure. 
Single Mothers' Average Income Is 35.6% Less Than Single Fathers
The Census Bureau also reported a significant discrepancy between the income of married families versus single-parent families. While the median income for married families in 2021 was $147,704, and for single fathers was $84,466, the median income for single mothers was $58,917.
Make Your Money Work for You
The Intersectionality of Gender, Race and Income
For single mothers of color, the situation is even bleaker. In 2021, 35% of Black single-mother headed families were poor, 24% of Native female-headed families were poor and 26% of white female-headed families were poor. 
How To Feel More Financially Secure Going Into 2023
Looking at the high numbers of older Americans, younger Americans and especially women stressed about living paycheck to paycheck, here are three ways to feel more financially secure in the coming months, according to financial experts.
Create a Budget
"Write down all your household's income and expenses," said Naoko McKelvey, CFP and senior financial ddvisor at Blue Chip Partners. "Then, drill down and see where the rest of your money is being spent on variable expenses like groceries, dining out, gas, entertainment, self-care, etc. After you have tallied up all your income and expenses, how much money do you have left at the end of the month? This is the amount which could be allocated for savings."
Make Your Money Work for You
If you find you have little room left in your budget, you might be spending above your means. Some ways to cut back on spending can include shopping around different insurance options to find the best rates and reviewing cell phone bills, cable and internet subscriptions.
Shop Smarter
"Pay attention to where you shop and if you can buy the same product elsewhere for cheaper," McKelvey said. "Or, wait for it to go on sale. Watermelon is cheaper when it is in the summer season than if you try to buy it in the middle of December. You can also shop at no-brand grocery stores where you bag your own groceries and bring your own grocery bags."
Aside from saving on your food bill, consider gas prices, too. Map out your driving route so you can pick up items on your way to work or school in order to reduce your monthly gas bill. Store-linked gas stations, like the ones at Safeway or Costco, also often carry cheaper prices.
Grow Your Income 
The best way to stop living paycheck to paycheck is by taking home more money. Although, before switching jobs or taking up a side hustle, see if there are any ways you can grow your income at the job you have now. Ask if you can take on more shifts or work overtime to boost the checks you're bringing home.
"If you can't make more at your day job, consider a part-time job," said Jay Zigmont, PhD, CFP and founder of Childfree Wealth. "While you can make money doing side gigs, right now many employers are paying more per hour for part-time jobs than what you can make driving for Uber (or similar gigs) after you figure out your true costs. If you do decide to do gig work, remember that you are responsible for paying your own taxes, including regular estimated payments."
More From GOBankingRates
Methodology: GOBankingRates surveyed 1,028 Americans aged 18 and older from across the country between Nov. 14-Nov. 18, 2022, asking 20 different questions: (1) What best describes the impact of Biden's student loan forgiveness plan on you?; (2) How do you think student loan forgiveness will affect the economy in 2023?; (3) Describe your working situation in 2022; (4) Which best describes your working situation?; (5) What do you prefer your working situation to be in 2023?;  (6) Did you look for better value in your job in 2022?; (7) Are you planning for any major job changes in 2023?; (8) Which of the following economic factors impacted your finances the most in 2022?; (9) What would you like to have happen the most in 2023?; (10) Are you in favor of more stimulus or inflation relief checks in 2023?; (11) If you had a major financial emergency in 2022, how did you pay for it?; (12) How did your stocks fare in the bear market of 2022?; (13) Did you put off a big purchase in 2022 due to the strained economy?; (14) What best describes the impact the Fed raising interest rates has had on you?; (15) Which best describes your top financial goal for 2023?; (16) Are you planning for any of these major milestones in 2023? (select all that apply); (17) What is your top financial stressor heading into the new year?; (18) If you are a small business owner, what has been your biggest financial challenge in 2022?; (19) How do you feel about the Social Security cost-of-living adjustment (COLA) of 8.7% for 2023?; and (20) How did social media most impact your finances in 2022?. GOBankingRates used PureSpectrum's survey platform to conduct the poll.
Make Your Money Work for You