Americans 'Doing at Least Okay Financially' Drops 5% — Why Number Is Lowest Since 2016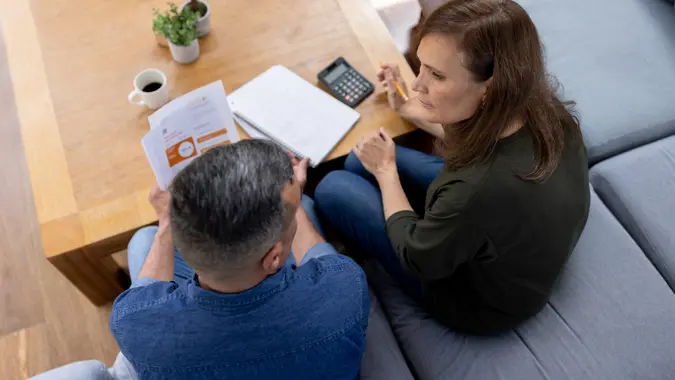 andresr / iStock.com
On May 22, the Federal Reserve released the 2022 edition of its annual Economic Well-Being of U.S. Households report and the findings are hardly surprising given the perception of the country's economy and the toll that inflation took on Americans in 2022.
There has been a decline in Americans' financial well-being over the past year across all age, education, income, race and ethnicity categories, according to the report. Seventy-three percent of respondents said they're "doing okay" (39%) or "living comfortably" (34%) financially, down 5% from 2021's survey. This 5% drop means that 5% more Americans are either "just getting by" (19%) or "finding it difficult to get by" (8%).
"The share of adults doing at least okay financially fell sharply in 2022 and was among the lowest observed since 2016," the report noted. "This decline in financial well-being occurred broadly across the population. Notably, it was the first time since the survey began that adults with at least a bachelor's degree saw a decline in well-being. Even so, existing gaps by education and by race and ethnicity remained large."
Inflation Is a Financial Well-Being Killer
While the job market remained hot, high inflation and a shaky stock market in 2022 really did a number on Americans, resulting in more than a third of households surveyed, 35%, asserting they were worse off in 2022 than a year ago. Just one year ago, this number was at 20%.
Make Your Money Work for You
Take Our Poll: Who Has Given You the Best Money Advice You Have Ever Received?
Inflation was the most common financial challenge mentioned by respondents, at 33%, followed by general needs at 22%, retirement and savings at 13%, housing at 10%, employment at 9%, medical at 6%, debt at 5% and education at 5%. Twenty-eight percent said they did not have any financial concerns, down from 53% in 2016.
"People's perception of the national economy continued to decline. The share rating the national economy as 'good' or 'excellent' fell to 18 percent in 2022, the lowest share since the survey began asking this question in 2017," claimed the report.
Shopping Habits and Savings Goals Changed in 2022
Fifty-four percent of adults said that their budgets had been affected "a lot" by price increases, with parents living with children under age 18, Black adults, Hispanic adults and those with a disability more likely to say this.
Just as many consumers modified their shopping habits during the pandemic by skipping bigger discretionary expenditures, more Americans polled have turned into thriftier consumers as a result of inflation, scrimping where they can. Two-thirds of those surveyed began using a product less often or stopping using it altogether, and 64% shopped for cheaper alternatives.
Make Your Money Work for You
However, according to the Fed's press release, 51% of adults reported that they reduced their savings in response to higher prices, and only 31% of non-retirees said their retirement savings were on track — down from 40% in 2021.
The full 84-page report isn't exactly a joyful read. Inflation has decreased since its peak in June 2022, but you don't have to read between the lines to sense an anxious and concerned national mood that will only improve when inflation does.
See: 5 Electronics That Are a Waste of Money
Costco's Best Deals? Employee Reveals 10 Standout Buys for Your Money
The report includes data culled from the comprehensive Survey of Household Economics and Decisionmaking (SHED), which has been conducted since 2013 and includes answers from over 11,000 adult respondents gathered in Oct. 2022. The SHED rates the economic well-being of U.S. households and identifies potential risks to their financial stability.
More From GOBankingRates
Make Your Money Work for You
Make Your Money Work for You