64% of Americans Are 'Ready for a Recession' If It Lowers Mortgage Rates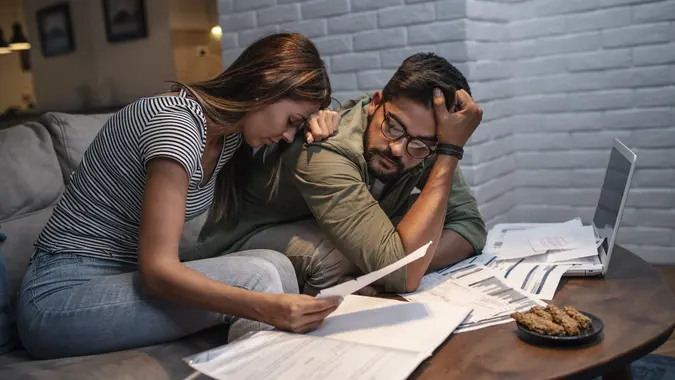 Martinns / iStock.com
It's no secret that the road to homeownership has been an arduous one for many Americans. Soaring mortgage rates, inflation and lack of inventory have left many would-be homeowners on the sidelines in the past few months.
Find Out: 6 Things Millionaires Are Doing With Their Money To Prep for an Economic DownturnMore: 3 Things You Must Do When Your Savings Reach $50,000
And now, these Americans say a recession would be OK if it meant lower mortgage rates, according to a new study conducted by Harris Poll on behalf of Credit Karma, designed exclusively for USA Today.
Indeed, a staggering 64% of Americans say they "are ready for a recession," if that translated into them being able to buy a home, according to USA Today.
"There is no denying how difficult it's become to purchase a home in America today, especially for first-time buyers," Aniva Hinduja, general manager of home and mortgage at Credit Karma, told USA Today. "When a majority of potential home buyers are wishing for a recession so they can afford a mortgage, you know the situation is dire."
In addition, the survey found that 82% believe the country is facing an unprecedented housing affordability crisis, which in turn prompted 61% who have never purchased a home to say they don't think they'll ever be able to afford to do so, according to USA Today.
The situation is difficult for homeowners as well, as 46% of Americans who bought a home in the past year said they are struggling to afford their monthly mortgage payments due to high interest rates, USA Today added.
Make Your Money Work for You
According to Freddie Mac, mortgage rates decreased slightly this week due to the Federal Reserve's pausing its rate hike.
"As inflation continues to decelerate, economic growth is slowing and the tightening cycle of monetary policy is reaching its apex, which means mortgage rates are expected to decrease later this year and into next," according to Freddie Mac.
Peter C. Earle, economist at the American Institute for Economic Research, said anyone looking to purchase a new home in the near future should take a few steps first. First, eliminate their outstanding debt — which includes student loans — as soon as possible.
Take Our Poll: Are You Planning To Buy or Sell a House This Year?I'm a Self-Made Millionaire: These Are the 6 Investments Everyone Should Make During an Economic Downturn
"They should also begin looking at housing markets around the country to get an idea of where prices are moving and, if open to relocating, where the biggest values are,' he said. But before doing all of that, a near-term home buyer should seriously consider the tradeoffs of buying versus renting. Considering the volatility of home prices over the last twenty years, the idea that one purchases a home and watches the value rise consistently for decades is no longer a given."
More From GOBankingRates
Make Your Money Work for You