Here Are 18 Ways To Find Volunteer Opportunities Near You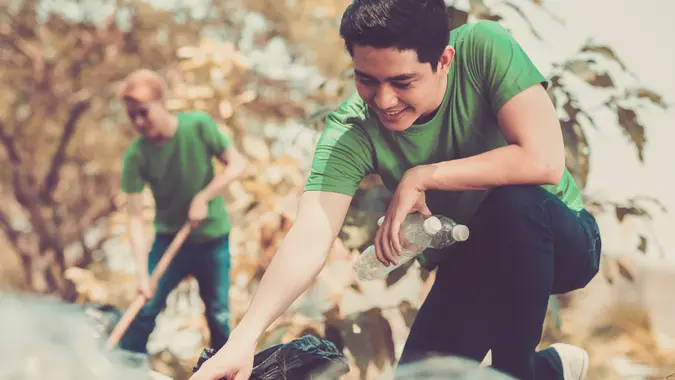 ©Shutterstock.com
There are plenty of reasons to volunteer. Giving your time during tough times, such as the current pandemic and the struggles many families faced and the economic dip experienced as a result, is one of the many ways to make an impact.
Finding the right volunteer opportunities can also expand your network, strengthen your resume, assist you with a school application, or help you develop new skills and areas of expertise.
Doing things for others can also take your mind off your own struggles, reduce your stress level, give your days a heightened sense of purpose and improve your sense of connection. It's never too early to start, either — there are very real benefits for kids and many activities that are appropriate to involve them in.
If you're interested, check out these enriching group and individual volunteer opportunities:
Find an Organization
Keep it simple by volunteering with an organization that is already working to make a difference in your community. You can find a nonprofit or meetup group focused on a service need that resonates with you and drop right into a volunteer opportunity that's already set up. By working with an established group, you'll receive guidance on how to be at your best as a volunteer, and you'll receive supplies and resources that you'll need to do the work well.
Group or Individual Volunteer Work?
A major factor to consider before volunteering your time is whether you'd prefer to be part of a group or work as an individual. The settings and activities are likely to be different depending on which option you choose. What follows is a list of options for both.
Make Your Money Work for You
Group Volunteer Projects
When people band together to do good in their community, the result can be rewarding and fun. Group volunteer events often involve a shared activity at the day's end, such as a meal or excursion, plus the sense of accomplishment after completing a shared project can be a real emotional boost. Here are some examples:
1. Meal Assembly
Check your local area for a company that makes and delivers meals to people who need them. As a group you can form an assembly line, giving each person a different role. Knowing that you're assembling meals for people who rely on them is about as rewarding as it gets.
2. Become a Community Organizer
Many groups are working toward greater political action and social change. You can register new voters and publicly advocate for causes that you care about.
3. Spruce Up a Neighborhood
Tackle painting and repair projects at a local school or neighborhood.
4. Collect and Package Items
Create backpacks of supplies for foster families who take children in on short notice, families in need of clothes and toys or people experiencing long hospital stays.
5. Park Clean-Up
Plant trees and flowers, trim shrubs and clean up debris in your local park to make it a greener, happier place.
6. Stadium or Movie Theater Clean-Up
Take hold of an entire sports stadium or movie theater and leave it ready for the next game or showing.
Individual Volunteer Projects
Some volunteer work lends itself best to the individual. The interactions you can have in a more personal environment can be life-changing. Hand someone a meal that has been made and packed with their dietary needs in mind. Help someone learn to read or master a language. Leave no animal behind.
Make Your Money Work for You
Here are some examples of valuable solo volunteer projects:
7. Meal Delivery
You'll need a car and driver's license for this, and knowing your way around town will prove helpful if you have multiple stops. You'll likely leave meals in a cooler outside some doors, but at others, there will likely be potential for some meaningful conversation.
8. Volunteer at a Hotline
If you are an empath with a lot of care to give, you may be needed at a local hotline, such as a suicide or domestic abuse hotline. This work can be difficult and may require training and strict practice of protocols, so make sure to schedule breaks and take care of yourself.
9. Tutoring and Literacy
Help someone learn to read or master a particular subject matter and watch them flourish. If you have expertise in speech pathology, consider working with stroke patients or individuals with disabilities who may have more specific language acquisition needs.
10. Hospital
Call the hospital closest to you and ask how to be of service to those who are most vulnerable. This might include elderly adults, adults with disabilities, homeless individuals and others who are undergoing medical care without ready access to relatives who can help.
11. Homeless Shelters
Be on hand to bring someone in from the elements and provide a hot meal.
12. Retirement Home
You can make some of the best memories of your life helping older adults who have lives full of stories to tell — listen attentively.
Make Your Money Work for You
13. Animal Shelters
Bring your love of animals to pets in need of care and families looking to adopt.
14. Donate to a Blood Bank
Blood is needed throughout the year and even more so in times of national emergency. Know your blood type and head to a local donation drive.
15. Help at a School
Read a book to a classroom of children or help run a school event like a lunch, fair or auction.
16. Offer to Run Errands
Reach out to a neighbor you think might benefit from having help and offer to grocery shop or hit the drugstore for them.
17. Be a Mentor
Programs like Big Brother or Big Sister allow you to act as a trusted guide for a young person who can benefit from your leadership and friendship.
18. Get a Pen Pal
Exchanging letters with people from a different set of life experiences than your own, such as someone who is in prison or who is from a different part of the world, can be informative and restorative for both parties. Keep highly personal details to yourself for safety reasons and consider using a post office box for the correspondence.
Be a Self-Aware Steward
Although the time you're able to dedicate to service of any kind matters, think about the life experiences that you bring to any volunteer opportunity. You may find that you're better support for people or causes that you have a natural understanding of. If you're in search of something new to do or learn, be sure to seek guidance about how to best serve a need that you know less about.
Make Your Money Work for You
Good To Know

Remember that people often feel most isolated and vulnerable during holidays. Those may be busier times for you, but if you can swing some service, it may be extra valuable to those on the receiving end. Consider making it a group event if you have relatives coming into town to celebrate with you.
Improve Yourself and Your Community
There's a wise saying — "A rising tide lifts all boats." When you offer your time in service, you set yourself and your community up for success.
Volunteering can help you feel flush with free time, contribute to skill acquisition that will help your career and make you more hirable, improve your mental and physical health, and better connect you to other people.
When you choose to become a rising tide by volunteering, you help create more opportunities for both you and your community. So get out there, do some good, and walk away better. Your future self and your community will thank you.
Our in-house research team and on-site financial experts work together to create content that's accurate, impartial, and up to date. We fact-check every single statistic, quote and fact using trusted primary resources to make sure the information we provide is correct. You can learn more about GOBankingRates' processes and standards in our editorial policy.