Here Are the Best and Worst Cities to Be a Minimum Wage Earner
Cities with the highest minimum wage aren't always the best.
Living on minimum wage isn't easy anywhere. And it can be especially difficult for those living in urban areas, where the cost of living tends to be much higher than outside city limits. However, that can depend entirely on your city.
According to a new study from GOBankingRates, the city you live in can have a major impact on how far you can stretch your paycheck when you're making minimum wage.
The study scored each of the 100 most populous cities in the United States on these metrics: housing, groceries, utilities, transportation and livability. Those average costs were then combined and compared to the minimum wage paycheck at 40 hours a week. From there, GOBankingRates was able to identify cities that offer the most and least overall affordability — as well as a good quality of life — for someone earning the minimum wage.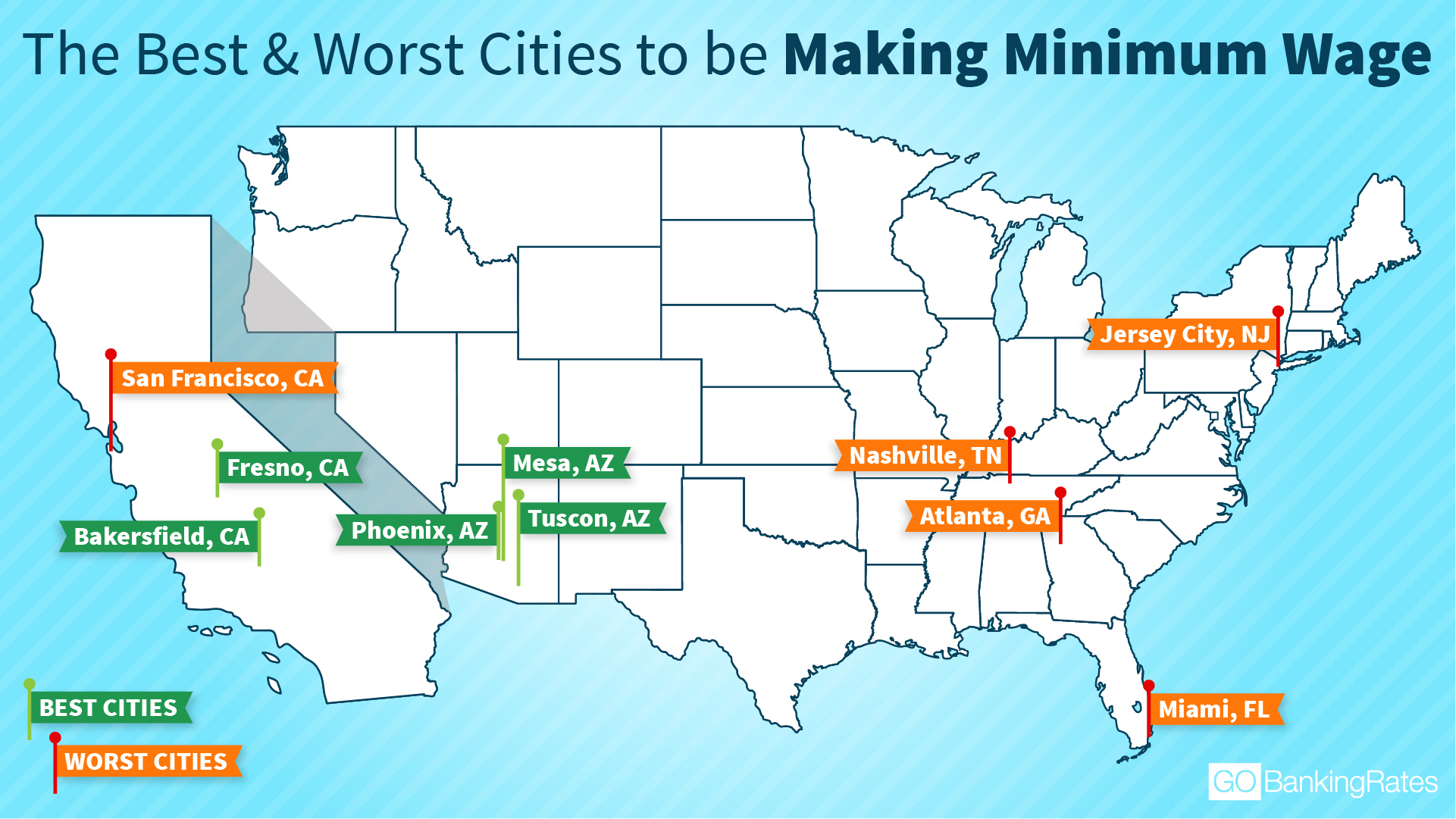 Reality Check: This Is What You Can Actually Afford on Minimum Wage
Make Your Money Work for You
Sponsors of
Some interesting and potentially unexpected results ended up bubbling to the surface. The best regions to live are certainly clear: the West, Midwest and the Southwest. About half of the top 25 cities are in the West or Southwest regions, with all six of the top six being in either California or Arizona. Some of the best cities are also located in the Midwest, with three in Ohio alone.
What might be most surprising, though, is that California is the top state for minimum-wage earners — despite the fact it's one of the most expensive states to live in. California has the most cities appearing in the 25 most affordable cities.
Interestingly, California is also the state with the most cities among the 25 least affordable with four, proving that urban life in the Golden State is clearly running the gamut of potential experiences for low-income workers.
Here is the complete ranking of the best and worst cities to be making minimum wage:
Make Your Money Work for You
Sponsors of
1. Bakersfield, Calif.
2. Fresno, Calif.
3. Tucson, Ariz.
4. Mesa, Ariz.
5. Phoenix
6. Riverside, Calif.
7. Buffalo, N.Y.
8. Omaha, Neb.
9. Long Beach, Calf.
10. El Paso, Texas
11. Detroit
12. Toledo, Ohio
13. Sacramento, Calif.
14. San Diego
15. Fort Wayne, Texas
16. Anchorage, Alaska
17. Columbus, Ohio
18. Chicago
19. Cincinnati
20. Lexington, Ky.
21. Portland, Ore.
22. Albuquerque, N.M.
23. Oklahoma City
24. Anaheim, Calif.
25. Tulsa, Okla.
26. Wichita, Kan.
27. Las Vegas
28. Reno, Nev.
29. Winston-Salem, N.C.
30. Cleveland
31. Arlington, Texas
32. Denver
33. Jacksonville, Fla.
34. San Antonio
35. Saint Petersburg, Fla.
36. Arlington, Va.
37. Kansas City, Mo.
38. Virginia Beach, Va.
39. Saint Louis, Mo.
40. Honolulu
41. Seattle
42. Indianapolis
43. Durham, N.C.
44. Corpus Christi, Texas
45. Richmond, Va.
46. Raleigh, N.C.
47. Louisville, Ky.
48. Austin, Texas
49. Los Angeles
50. Birmingham, Ala.
51. Baltimore
52. Boston
53. Memphis, Tenn.
54. Milwaukee
55. Tampa, Fla.
56. Orlando. Fla.
57. Pittsburgh
58. Washington, D.C.
59. Fort Worth, Texas
60. Minneapolis
61. Oakland, Calif.
62. Dallas
63. Houston
64. Charlotte
65. New Orleans
66. San Jose, Calif.
67. New York
68. Philadelphia
69. Nashville
70. Miami
71. Atlanta
72. Jersey City, N.J.
73. San Francisco
Up Next: How to Live Comfortably on Just the Minimum Wage
Make Your Money Work for You
Sponsors of
Methodology: GOBankingRates compiled the list of cities based on the 100 most populous U.S. cities, according to U.S. Census Bureau estimates. Cities were analyzed based on the following factors: (1) housing, using the median rent for a one-bedroom apartment in each city, sourced from Zillow's December 2017 rental index; (2) groceries, using the recommended amount reported by cost-of-living database Numbeo.com for each city; (3) utilities in each city, according to cost estimates from Numbeo.com; and (4) transportation cost based on the price of a monthly pass for public transportation, according to cost estimates from Numbeo.com. Monthly costs were totaled and multiplied by 12 to get the annual cost of necessities in each city. To get yearly salaries, the minimum wage was multiplied by 40 hours a week and by 52 weeks in a year. Each city was also given a livability score (sourced from AreaVibes). They were then ranked to produce a list of the best and worst cities to be making minimum wage.