Biden to Reveal $1.9 Trillion "American Rescue Plan" Calling for $1,400 Stimulus Payments, Expanded Coronavirus Testing and Vaccines, Help for Businesses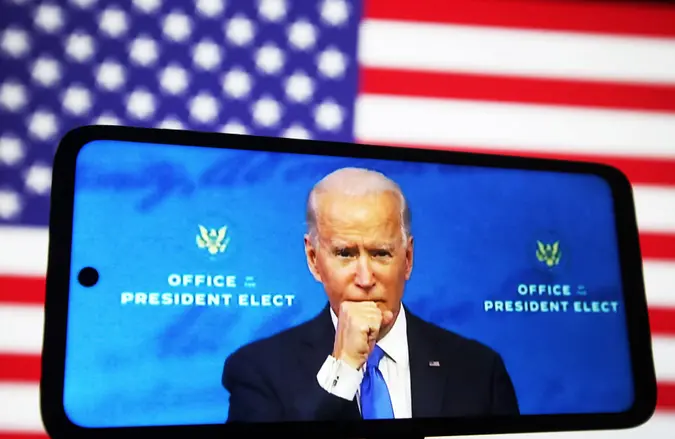 Pavlo Gonchar/SOPA Images/Shutterstock / Pavlo Gonchar/SOPA Images/Shutterstock
President-Elect Biden will reveal his much-anticipated American Rescue Plan this evening. At $1.9 trillion, Biden's plan will far exceed the $900 billion COVID relief package Congress passed earlier this month.
See: Third Stimulus Check Likely Coming Under Biden — How Much Could You Get?
Find: What a Biden Presidency Means for Your Wallet
The plan includes proposals to combat the coronavirus pandemic and its effects on the economy, with an initial focus on large-scale expansions of the nation's vaccination program and virus testing capacity.
As jobless claims are still rising — with 965,000 claims this week, the most since August — and continuing to reflect the ongoing economic effects of the pandemic, the most anticipated proposal is a direct payment of $1,400 per person to supplement the $600 Congress approved as part of the second stimulus. The $600 sum was decried by many, as it represented exactly half of the $1,200-per-person payment the first, CARES Act stimulus provided last spring.
Make Your Money Work for You
"$600 is simply not enough when you have to choose between paying rent or putting food on the table. We need $2,000 stimulus checks," Biden said in a tweet earlier this week.
See: Does $1,400 Really Matter? What a Bigger Stimulus Check Does to the Federal Budget
Find: Second Stimulus Check — Should You Spend or Save Your $600?
Biden's plan expands eligibility to some dependents over age 17 and households with mixed immigration status, according to CNN.
The plan also provides for more aid to local governments and schools, as well as small businesses — especially in lower-income communities and industries hit hardest by the pandemic. In addition, it aims to extend unemployment, increase federal unemployment benefits to $400 per week and raise the minimum wage to $15 per hour.
In December, total nonfarm payroll employment declined by 140,00. And due to numerous lockdowns and restrictions, the leisure and hospitality sector once again took the brunt of the economic effects of the pandemic, with employment declining by 498,000, with three-quarters of those losses occurring in the food and beverage industry, according to the U.S. Bureau of Labor Statistics.
See: Weekly Jobless Claims Balloon to 965,000
Find: Paycheck Protection Program Loan Apps Open Tomorrow — Here's How to Claim Your Funds
Biden's plan would provide $400 billion for coronavirus testing and vaccines, according to The Washington Post. The vaccine roll-out has so far been a debacle. Lack of a clear national distribution strategy and the funds necessary to execute that strategy have left states scrambling for solutions. As of yesterday, 10.8 million doses of the vaccine have been given, instead of the 20 million shots initially projected before the end of last year, according to the U.S. Centers for Disease Control and Prevention. The vaccinations started a month ago, on Dec. 14, 2020.
Make Your Money Work for You
The plan also calls for an expansion of the child tax credit to $3,600 per year for each child under age six and $3,000 per year for each child age seven to 17, according to The Washington Post. In addition, the American Rescue Plan would increase the Earned Income Tax Credit to $1,500 and make it available to more taxpayers. Increasing the credit and making more of it refundable have long been priorities on the left, and the incoming president campaigned on this issue, according to the Motley Fool.
See: Second Stimulus Majorly Changes How Child Support Payments Work
Find: Babies Born or Adopted in 2020 Are Eligible for up to $1,100 in Stimulus Money
The plan would provide $25 billion in rental assistance for struggling households experiencing job loss, and extend the eviction moratorium to Sept. 30. Homeowners with federally guaranteed mortgages loans would have until Sept. 30 to apply for forbearance, according to CNN.
Make Your Money Work for You
Money is also earmarked for utility bill assistance and an increase in food stamps.
More From GOBankingRates:
Make Your Money Work for You