Biden Assures Bank Clients Money Is 'Safe,' But Investors Aren't So Lucky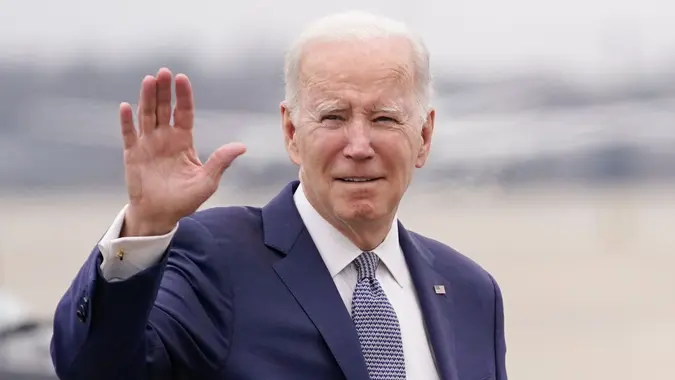 Evan Vucci / AP / Shutterstock.com
On the morning of March 13, President Joe Biden said that the banking system is safe. This announcement came after regulators stepped in to rescue Silicon Valley Bank in an attempt to contain the financial damage amid fears of broader risks concerning the American banking system.
See: Here's How Much Americans Have in Their Savings Accounts in 2023
Find: Where To Find All of Your Bank Account Information
"Americans can rest assured that our banking system is safe. Your deposits are safe. Let me also assure you we will not stop at this — we'll do whatever is needed," President Biden said Monday morning, according to NBC. "Thanks to the quick action of my administration over the past few days, Americans can have confidence that the banking system is safe," Biden reiterated. "Your deposits will be here when you need them."
His speech came on the heels of a statement the White House released on the evening of March 12, one which explained the steps the Treasury secretary, the national economic council director and banking regulators took to address problems at Silicon Valley Bank.
"I am pleased that they reached a prompt solution that protects American workers and small businesses, and keeps our financial system safe. The solution also ensures that taxpayer dollars are not put at risk," Biden said in the statement.
Make Your Money Work for You
Speaking Monday morning, Biden also added that the administration will hold "those responsible for this mess fully accountable," and promised "continuing our efforts to strengthen oversight and regulation of larger banks so that we are not in this position again."
Biden also emphasized that those who had invested in the banks will not be protected.
"They knowingly took a risk, and when the risk didn't pay off, investors lose their money. That's how capitalism works," he said, according to ABC.
Take Our Poll: Do You Think Bankruptcy Is an Acceptable Way To Escape Student Loan Debt?
More: 4 Reasons To Visit Your Bank in Person This Month
The collapse of Silicon Valley Bank is the second largest bank collapse since Washington Mutual failed in 2008.
More From GOBankingRates
Make Your Money Work for You