Biden Prioritizes Schools, Childcare, Small Business with $2.04 Trillion COVID Strategy Plan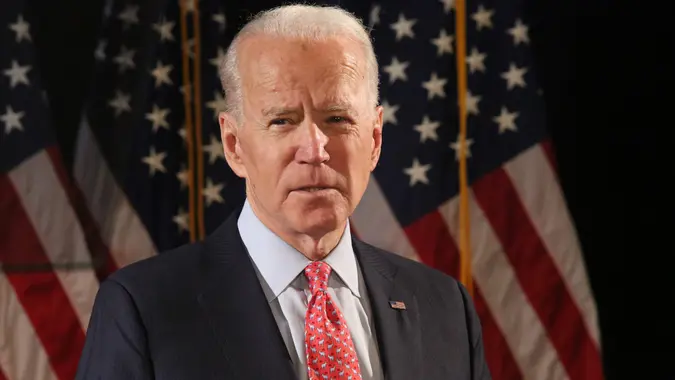 ©MediaPunch/Shutterstock
On his first full day in office, President Biden released his "National Strategy for the COVID-19 Response and Pandemic Preparedness" plan, which outlines goals and provides a roadmap to address the pandemic.
See: How Biden's First Moves as President Could Impact Your Wallet
Find: When Will You Get Biden's $1400 Stimulus Check?
This is in stark contrast with the former administration, which didn't have any federal plan. Lack of a coordinated federal plan first left states scrambling for personal protective equipment when the pandemic started last year, and then left them scrambling to figure out plans for vaccine distribution and guidance on mask mandates.
Biden plan's states, "We can and will beat COVID-19. America deserves a response to the COVID-19 pandemic that is driven by science, data, and public health — not politics. Through the release of the National Strategy for the COVID-19 Response and Pandemic Preparedness, the United States is initiating a coordinated pandemic response that not only improves the effectiveness of our fight against COVID-19, but also helps restore trust, accountability and a sense of common purpose in our response to the pandemic."
Make Your Money Work for You
The plan says that while America has just 4% of the world's population, it has 25% of the world's COVID-19 cases and 20% of all COVID-19 deaths. "And our nation continues to experience the darkest days of the pandemic, with record numbers of cases, hospitalizations and deaths. Over 77,000 Americans lost their lives to COVID-19 in December, and across our nation businesses are closing, hospitals are full, and families are saying goodbye to their loved ones remotely."
See: What Does Joe Biden Mean for Healthcare This Year?
Find: How Much Does a COVID-19 Test Cost?
To execute on the national strategy, the White House will establish a COVID-19 Response Office responsible for coordinating the effort, which is organized around seven goals:
Restore trust with the American people.
Mount a safe, effective and comprehensive vaccination campaign.
Mitigate spread through expanding masking, testing, data, treatments, health care workforce and clear public health standards.
Immediately expand emergency relief and exercise the Defense Production Act.
Safely reopen schools, businesses and travel while protecting workers.
Protect those most at risk and advance equity, including across racial, ethnic and rural/urban lines.
Restore U.S. leadership globally and build better preparedness for future threats.
Make Your Money Work for You
See: Biden Presidency Could Bring $1.9 Trillion Stimulus Plan, Increased Minimum Wage and More Cash for Americans
Find: 7 Key Takeaways from Treasury Secretary Nominee Janet Yellen's Senate Testimony
In regards to safely reopening schools, the president is also asking Congress to provide "at least $130 billion in dedicated funding to schools, $350 billion in flexible state and local relief funds that will help districts avoid lay offs and close budget gaps, and additional resources so that schools can safely reopen, including funds to implement screening testing."
With many children attending school remotely, parents have also been struggling with childcare. To that end, President Biden has called on Congress to provide $25 billion in "emergency stabilization to support hard-hit childcare providers through the pandemic. These funds would help providers pay rent, utilities, and payroll, as well as cover pandemic-related costs like personal protective equipment, ventilation supplies, smaller group sizes, and alterations to physical spaces that improve safety."
Make Your Money Work for You
See: 5 Anti-Vaxx Groups Got $850K in PPP Funds; Now Actively Discrediting COVID Vaccines
Find: Nearly 10 Million Working Moms Are Burned Out, Thanks to COVID-19
The president has also called on Congress to provide $15 billion to help families struggling to afford childcare.
To support colleges through the pandemic, President Biden has requested that Congress provide an additional $35 billion in emergency stabilization funds for higher education. "Reopening and keeping colleges open is critical to ensuring that all Americans have a shot at a college credential — but it must be done safely, to protect the health of students, faculty, staff, and the broader community," according to the plan.
As for small business, the plan notes that the U.S. will prioritize funds under the recent COVID relief package to the companies hardest hit by COVID-19 and in compliance with public health restrictions, ensuring that small businesses have the funds they need to operate safely.
More From GOBankingRates:
Make Your Money Work for You