Biden's Money Topics in State of the Union Address Include Pushing for Billionaire Tax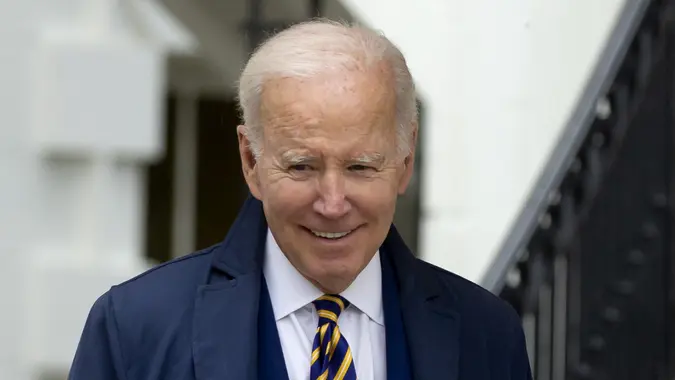 Michael Reynolds/UPI/Shutterstock / Michael Reynolds/UPI/Shutterstock
On Tuesday, Feb. 7, at 9 p.m. ET President Joe Biden will deliver his latest State of the Union Address to the nation and money is certain to be on his mind.
In particular, the White House has previewed that part of the president's agenda during his speech will be to push Congress for a billionaire tax, as well as more levies on corporate stock buybacks.
"This minimum tax would make sure that the wealthiest Americans no longer pay a tax rate lower than teachers and firefighters," the White House shared Feb. 6 in a supplied statement, as picked up by Bloomberg.
Another proposal Biden is expected to lay out in the address is quadrupling the levy on corporate stock buybacks. This will add to the 1% stock buyback tax that was part of the Inflation Reduction Act which went into effect in January. Democrats hope that increasing this levy will deter companies from engaging in the practice and that corporations will instead use reserves to raise wages or make more investments to help stimulate the economy, Bloomberg detailed.
Make Your Money Work for You
However, neither proposal is likely to move the needle in the Republican-held House of Representatives as the GOP has historically been against raising taxes.
The existing financial framework, globally, has only made the rich "richer," per Oxfam. As Oxfam's recent report suggested, "The top 1% has garnered two-thirds of the $42 trillion new wealth created since 2020." Similar calls for a billionaire tax were a theme at the recent Davos World Economic Forum.
In the U.S., many Democrat-led states have now lobbied to institute wealth taxes locally as Congress debates a federal measure. Some of the financial elite are for the initiative and have asked to "tax us now" — a group called the Patriotic Millionaires, as an example, has argued in favor of higher taxes on the rich in order to rebalance the economy.
"We seek to reform our country's political economy so that it naturally generates greater economic and political equality, the preconditions for a stable, prosperous nation," the group declared in a statement.
Take Our Poll: Are You In Favor of More Inflation Relief in 2023?
More: More Than Half of U.S. Adults Are 'Jeopardizing' Retirement Preparedness With Poor Life Expectancy Knowledge, Report Says
Bloomberg also noted that Biden will use tonight's State of the Union address to call for American-made construction materials as another measure to help bolster the U.S. economy. As well, he's slated to promote the idea of extending the IRA's $35 insulin cap to all who use the medicine, beyond those just on Medicare.
Make Your Money Work for You
More From GOBankingRates
Make Your Money Work for You