Boomers Are 'Unretiring' Thanks to Relentless Inflation — Are Recent Price Drops Enough To Make a Difference?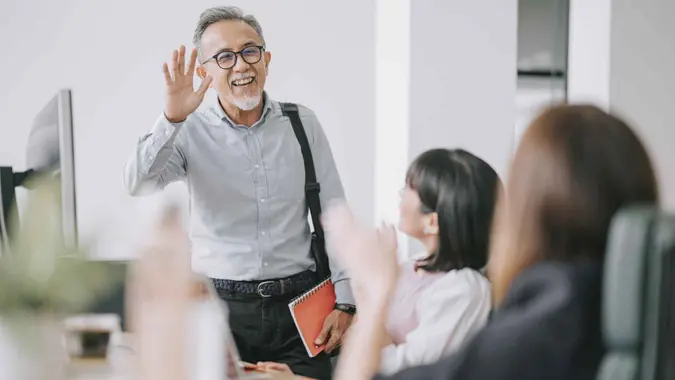 Edwin Tan / Getty Images
Inflation has dramatically cooled down in May — down to 4% from the 9.1% figure of last June — yet, some items, such as shelter, are remaining sticky. Further, some crucial line items, such as food, resumed price increases in May. This increase in costs, combined with high interest rates, has forced many Boomers to "unretire" over the past months.
Indeed, one in six retirees are considering returning to work — and 55% of retirees went back to work because they needed more money, according to a Paychex survey.
As USA Today reported, Americans are increasingly spending more on rent. This reality mostly impacts low-income people and older adults, especially those on fixed budgets.
"Nearly 10 million households headed by people aged 65 or older pay more than a third of their income on housing, and half of these pay more than 50%. Renter households tend to have lower incomes than owner households and are more affected by income and rental price changes," according to USA Today.
While the June 13 consumer price index (CPI) report showed improvement in inflation and provides some breathing room for consumers, shelter prices were the largest driver. The index rose 0.6% for the month, increasing 8% over the last year, accounting for more than 60% of the total increase in the core CPI, according to Bureau of Labor Statistics (BLS) data. In addition, rent prices were up 0.5% in May — something that will continue to put pressure on seniors.
Make Your Money Work for You
"This month, we see that shelter inflation continues to remain a driver of overall inflation, " said Gargi Chaudhuri — head of iShares Investment Strategy, Americas, at BlackRock — adding that inflation will likely remain elevated this year.
"Investors should continue to think about hedging against inflation and consider how higher interest rates for longer could affect their portfolios," added Chaudhuri.
A recent report by U.S. Senate Special Committee on Aging ranking member Mike Braun also noted that inflation has been a factor in forcing retirees back to work and that 43% of those considering returning to work are doing so because of the toll it is taking on their finances. A significant 17% of older workers have decreased retirement account contributions because of inflation, according to the report.
"Americans have been hit hard by the weak and slowing economy, record levels of inflation, and troubling workforce developments," the report noted.
In addition, the report identifies that older Americans are increasingly turning to the gig economy to supplement their incomes and savings due to the flexibility it provides.
More From GOBankingRates