Can Mike Bloomberg's Money Buy Him the Democratic Nomination?

8 min Read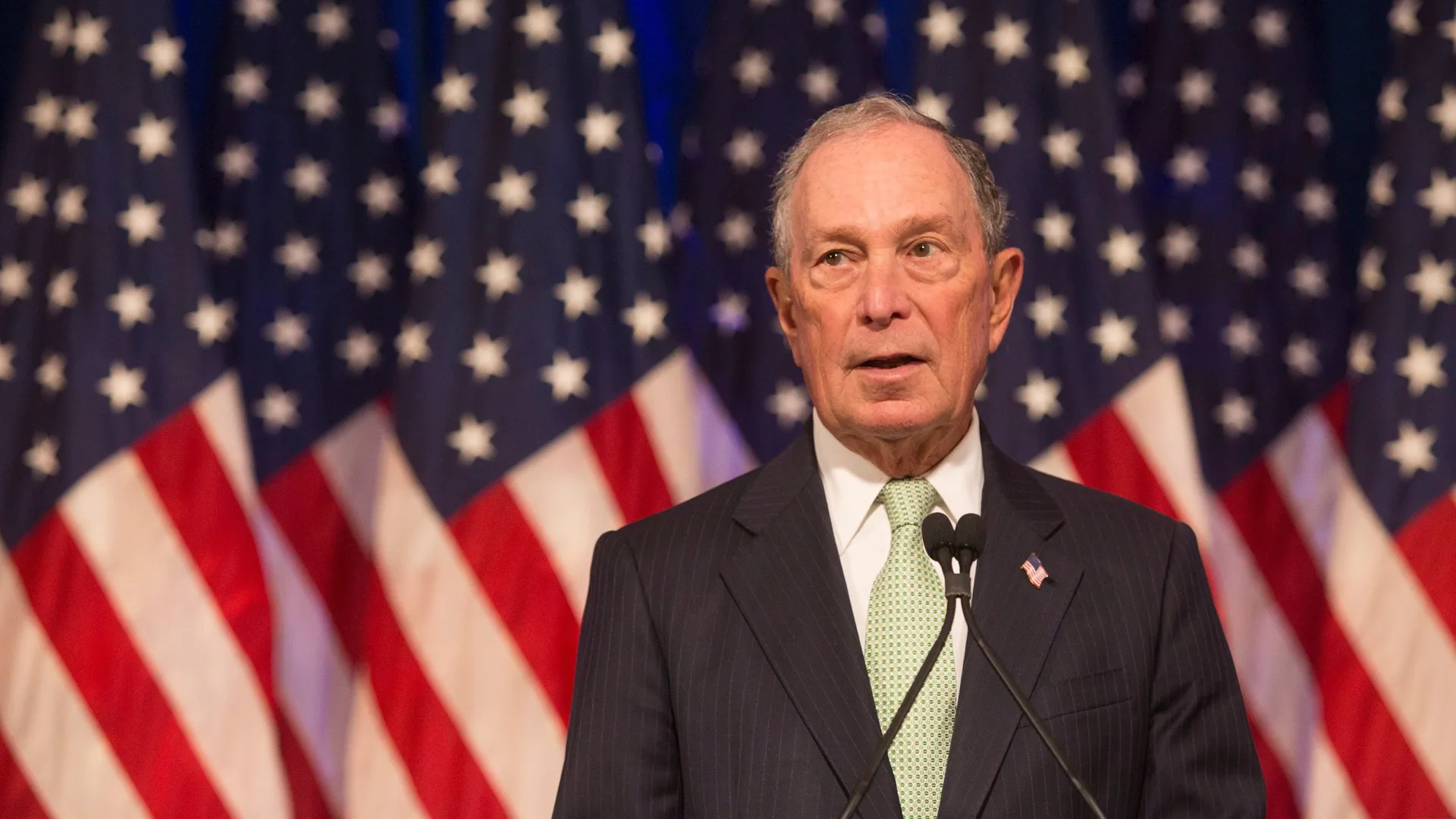 Michael Bloomberg, former New York City mayor and the world's ninth-richest man, threw himself into the already crowded field of candidates for the Democratic nomination for president right before Thanksgiving.
Bloomberg's presence as a moderate who ran as a Republican in New York could shake up the race as voting rapidly approaches. However, some might be concerned that Bloomberg's biggest qualification appears to be the size of his bank account. With more than $50 billion to his name, Bloomberg is the richest man ever to run for the presidency.
So, can Bloomberg's enormous campaign war chest carry him all the way to the Oval Office? Here's a closer look at the man and his prospects for victory.
Last updated: Jan. 6, 2020
Make Your Money Work for You
Michael Bloomberg Net Worth
Michael Bloomberg net worth: $56.7 billion
While other billionaires have taken a run at the presidency, none have been nearly as wealthy as Michael Bloomberg. His net worth in excess of $55 billion — or almost 20 times that of Donald Trump — puts him among the 10 richest people in the world.
The source of his wealth lies primarily in his 88% stake in his namesake company — Bloomberg LP.
Guide to the 2020 Presidential Candidates: Here's Where They Stand on Money Issues and More
How Did Bloomberg Make His Money?
For a lot of Americans, it can be a little difficult to comprehend Michael Bloomberg's net worth. However, that's because they don't work in the financial industry. Bloomberg started his career on Wall Street and spent 15 years working for Salomon Brothers, only to find himself out of work when the firm was acquired in 1981.
But that setback paved the way for Bloomberg to pivot to the "picks and shovels" side of things. He founded his own company and began offering Bloomberg terminals — computer stations that provide a vast array of up-to-the-minute financial data to their users. As Wall Street continued to digitize, Bloomberg terminals became an absolute necessity for doing business — an absolute necessity that rents for over $20,000 a year. There are currently over 325,000 Bloomberg terminal subscribers worldwide.
What Would a Presidential Campaign Cost?
Based on his net worth, Michael Bloomberg can afford to run for president and do so entirely on his own dime. A few times. The 2016 campaigns ran up a combined tab of a little over $2 billion between the two major parties — a little over $770 million for Hillary Clinton and a little over $450 million for Trump.
But, even if Bloomberg were to really go for broke and spend a cool billion on his 2020 run — breaking all previous records — it would still only represent about 1.8% of his total wealth.
Also Read: Americans Still Believe Trump Is the Best President for Their Finances
Make Your Money Work for You
How Much Does Money Matter?
So, can Bloomberg just "buy" the election? Probably not. While money certainly matters to elections, it's not quite so clear that you can simply spend your way to victory. Case in point, Trump's 2016 win despite being outspent by over 70%.
While it's true that the candidate that spends the most wins the vast majority of the time, it's also true that the candidate who's most likely to win usually has an easier time raising money. Many studies have pointed to the amount a candidate spends as having an unclear effect on the outcome. So, while Bloomberg's incredible personal wealth provides him with plenty of advantages — not the least of which is being able to avoid spending his time on fundraising — it's not going to allow him to simply waltz to the nomination with money alone.
If Bloomberg can build name recognition and really start to resonate with primary voters, his money should be a huge asset. But if his message fails to connect, no amount of campaign spending is likely to make a difference.
How Have Other Candidacies From the Rich Fared?
Of course, one other reason voters shouldn't expect Bloomberg to be able to "buy" the election is that plenty of candidates before him have tried and failed. Bloomberg is just the next in a long line of billionaires (and multimillionaires) who tried to use their immense personal wealth to underwrite a run for the presidency.
Donald Trump
You don't have to look far for the first example. Donald Trump's personal wealth (which Forbes pegs at $3.1 billion) makes him the richest person ever to serve as president. If anything, his success as a total political outsider is likely helping drive a number of the other campaigns by billionaires launched last year.
However, it's worth noting again that Trump's status as a billionaire — and his ability to self-fund much of his campaign — isn't what appeared to tip the scales. After all, Clinton's campaign raised and spent significantly more money than Trump's and still came up short — making Trump the first president elected in spite of a smaller campaign budget since Jimmy Carter in 1976.
Make Your Money Work for You
Tom Steyer
In fact, if you're looking for more billionaires with aspirations to the nation's highest political office, you won't even need to go outside the Democratic primary. Tom Steyer is a former hedge fund manager — worth a "mere" $1.6 billion — who has committed himself to politics in retirement.
Steyer has made his name as one of Trump's most vocal opponents — and one of the earliest voices calling for the president's impeachment. Now, he's running for the Democratic nomination with a focus on, ironically, ending the influence of big money in politics.
Howard Schultz
Another billionaire with no political experience who decided to take a run at the White House was the former CEO of Starbucks, Howard Schultz. Though, at this point, it appears as if his campaign might have been an example of one espresso too many.
Schultz — who has a net worth of $4.4 billion— was largely responsible for taking over an unknown regional coffee company in the 1980s and then turning it into the global beverage juggernaut it is today. His record of success led him to announce a third-party candidacy for 2020 that, he hoped, would appeal to moderate and independent voters.
However, after announcing his campaign in January of 2019, Schultz failed to gain a lot of traction in the polls and was harshly criticized for potentially giving a boost to Trump's candidacy by running as a third-party candidate. He stopped campaigning in June before announcing the end of his race in September to recover from back surgery.
Ross Perot
Ross Perot — in addition to having the second-most successful third-party candidacy in American history — claims the second-most successful presidential campaign by a billionaire outsider in American history after Donald Trump's 2016 victory.
Perot was a former IBM salesman who founded his own data-processing firm and made a fortune — he was worth $4.1 billion in March of 2019, a few months before his death. Perot would run a firey outsider campaign in 1992 that focused on the national debt and ultimately garnered 18.9% of the popular vote — the most ever by an independent candidate.
Make Your Money Work for You
Steve Forbes
While publishing heir Steve Forbes never quite had the fortune to land on his namesake list of wealthiest people, he did generate plenty of discussion with his runs for the Republican nomination in 1996 and 2000. Drawing on his personal wealth that came from being the son of publisher Malcolm Forbes and grandson of B.C. Forbes — founder of the eponymous magazine.
Forbes' signature issue was a memorable one: a flat tax. He centered his campaign around setting a single tax rate for all Americans, regardless of income. The issue didn't prove enough to overcome his outsider status, though, as he fell to veteran senators Bob Dole and John McCain, respectively.
Does Bloomberg Have a Chance?
So what are Bloomberg's chances? Is he more Donald Trump or Steve Forbes? Only time will tell, but Bloomberg certainly appears to be pretty serious. He outspent the entire Democratic field for one week in early December, and there does seem to be room for a moderate candidate to make his or her case.
However, polling at this point doesn't look good for the former New York mayor. His late start to things puts him well behind other campaigns in terms of the valuable fieldwork that goes into winning primary elections. He's currently averaging just over 5% in the polls — good for fifth behind Joe Biden, Elizabeth Warren, Bernie Sanders and Pete Buttigieg.
More From GOBankingRates
About the Author