College Grads Are Fleeing Big Cities: Here's Where They're Going Instead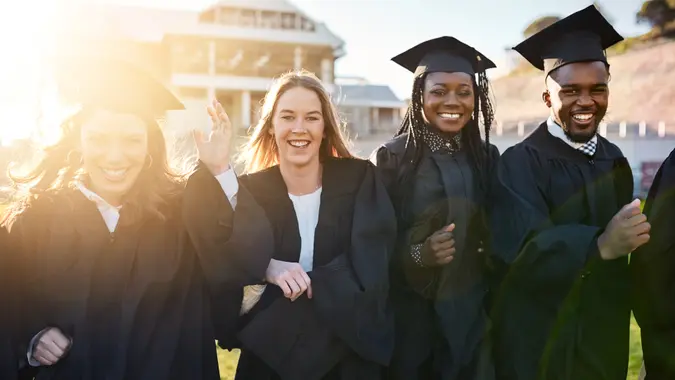 PeopleImages / Getty Images
Coastal cities like New York and San Francisco have long seen an exodus of lower-paid workers who simply can't keep up with the escalating cost of living. But in the last few years, a new phenomenon has popped up on the screens of statisticians: the fleeing of big cities by generally well-paid, highly educated college graduates.
This isn't the normal demographic trend, as higher-paid, higher-educated workers tend to flock to areas with the highest pay, such as Silicon Valley. So, what has changed in recent years, and where are these college-educated workers headed? Read on to learn more about this intriguing topic.
Which Cities Are College Grads Leaving?
According to data from the New York Times, the greatest exodus of college grads is occurring in the 12 most expensive large metro areas. This includes cities that are expensive on a relative basis and have a population in excess of 1 million, such as Los Angeles, New York and Chicago.
What's the Reason Behind the Exodus?
Once you dig a bit deeper into the statistics, the exodus of higher-paid, college-educated workers from coastal cities starts to make a bit more sense.
For decades, lower-paid workers have been moving out of high-cost cities because they simply can't afford to live there. Typically, higher-paid workers are immune to this phenomenon. But thanks to skyrocketing inflation in recent years, the cost of living in coastal cities has caught up with even some higher-paid workers.
Make Your Money Work for You
While they may still be able to afford a comfortable lifestyle, some have been forced to reduce their quality of life, perhaps by forgoing dining out or various entertainment options, or by buying less expensive cars or homes. Faced with continuously rising costs, more affordable cities can start looking more appealing. 
Where Are College Grads Headed?
College grads have long been populating other large metros with more than one million residents. Cities included in these 41 metros, according to the New York Times data, include Austin, Texas; Phoenix, and Raleigh, North Carolina. 
But where things have changed in recent years has been in midsized metros, with 250,000 to one million residents, and in smaller metros and rural America. For decades, these two categories of metros have seen a constant migration outward of college graduates.
But recently, that trend has shifted. Cities like Tucson, Arizona, and Fresno, California, have seen an influx of college graduates in the last two years. Over the past year, so have cities like Yakima, Washington; Sioux Falls, South Dakota; and College Station, Texas, which comprise smaller metros or even rural areas. 
Comparing the Cost of Living in Select Cities
Most people inherently understand that inland cities tend to be cheaper than those on the coast. But seeing some of the numbers in black and white can help explain the difference in an easily understandable format.
Here's a comparison of various costs in selected U.S. cities, according to data from Numbeo. New York City is used as the basis for determining the relative cost-of-living index, with a figure of 100:
Make Your Money Work for You
New York City
Average one-bedroom rent: $3,737.57
Average price-per-square-foot for home or apartment: $1,405.93
Cost-of-living index: 100.0
San Francisco
Average one-bedroom rent: $3,335.91
Average price-per-square-foot for apartment: $1,065.30
Cost-of-living index: 97.7
Houston
Average one-bedroom rent: $1,573.98
Average price-per-square-foot for apartment: $276.50
Cost-of-living index: 71.0
Phoenix
Average one-bedroom rent: $1,711.82
Average price-per-square-foot for apartment: $295.85
Cost-of-living index: 74.0
These differences are quite dramatic.
The overall cost of living in Houston, for example, is 29% lower than that in New York, and housing costs aren't even in the same ballpark. If you're looking to rent a one-bedroom apartment in Houston, you'll be paying about 60% less than you would in New York City — and if you decide to buy that city-center apartment, you'll pay more than five times as much in the Big Apple as in Space City. 
These and other cost comparisons are no doubt a major reason for some of the migration from the big coastal cities.
The Bottom Line
No study can accurately determine the migration motives for every single college grad. But it appears that on average, the costs in expensive, large cities are finally catching up to the salaries of even high-earning college graduates.
More From GOBankingRates