Consumer Price Index: Cost of Gas, Eggs & Rent Keep Inflation High for January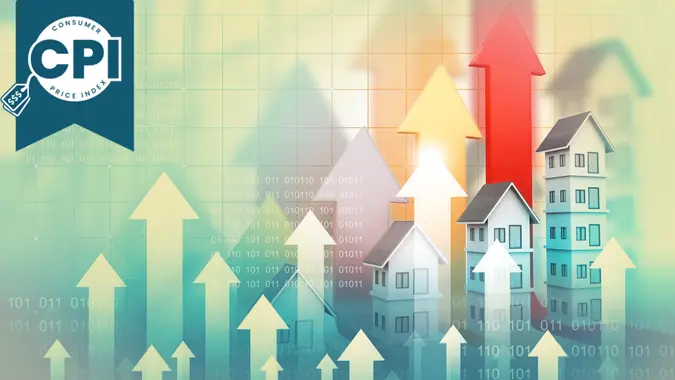 Mohammed Haneefa Nizamudeen / Getty Images/iStockphoto
The first reading of 2023 showed stubborn inflation, as the Consumer Price Index (CPI) decreased just 0.1% to 6.4% on an annual basis. However, it was higher than anticipated. This is the seventh consecutive month of decreases, but the seemingly slow pace was largely driven by increased shelter prices. Higher gas and food prices were major contributors as well.
While this was the smallest 12-month increase since the period ending October 2021, the figure also represents a 0.5% increase for the month, the Bureau of Labor Statistics (BLS) said in the Feb. 14 announcement. Core CPI, which excludes food and energy, rose 5.6%.
The data was higher than estimates, as economists expected inflation to increase at an annual pace of 6.2% in January according to Dow Jones. They estimated that core CPI to increase at a 5.4% annual rate.
"January's higher-than-expected CPI increase likely squashes any remaining outlook for a Fed pivot in 2023. Today's report again reiterates what Powell has been indicating: we don't quite have a grasp on inflation, and there's still work to be done," said Ben Vaske, investment research analyst at Orion Advisor Solutions.
Last month, the first CPI release of the year showed that inflation eased for the sixth consecutive month, dropping to 6.5% in December. This was the smallest 12-month increase since the period ending October 2021.
Will The Fed Ease Up on Interest Rate Increases?
Now, with inflation that is decreasing but at a very slow pace, the question remains whether the data might give the Fed reason enough to ease its pace of rate hikes. Several experts believe- as Chair Jerome Powell said earlier this month- that the Fed still has a lot of work to do to tame inflation and that it has a long way to go to achieve its 2% goal. 
Make Your Money Work for You
"If today's CPI report had come in a vacuum, or had arrived 10 days ago, it would have been surprising and pushed rates higher," said Jeffrey  Rosenkranz, portfolio manager, Shelton Capital Management. However, the market has moved quite a bit over the last couple weeks and braced itself for the 'higher for longer' narrative."  
Rosenkranz added, however, that under the hood, some details suggest recent progress on inflation is backsliding and that rates will likely remain rangebound within this recent higher band for a little while, as 25 bp hikes "are all but locked in for March and May." 
"Whether we need another one in June or July should be less of a concern than the cumulative impact all of this tightening will eventually have on the economy.  Sentiment has evolved from hard landing to soft landing to even some chatter about 'no landing'.  This is where the danger is — complacency over the severity of an impending recession," he added.
How Does the Jobs Report Factor In?
This latest set of data comes on the heels of an extremely hot jobs report, as the country added 517,000 jobs in January and the unemployment rate fell to 3.4%, according to the BLS. In comparison, economists were expecting 185,000 job gains, according to CNN.
"Strong jobs, a hawkish Fed and a hotter than expected CPI read are not data points that we were hoping for in markets, or in the broader macro economy," said Sylvia Jablonski, CEO and CIO of Defiance ETFs. Jablonski added, however, that while it could have been a more favorable read, flat or downward sloping, the broader picture is that inflation is decreasing.
"The market seemed to want a linear story in the decline of inflation, but the broader data suggests that CPI is going in the right direction," she said, noting, however, that today's data, coupled with the jobs reports will likely support the Fed's hawkish tone and intentions to keep rates higher for longer.
Make Your Money Work for You
"However, we are still closer to the end than not," she said. "Longer term, investors have patience. It could be a good day to buy on the dip and look through this next year or two of market activity and focus instead on creating future wealth."
Energy and Gas Indexes Rise Again
Following declines, the energy index rose 2% in January, bringing it to an 8.7% increase on an annual basis. Meanwhile, the gasoline index increased 2.4% for the month – a 1.5% annual increase.
In addition, natural gas rose 6.7% in January and the index for electricity increased 0.5%.
Food Indexes Continue to Strain Consumer Spending
The food index increased 0.5% in January, representing a 10.1% increase over the last 12 months.
In addition, the food at home index rose 0.4% over the month, representing an 11.3% increase over the last 12 months, while the food away from home rose 0.6% in January, an 8.2% annual increase.
Prices for meats, poultry, fish, and eggs increased 0.7% over the month. Prices for eggs, which have been soaring for the past few months, continued to increase, rising 8.5% for the month and representing a whopping 70.1% annual increase.
On the other hand, the fruits and vegetables index fell 0.5% over the month with the fresh vegetable index declining 2.3%. The index for dairy and related products was unchanged in January.
Despite the slightly higher numbers than anticipated, the continuation of the numbers coming down each month is giving markets comfort that inflation has indeed peaked, said Kevin Rendino, CEO of 180 Degree Capital.
"That said, I would have expected we would have been a little further along at this rate and there are no signs that the labor market is slowing which is the overall concern. I think the point is there is much for the bulls to cheer—-and much for the bears to worry about it."
Make Your Money Work for You
The Shelter Index Dominates All Increases
The shelter index was the dominant factor in the monthly increase in the Core CPI-rising 7.9% in the past year and accounting for almost 60% of the total increase.
"Housing prices continue to rise consistently as well, in large part because rent renewals are typically just once a year (so there's a lag), and low inventory is keeping home purchase prices high. Grocery inflation is stubbornly high as well. And inflation in many services categories – it's still very broad-based," said Ted Rossman, senior industry analyst at Creditcards.com.
The BLS added that other indexes with notable increases in January include the index for motor vehicle insurance, which increased 1.4% over the month, the index for recreation rose 0.5% and the index for apparel increased 0.8%.
What does it mean?
"We were probably due for a hotter-than-expected inflation report, and we got one this morning," said Creditcards.com's Rossman, adding that inflation is only coming down slightly on a year-over-year basis.
Rossman added that while there is a lag between the Fed's rate hikes and the effects on the economy, this is a reminder that we still have a ways to go before we declare victory over inflation.
"In some respects, we're dealing with the worst of it now, because inflation is still high and higher interest rates are pinching borrowers, especially people with credit card debt and those in the market for a new mortgage," he said. 
Make Your Money Work for You
Other experts echoed the sentiment, saying that while inflation continues to slow, declines may be leveling off.
"While progress is being made to return inflation to the 2% Fed target, the uneven pace means that further interest rate increases may be in store,"  said Charlie Wise, TransUnion Senior vice president of research and consulting.  "The continued elevated inflation levels and interest rates are expected to impact many consumers, who will likely continue to turn to credit products to help them get through these high-cost times."
More From GOBankingRates