Consumer Price Index: January Inflation By The Numbers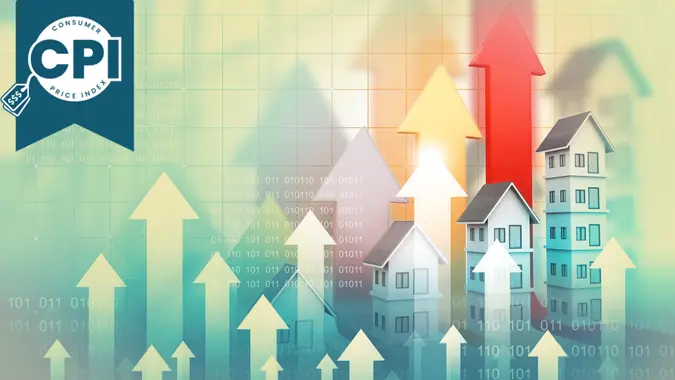 Mohammed Haneefa Nizamudeen / Getty Images/iStockphoto
The Consumer Price Index has been put out by the Bureau of Labor Statistics each month since February 1921. It is a measure of the average change in the cost of goods for consumer goods and services. Indexes measure price changes in food, energy, cars, housing, travel expenses and more.
Inflation rates for January 2023 came down 0.1%, dropping to 6.4% year over year. The shelter index had the largest impact on the inflation rate, while the indexes for food, gasoline and natural gas also increased.
This is the first report in which the BLS measured inflation using data using a one-year (2021) model instead of the two-year model it had previously been using.
Here is a breakdown of inflation changes for January 2023:
| INDEX | Month over Month | Year over Year |
| --- | --- | --- |
| All items | 0.5 | 6.4 |
| Food | 0.5 | 10.1 |
| Food at home | 0.4 | 11.3 |
| Food away from home(1) | 0.6 | 8.2 |
| Energy | 2 | 8.7 |
| Gasoline (all types) | 2.4 | 1.5 |
| Fuel oil(1) | -1.2 | 27.7 |
| Energy services | 2.1 | 15.6 |
| Electricity | 0.5 | 11.9 |
| Utility (piped) gas service | 6.7 | 26.7 |
| New vehicles | 0.2 | 5.8 |
| Used cars and trucks | -1.9 | -11.6 |
| Apparel | 0.8 | 3.1 |
| Shelter | 0.7 | 7.9 |
| Transportation services | 0.9 | 14.6 |
| Medical care services | -0.7 | 3 |
Data from BLS
Make Your Money Work for You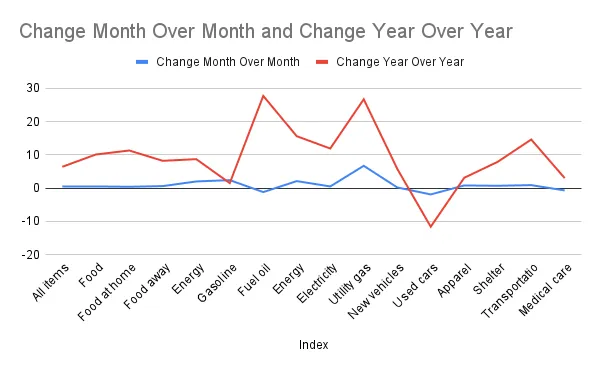 More From GOBankingRates
Make Your Money Work for You