Debt Ceiling 2023: 'Extraordinary Measures' US Treasury Could Take To Avoid Default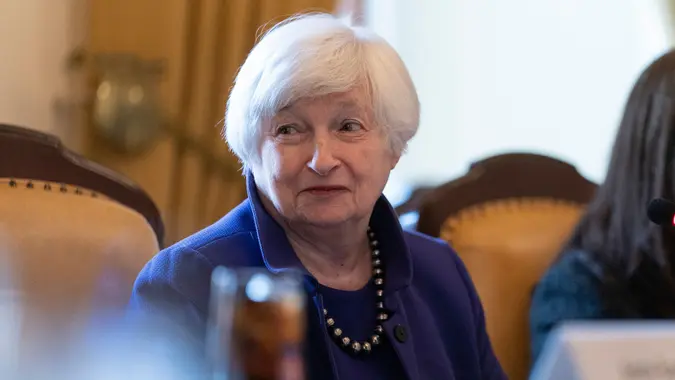 Carolyn Kaster / AP / Shutterstock.com
As the deadline for the debt ceiling looms — Treasury Secretary Janet Yellen said the country would hit the threshold on Jan. 19 — negotiations seem at a standstill, which could force the Treasury to take "extraordinary measures."
See the List: GOBankingRates' Best Banks of 2023
Explore: With Recession Looming, Stay On Track With 3 Retirement Moves
Government Shutdown vs. Debt Ceiling: What's the Difference?
As the Washington Post reported, economists are warning that a failure to raise the debt ceiling could push the United States to default, "sparking a major panic on Wall Street and leading to millions of job losses."
The debt limit was raised to approximately $31.381 trillion on Dec. 16, 2021,  but a Republican-led Congress following the midterm elections is now looking for spending cuts in exchange for support in raising the debt ceiling, something most Democrats argue against.
Last week, Yellen wrote a letter to newly elected House Speaker Kevin McCarthy, saying that "failure to meet the government's obligations would cause irreparable harm to the U.S. economy, the livelihoods of all Americans, and global financial stability," as GOBankingRates previously reported.
Make Your Money Work for You
In turn, she said that Treasury would have to take extraordinary measures, which include temporarily redeeming existing — and suspending new — investments of the Civil Service, Retirement and Disability Fund and the Postal Service Retiree Health Benefits Fund, as well as suspending reinvestment of the Government Securities Investment Fund of the Federal Employees Retirement System Thrift Savings Plan, according to her letter.
"The period of time that extraordinary measures may last is subject to considerable uncertainty due to a variety of factors, including the challenges of forecasting the payments and receipts of the U.S. government months into the future," she wrote.
Take Our Poll: How Do You Think the Economy Will Perform in 2023?
"Republicans want to hold our economy hostage in order to extract cuts to Social Security and Medicare. Democrats will stand firm. We will not allow Republicans to leverage the debt ceiling to weaken Social Security or Medicare," California Rep. Ted Lieu tweeted.
Senate Majority Leader Chuck Schumer (D-NY) said in a statement on Jan. 17, "America pays its debts. Period. There should be no political brinkmanship with the debt limit. It's reckless […] to try and use the full faith and credit of the United States as a political bargaining chip. A default would be catastrophic for America's working families and lead to higher costs."
Make Your Money Work for You
Conversely, Ohio Rep. Jim Jordan countered in his own tweet on Jan. 18, writing, "Just a few weeks ago, Joe Biden signed a $1.7 trillion spending monstrosity. And now the White House says it will NOT negotiate with Republicans over the debt ceiling. They created the problem!"
"When congress increases the debt ceiling, our interest payments go up, meaning there's less money to spend on real priorities like investing in a strong national defense. And before we know it, we'll be spending more on interest payments than on ANYTHING else. It's got to stop," Florida Senator Rick Scott tweeted Jan. 18.
It's important to note that raising the debt ceiling does not authorize new spending commitments, it simply allows the government to finance existing legal obligations that congresses and presidents of both parties have made in the past, according to the Treasury. In turn, "the federal government would have to at least temporarily default on many of its obligations, from Social Security payments and salaries for federal civilian employees and the military to veterans' benefits, among others," according to the Committee for a Responsible Federal Budget (CFRB).
Make Your Money Work for You
Learn: What Happens If the Debt Ceiling Isn't Raised?
Increase Our Taxes: Global Millionaires Demand To Have Their Wealth Taxed More
Meanwhile, Republicans are reportedly working on a "payment prioritization" proposal which would call on the government to make only the most critical federal payments, The Washington Post reported.
More From GOBankingRates
Make Your Money Work for You