Debt Ceiling 2023: US Will Be Unable to Pay Bills Sometime Between July & September, New Data Shows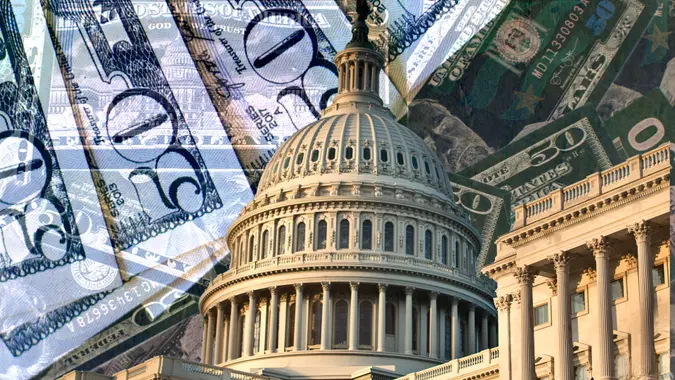 Douglas Rissing / Getty Images/iStockphoto
The U.S. government will exhaust its "extraordinary measures" if the debt ceiling isn't raised, sometime between July and September, which will result in its inability to pay some of its obligations fully, the Congressional Budget Office (CBO) warned on Feb. 15.
Student Loan Forgiveness: Biden Administration Makes It Easier for Those Misled by Schools To Have Debt Erased
Discover: With a Recession Looming, Make These 3 Retirement Moves To Stay On Track
"The projected exhaustion date is uncertain because the timing and amount of revenue collections and outlays over the intervening months could differ from CBO's projections," the CBO said in a report.
The CBO said that this would partly depend on income tax receipts in April, which could be more or less than CBO estimates.
"Over the long term, our projections suggest changes in fiscal policy must be made," Phillip Swagel, the director of the CBO, told reporters on Feb. 15, according to The Washington Post.
The stark warning comes on the heels of the U.S hitting its debt ceiling on Jan. 19, and Treasury Secretary Janet Yellen notifying Congress it would start its "extraordinaire measures," which include the suspension of new investments in the Civil Service Retirement and Disability Fund (CSRDF) and the Postal Service Retiree Health Benefits Fund (PSRHBF) from today until June 5, 2023, as GOBankingRates previously reported.
Make Your Money Work for You
The debt limit was raised to approximately $31.381 trillion on Dec. 16, 2021, but a Republican-led Congress following the midterm elections is now looking for spending cuts in exchange for support in raising the debt ceiling, something most  Democrats argue against.
"If the debt limit was not raised or suspended, the Treasury would not be authorized to issue additional debt other than to replace maturing securities. That restriction would ultimately lead to delayed payments for some government activities, a default on the government's debt obligations, or both," the CBO said.
On Feb. 14, Treasury Secretary Janet Yellen reiterated her grim assessment of the consequences of a failure to raise the debt ceiling.
Speaking at  a National Association of Counties conference, Yellen said that in her assessment, and that of economists across the board, "a default on our debt would produce an economic and financial catastrophe."
"Many of your residents could ultimately lose their jobs. Household payments on mortgages, auto loans, and credit cards would rise, and American businesses would see credit markets deteriorate. On top of that, it is unlikely that the federal government would be able to issue payments to millions of Americans, including our military families and seniors who rely on Social Security. In the longer term, a default would raise the cost of borrowing into perpetuity. Future investments — including public investments — would become substantially more costly," she said, according to her prepared remarks.
Make Your Money Work for You
Take Our Poll: Do You Have a Second Job or Backup Plan in Case You Are Laid Off?
Learn: What Is the Standard Deduction for People Over 65 in 2023?
The CBO also issued economic projections, saying that The unemployment rate will rise through early 2024, reflecting the slowdown in economic growth. In addition, it projects inflation to decline in 2023 and to continue until 2027, "when the rate of inflation reaches the Federal Reserve's long-run goal."
More From GOBankingRates
Make Your Money Work for You