A Debt Ceiling Breach Could Cost US Up to 8 Million Jobs and Crash the Stock Market, New Report Says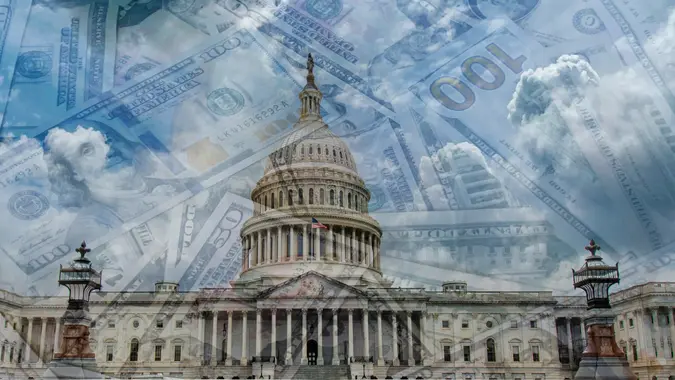 Douglas Rissing / Getty Images/iStockphoto
Amid a stalemate in debt ceiling negotiations, the White House is warning that if the U.S. were to default on its debt, the country could lose 8 million jobs and the stock market would crash.
In a May 3 report, the White House Council of Economic Advisers said that an actual breach of the U.S. debt ceiling would likely cause severe damage to the U.S. economy.
Citing a recent analysis by Moody's, they note that under a clean debt ceiling increase, job growth continues over the next few quarters, adding 900,000 jobs. However, under a protracted default scenario, job losses amount to almost 8 million.
The warning comes on the heels of Treasury Secretary Janet Yellen telling Congress that the U.S. could default on its debt as early as June 1. The so-called X-date (when the country will default) has been pushed earlier than previously anticipated, as in a Jan. 13 letter, Yellen wrote that "it was unlikely that cash and extraordinary measures would be exhausted before early June."
Make Your Money Work for You
The economists further note that under the worst-case scenario of a protracted default- one that lasts about three months, according to The Washington Post- there would be an "immediate, sharp recession on the order of the Great Recession."
"In 2023 Q3, the first full quarter of the simulated debt ceiling breach, the stock market plummets 45%, leading to a hit to retirement accounts; meanwhile, consumer and business confidence take substantial hits, leading to a pullback in consumption and investment," the note.  "Unemployment increases 5 percentage points as consumers cut consumption, and businesses lay off workers."
Even in the case of a short debt limit breach, the economy would be enormously impacted with a decline in GDP, nearly 2 million lost jobs, and an increase in the unemployment rate to nearly 5% from its current level of 3.5%, they note citing a Moody's analysis.
Take Our Poll: Are You Concerned About the Safety of Your Money in Your Bank Accounts?
"While policy makers have thus far, in the long history of our Nation, avoided inflicting such damage on the American and even global economies, virtually every analysis we have seen finds that default leads to deep, immediate recessionary conditions. Economists may not agree on much, but when it comes to the magnitude of risks invoked by closely approaching or breaching the debt ceiling, we share this deeply troubling consensus," they concluded. 
Make Your Money Work for You
More From GOBankingRates
Make Your Money Work for You