Debt Ceiling 2023: US Could Default on Loans as of June 1, Says Yellen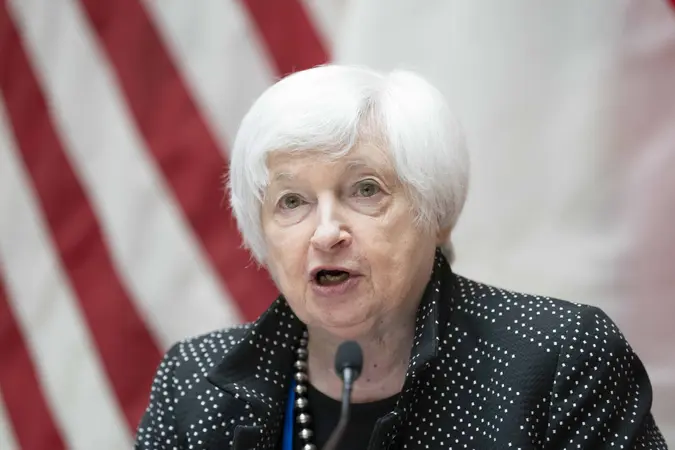 Bonnie Cash/UPI/Shutterstock / Bonnie Cash/UPI/Shutterstock
In a stark warning, Treasury Secretary Janet Yellen told Congress that the U.S. could default on its debt as early as June 1. If that were the case, there would be enormous financial consequences for many Americans. 
"After reviewing recent federal tax receipts, our best estimate is that we will be unable to continue to satisfy all of the government's obligations by early June, and potentially as early as June 1, if Congress does not raise or suspend the debt limit before that time," Yellen wrote in a May 1 letter. "This estimate is based on currently available data, as federal receipts and outlays are inherently variable, and the actual date that Treasury exhausts extraordinary measures could be a number of weeks later than these estimates."
The so-called X date (when the country will default) has been pushed earlier than previously anticipated. In a Jan. 13 letter, Yellen wrote that "it was unlikely that cash and extraordinary measures would be exhausted before early June."
"If Congress fails to increase the debt limit, it would cause severe hardship to American families, harm our global leadership position and raise questions about our ability to defend our national security interests," she added in the letter.
If the U.S. were to default on its debt, it would have dramatic economic and financial consequences for Americans. As Yellen said in February, many could lose their jobs; household payments on mortgages, auto loans and credit cards would rise; and American businesses would see credit markets deteriorate.
Make Your Money Work for You
"On top of that," she said, "it is unlikely that the federal government would be able to issue payments to millions of Americans, including our military families and seniors who rely on Social Security. In the longer term, a default would raise the cost of borrowing into perpetuity. Future investments — including public investments — would become substantially more costly."
Also on May 1, the Congressional Budget Office (CBO) said that because tax receipts through April have been less than what it had anticipated in February, it too now estimates that the Treasury will run out of funds in early June.
This compresses the timeline to a much accelerated and limited one for negotiations, which have been at a stalemate for months.
Speaking on May 1, President Joe Biden said, "The most important thing we have to do in that regard is to make sure the threat by the speaker of the House to default on the national debt is off the table."
"For over 200 years, America has never, ever, ever failed to pay its debt," he said, according to a transcript of his remarks. "In colloquial terms, America is not a deadbeat nation. We have never, ever failed to meet the debt."
As for House Republicans, they passed the Limit, Save, Grow Act on April 26 to increase the debt ceiling while cutting federal government spending.
Make Your Money Work for You
As ABC News reports, "While the legislation has no prospect of becoming law, GOP leaders hope it will help force negotiations with Democrats."
More From GOBankingRates