Don't Throw Away This Envelope That Looks Like Junk Mail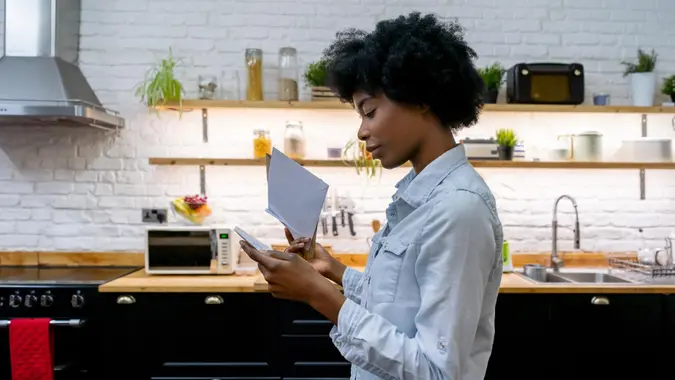 andresr / Getty Images
If you're still waiting on your economic stimulus payment from the $900 billion stimulus package passed in late December, review your mail carefully before tossing anything that looks like it could be junk. Many people will receive their stimulus money on a debit card mailed in a white envelope declaring, "Important information about your Economic Impact Payment."
See: What a $600 Stimulus Check Can Actually Buy You in America
Find: Didn't Get Your Stimulus Check? You Might Want to  Blame TurboTax or H&R Block
Like most people, you probably believe that "important information" from addresses you don't recognize is usually anything but important. In this case, however, it could be a debit card from the IRS preloaded with $600 for an individual, plus up to $600 per person for anyone else in your family.
Other reports say the envelope may read: "Money Network Cardholder Services." In essence, if you're still waiting for your stimulus money, open every piece of mail just in case. And if you open the envelope to find a blue card with silver stars and the Visa Debit logo on it, don't throw the card away. It is most likely not a scam.
Make Your Money Work for You
See: "Status Not Available" on IRS Website Could Mean You Won't See Your Stimulus Payment Soon
Find: Second Stimulus Check — Should You Spend or Save Your $600?
Daniel Brazill, a 63-year-old Detroit man, almost did exactly that. He had received his first stimulus payment via check and didn't understand why the IRS would send him a debit card this time, he told the Detroit Free Press. He'd been scammed before and was on the alert.
Nevertheless, he called the 800 number on the back and entered the 16-digit card number as requested. But when they asked for the last six digits of his Social Security number, he hung up the phone to investigate further.
See: 15 Coronavirus Scams to Avoid at All Costs
Find: Third Stimulus Check Likely Coming Under Biden — How Much Could You Get?
Stimulus payment scams are out there, and it's worth keeping a cautious eye so as not to be taken. For instance, some people have reported receiving text messages requesting bank account information for direct deposit of your stimulus money. The IRS will never text, call or email asking for bank information or payments.
But if you receive a blue Visa debit card with silver stars in the mail, it is your stimulus payment. You will need to activate the card by providing your name, address and Social Security number. Then you'll create a four-digit PIN to withdraw cash from an ATM or use the card in stores.
Make Your Money Work for You
If you did throw away your card, call 800-240-8100 right away to report it lost, and the IRS will ship a new card. You can have it sent priority mail to get your money faster, but there's a $17 fee.
More From GOBankingRates:
Make Your Money Work for You