The Law of Diminishing Marginal Utility & How It Affects How Much You're Spending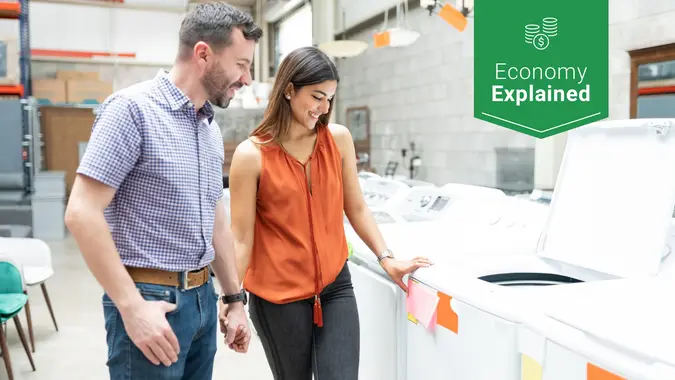 Antonio_Diaz / iStock.com
If you're shopping for a new dishwasher, you might be thrilled to save a few hundred bucks on a model you like during a big sale. But there's almost no chance that you would buy the same dishwasher again, even if it were selling for half of what you paid the first time. 
The Economy and Your Money: All You Need To Know
More Economy Explained: How To Calculate Your Debt-to-Income Ratio
What, after all, could you possibly do with a second dishwasher — and how could you feel good about that purchase no matter how much money you saved? 
That, more or less, is the concept of diminishing marginal utility, a clunky economic term for when consumers feel better about buying something the first time than they do about buying it again.
Find Out: Cost of Living: What's Included & How's It Calculated?
Read More: Inflation's Ups and Downs: How It Impacts Your Wallet
Make Your Money Work for You
Utility: That Fleeting Good Feeling
If "diminishing marginal utility" sounds like a jumble of words plucked at random from the appendix of a textbook, it's probably because of the word "utility." Utility normally refers to how well a thing functions as opposed to how good it looks. In economics, however, "utility" refers to the emotional state of being happy or satisfied.
A product or service has utility if it makes the consumer feel like the purchase delivered good value for the money — and the first purchase is always the sweetest.
See: What You Should Understand About Economic Inequality and Its Impact on You
Check Out: Understanding the Differences Between Inflation, Deflation & Stagflation
The classic Economics: 101 analogy involves a hungry woman who hasn't eaten all day sitting down in front of a bubbling hot pizza fresh out of a brick oven.
The first slice is pure magic — she might have paid $10 for it if that were the cost. 

The second slice is great, too, but the hunger it satiates is less ravenous this time. 

By the third slice, her stomach is no longer growling and she's eating just because there's a pizza in front of her. 

Far from being worth $10, the fourth slice is so unnecessary, it would be worthwhile only if it were free. 

By the fifth slice, the thought of more pizza would be so unappealing that the pizza shop might have to pay her to eat it — another bite could make her feel sick.
Make Your Money Work for You
By the fifth slice of pizza, the previously famished but now-full woman experienced negative utility — that's when further consumption of the same thing makes a consumer feel worse, not better.
Good To Know: How Interest Rates Affect Your Wallet and the Bigger Economic Picture
Consider the Second Data Plan Concept
Say, for example, it costs $50 a month to activate a mobile device with a data plan. That leap — a household moving from being unconnected to connected — represents an enormous step up in living standards. The addition of a second device would be an improvement, but the transition from one connected device to two is not nearly as fulfilling as it had been to graduate from none to one.
Verizon, AT&T and the rest understand the concept of diminishing marginal utility, which is why it always costs less to add new devices to an existing data plan than it did to activate the original.
Find Out: What To Expect From an Economic Boom
Diminishing marginal utility is important because it's tied directly to supply and demand — the more of something there is, the less value it has. Businesses that don't understand the correlation between how their customers feel about something and what they're willing to pay for it are doomed to be the mobile carrier that prices the second line at $50, same as the first. 
Make Your Money Work for You
That company doesn't last very long.
This article is part of GOBankingRates' 'Economy Explained' series to help readers navigate the complexities of our financial system.
More From GOBankingRates
Last updated: Aug. 16, 2021
Make Your Money Work for You