What Construction Spending Includes & Why It's an Important Economic Indicator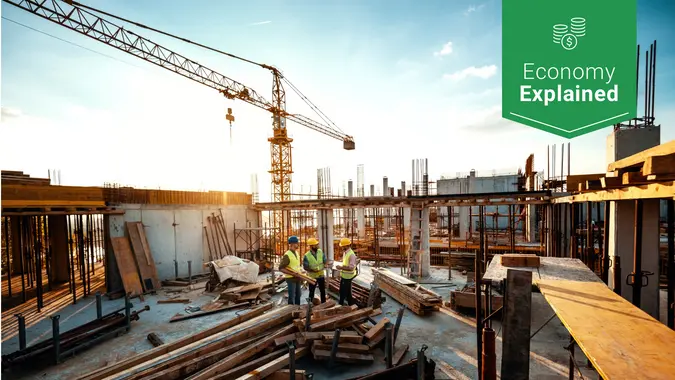 Drazen_ / iStock.com
You can tell a lot about an economy by what's being built. In 2014, Market Realist analyzed construction spending data from the 1950s through the crash of 2008. The report found that, on average, America's builders delivered about 850,000 housing starts during the lowest lows of the country's recessions and more than 2 million during the peaks of its economic booms.
That's quite a difference. 
The Economy and Your Money: All You Need To Know
Find Out: What To Expect From an Economic Boom
When things are good, people build. When they're not, they play it safe, hold off and wait for the storm to pass. That's why construction spending is such an important and telling economic indicator.
As Construction Spending Goes, So Goes the GDP
Although construction spending itself doesn't hold too much sway over financial markets, it does offer valuable insight into the overall health of the economy. That's because it tracks so closely to the most important economic indicator of them all — gross domestic product (GDP). Economists use the GDP to measure economic output. When the GDP rises, both consumers and businesses are spending more in an expanding economy. When the GDP falls, the economy is contracting.
Make Your Money Work for You
Find Out More: The Relationship Between Inflation and a Rising Minimum Wage
A rise in construction spending usually coincides with a rise in the GDP. When construction spending falls, you can usually count on GDP growth to fall right along with it. In fact, construction spending is such a reliable indicator that the Bureau of Economic Analysis (BEA) uses it directly when formulating its GDP statistics.
Related: National Debt and Deficit — How Does It Affect Me?
More: What Is Inflation and What Does It Mean When It Goes Up or Down?
So, Construction Spending Is Important, but How Is It Measured?
The data that the BEA relies on to produce its GDP reports comes from the U.S. Census Bureau. Part of the Department of Commerce, the Census Bureau is the agency that tracks construction spending and reports its findings to the public every month. The monthly report is called the VIP, which stands for Value of Construction Put in Place Survey.
Make Your Money Work for You
The report accounts for all kinds of expenses related to construction including engineering and architecture, labor and materials. It also includes contractor's profits, overhead costs and indirect expenditures like interest and taxes that were paid as a result of a construction project. 
Find Out: How To Calculate Your Debt-to-Income Ratio
Read: Understanding US Productivity and All the Ways It Affects You
The VIP report tallies monthly combined spending on new construction into these categories:
Public Construction
This includes both federal and state construction expenditures and can include government spending on public buildings, schools and government buildings, as well as infrastructure like roads, bridges and sewer lines.
Explained: All About Cost of Living & How It's Calculated

Private Construction
Anything that isn't built by the government falls under the umbrella of private construction. This includes construction expenditures by businesses, nonprofits and individuals. There are two subcategories for private construction:
Residential Construction
Almost half of all construction spending comes from residential construction, which includes the entire U.S. housing market. That includes both single-family and multifamily dwellings.
Make Your Money Work for You
Find Out: What Is Durable Goods Spending and What Does It Signify?
Commercial Construction
This huge category includes construction spending on everything from restaurants, grocery stores, shopping centers, sports facilities, hospitals and more.
This article is part of GOBankingRates' 'Economy Explained' series to help readers navigate the complexities of our financial system.
More From GOBankingRates
Last updated: Aug. 19, 2021
Make Your Money Work for You