What We Learned About the US Economy in May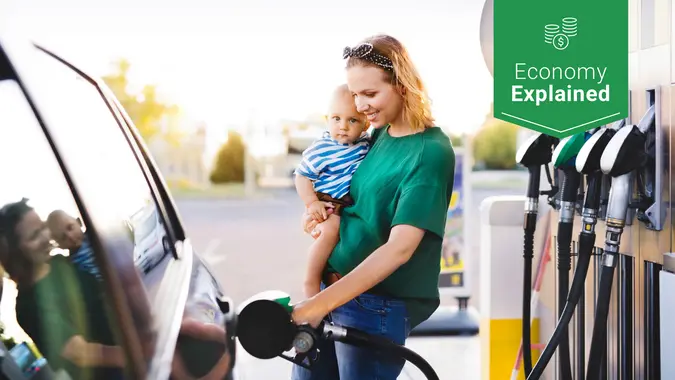 Halfpoint / Getty Images/iStockphoto
When April turned into May, optimism was in the air. Stimulus checks were in bank accounts, coronavirus cases were plummeting, millions of Americans were getting vaccinated, the economy was reopening and the formerly unemployed were returning to work in droves.
That last part, as it turned out, not so much.
Support Small: It's Not Too Late To Nominate Your Favorite Small Business To Be Featured on GOBankingRates — Extended to June 5
May Was Littered With Economic Potholes
When the April jobs report was released in early May, all of that optimism simmered down quickly. Analysts had predicted 1 million new jobs, but the economy turned in only a paltry 266,000. It was a disappointment that virtually no pundits saw coming. Also, the unemployment rate that was supposed to top out at 5.8% ticked all the way up to 6.1%.
The Economy and Your Money: All You Need To Know
Less than one week later, foreign criminals successfully hacked and extorted a major American energy pipeline. The fallout led to serious gas shortages across the Northeast as fuel prices began to rise nationwide.
By the end of the month, the word and worry of the moment was inflation. Wall Street reacted to fears of rising prices with a sell-off. 
Make Your Money Work for You
Learn: What Is Inflation and What Does It Mean When It Goes Up or Down?
It's Not All Fire and Brimstone
By the last week of the month, the stock market had rebounded. The Fed took action to ease inflation worries and by May 26, the S&P 500 was just 1% away from its record high. Gas prices are still up — they're expected to hit a seven-year high on Memorial Day weekend — but the pipeline incident, disturbing as it was, seems to have been an isolated incident. Many experts disagree that higher fuel prices are a sign of economy-wide inflation, and instead believe they are a temporary response to a post-pandemic release of pent-up consumer demand.
May Delivered 4 New Installments of 'Economy Explained'
Although there was no shortage of gloomy news in May, it wasn't all bad — at least not for anyone who enjoys learning about how the economy works. May, after all, brought several new installments of the ongoing "Economy Explained" series brought to you by GOBankingRates. In case you missed it, here's a brief recap of the four latest articles in the series: 
Make Your Money Work for You
More From GOBankingRates
Last updated: June 1, 2021
Make Your Money Work for You