Why Do ETFs Close & What Happens To Your Money When They Do?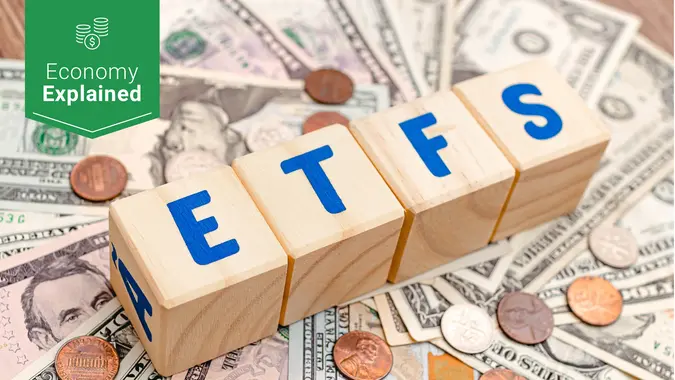 Rmcarvalho / iStock.com
In the fall of 2020, during the runup to the vaccine, optimistic investors sent the global ETF market past $15 trillion for the first time in history. America's love affair with exchange-traded funds is easy to understand. They let you nibble on a whole bunch of stocks with the purchase of a single share, they're cheap, they're simple and they're liquid. 
The Economy and Your Money: All You Need To Know
Dividends: What Are They & Why Are They Important to Your Investment Strategy?
But they're not all successful, and just like any other product, ETFs that don't turn a profit are pulled from the product lineup by the companies that sell them. If you buy into an ETF that one day announces that it's going out of business, don't panic and don't be surprised — it's not that unusual. 
Make Your Money Work for You
ETFs Close All the Time for All Kinds of Reasons
According to Columbia Law School's blog on corporations and capital markets, a full 25% of all ETFs closed between 2014-2020. That's 1 in 4 ETFs that throw in the towel, which they do for all kinds of reasons, including:
The fund costs more to run than those of its competitors 

The scope of the fund was too narrow

The fund didn't perform well
No matter the root of the cause, the reason for closing is usually the same: The ETF simply couldn't attract enough assets to generate sufficient revenue. Sometimes, giant financial firms clear out their dead wood with extended sprees of ETF mass-liquidations.
By the end of 2019, for example, Invesco had already closed 19 ETFs and announced that it would shutter 42 more by February 2020. According to MarketWatch, Wisdom Tree and Rafferty had closed more than 40% of their active funds by the end of 2019. ProShares, State Street and Barclays were at or near 30% while Global X had closed more than 20% of its active ETFs.
Find Out: How To Tell If the US Economy Is Actually Improving
Good To Know: When You Buy Stocks, Here's Where Your Money Goes & What You Own
Make Your Money Work for You
Relax, Your Money Is Safe
The Securities and Exchange Commission (SEC) regulates every aspect of how ETFs operate, including how they're required to close and liquidate. As the Columbia blog points out, just three companies — BlackRock, Vanguard and State Street — control 68% of the $3.36 trillion U.S. ETF market. Add just a handful of other giants and industry consolidation reaches 90%. With that kind of market concentration, a wave of redemptions in a time of crisis might lead to a 2008-style liquidity emergency that could trigger a market downfall.
To prevent that kind of financial avalanche, the Securities and Exchange Commission enforces strict rules about how ETFs must liquidate and distribute their assets to invested shareholders. The process is predictably complicated and well beyond the scope of this article, but ETF closures are not the same as bankruptcies, they do not mean the company that launched the ETF is out of money, and shareholders must be reimbursed in full by law. 
Make Your Money Work for You
See: Do You Know the Differences Between the Stock Exchanges?
So, How Do I Know When My ETF Goes Bust?
When an ETF closes, the company behind it must file a prospectus supplement with the SEC and notify shareholders 30-60 days before delisting. It must also issue a press release that discloses pertinent information like the last day of trading and what action will be taken if investors don't sell their shares by the deadline. 
On March 31, 2020, for example, AdvisorShare announced that it was closing its Cornerstone Small Cap ETF (SCAP). The announcement read, in part: "The fund's last day of trading will be April 9, 2020, which will also be the final day for creations or redemptions by authorized participants. The fund will cease operations, withdraw the assets, and distribute the remaining proceeds to shareholders on or after April 16, 2020."
Read More: Understanding the Differences Between Inflation, Deflation & Stagflation
Check Out: The Complicated Topic of Wage Inflation and the Controversy Surrounding It 
So, How Does It All End?
There are a few options for parting ways with an ETF that's living on borrowed time:
When the closure is announced, you can sell your shares before the ETF is delisted on the last day of trading. 

If you do nothing at all, you'll receive a cash sum — probably in the form of a check — based on your share of the fund's net asset value (NAV) once the fund's assets are liquidated and distributed to shareholders.

If your fund is acquired by another ETF in a merger, you'll automatically receive a number of shares of the new ETF based on the value of your shares in the old ETF.
If you've made it this far, please keep reading because this last part is super important. All three of those situations will likely lead to you paying capital gains taxes if your ETF isn't sheltered in a qualifying tax-advantaged account. Unless you're really sure, do yourself and your wallet a favor by speaking to a financial professional before you sell and before the trading deadline passes if your ETF announces its own demise.
More From GOBankingRates
Last updated: Aug. 20, 2021
Make Your Money Work for You