Is Eggflation a Myth? Why the Price of Eggs Is Really Rising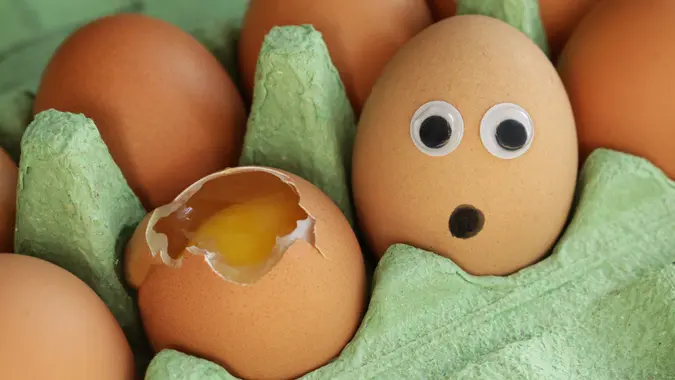 mtreasure / iStock.com
Anyone who has been to the grocery store lately knows that egg costs are soaring, which has many looking to cut back or even substitute with creative alternatives for breakfast. But what's the culprit behind these price hikes, which now amount to 70.1% more since January 2022?
See: Desserts That Contain Eggs Jumping in Price — Save Cash with These Swaps
Find: These Foods Are In Short Supply In 2023, So Stock Up Now
While many would assume that price increases have everything to do with ongoing inflation that has sent groceries skyrocketing by 10.1%, according to the latest CPI report, when it comes to eggs, that's not simply the case.
Let us egg-splain: While grocery costs, in general, are up by double digits, the 70% spike seen in egg cartons of all shapes and sizes actually has more to do with bird flu than anything else.
According to the U.S. Department of Agriculture, an outbreak of the Highly Pathogenic Avian Influenza (HPAI) has been ravaging chicken coops since February 2022, resulting in the loss of 43 million egg-laying hens by December 2022 — and that compounded into a 29% decrease in supply.
Make Your Money Work for You
Because of this major tip in the sensitive supply-demand scales, "wholesale egg prices (the prices retailers pay to producers) were elevated throughout the year," according to USDA data. In fact, costs were 267% higher in December 2022 than the year prior, and all signs point to sticker shock sticking around into the Easter season.
Some activists have also alleged that producers are taking advantage of the precarious situation. As GOBankingRates previously reported, the group Farm Action issued a letter to the Federal Trade Commission in January urging an investigation into price gouging "and other unfair or deceptive acts or practices by dominant producers of eggs."
Take Our Poll: Do You Have a Second Job or Backup Plan in Case You Are Laid Off?
Farmers are currently working to restore supply with some forecasters expecting that things will normalize at some point in 2023. Until then, there are some ways you can try to save on the cost of eggs. That includes visiting farmer's markets, searching for coupons and stocking up any time prices are more reasonable.
More From GOBankingRates
Make Your Money Work for You