How the Extreme Heat is Hurting Your Grocery Prices — and What to Do About It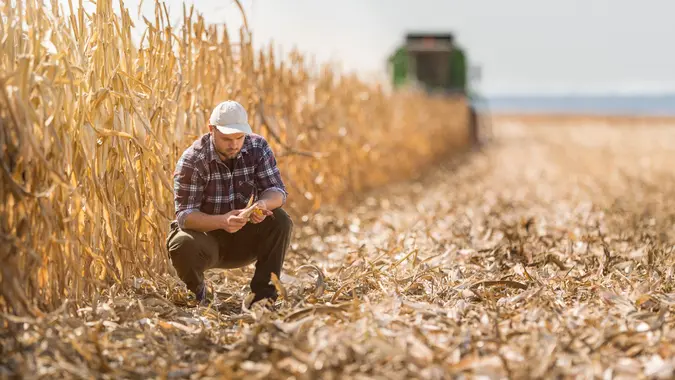 fotokostic / Getty Images/iStockphoto
A punishing heatwave is gripping the globe, causing ripple effects that go beyond mere discomfort and sunburns. The scorching weather's impact extends far into the economic sphere, hitting us where it hurts most — our grocery bills.
Find Out: 8 Items To Stop Buying at Grocery Stores If You Want To Save MoneyLearn: How To Get Cash Back on Your Everyday Purchases
As fires, floods, and droughts make headlines, the less visible but equally damaging impacts of extreme heat on our food supply chain and the economy at large are worth noting.
Climate change is proving to be an unyielding adversary, bringing about not just environmental distress but also economic strain.
In fact, an analysis by researchers associated with the Centre for Economic Policy Research revealed that climate-related disasters have most significantly affected European nations such as France, Italy, Spain, Romania, and Germany over the past 20 years. Meanwhile, Central and Eastern European countries are grappling with rising climate troubles.
However, the implications of these devastating weather conditions are far from localized. Climate scientist Justin Mankin told The New York Times, "What's really kind of wild about the heatwaves we're in the midst of right now, is not just their magnitude, but the number of people they're affecting simultaneously."
In the U.S. alone, there are 32 million people who work outdoors, not to mention the higher proportion of outdoor laborers in developing countries. This grueling heat is more than just a discomfort for them; it significantly reduces labor productivity.
Another critical side effect is the toll it takes on our agriculture, one of the sectors most susceptible to extreme weather.
Prolonged heatwaves lead to crop damage, affecting the entire supply chain from the farmer to the grocery store, thereby causing a spike in prices. In a global economy interconnected by trade, these impacts are not confined to the regions directly affected by the heat.
Make Your Money Work for You
Moreover, extreme heat also burdens power plants and can cause roadways to buckle, further disrupting trade and logistics, and adding another layer of strain to our food supply chain.
I'm a Financial Planning Expert: 6 Worst Purchases To Make in an Economic Downturn
But the news isn't all grim. We as consumers have roles to play in mitigating the impact of these climate changes, while also saving money at the grocery store. Here's out tips:
1. Opt for Local Produce: Where possible, choose local, seasonal produce. This helps reduce the demand for out-of-season crops and those transported over long distances, hence lessening the carbon footprint and strain on supply chains.
2. Buy in Bulk: Often, purchasing items in bulk can be cheaper in the long run. This strategy works well for non-perishable items like rice, pasta, dried beans, and canned goods. Remember, though, only buy in bulk if you're sure you'll use up the items before they expire to avoid unnecessary waste.
3. Meal Planning and Prep: Planning your meals in advance can help you make the most efficient use of your groceries and avoid food waste. Prepping meals in advance can also save you time and prevent the temptation to buy more expensive pre-prepared meals or take-out.
4. Take Advantage of Sales and Discounts: Keep an eye on weekly sales and discounts at your local grocery store. Many stores also offer loyalty programs with further discounts or points that can be used for future purchases.
Editor's note: This article was produced via automated technology and then fine-tuned and verified for accuracy by a member of GOBankingRates' editorial team.
More From GOBankingRates
Make Your Money Work for You