The Federal Trade Gap: What Is It and Is It Affecting You?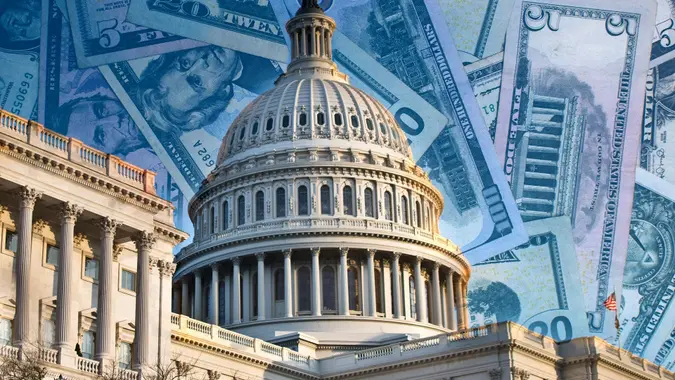 Douglas Rissing / iStock.com
The federal trade gap seems like it's something that you shouldn't have to worry about as a consumer or investor. After all, you're already bombarded with daily headlines about out-of-control inflation, a falling stock market, the Russian invasion of Ukraine and the Federal Reserve raising interest rates. Isn't that enough to worry about? While the truth is that these headline items do have a larger and more immediate impact on your personal finances, the federal trade gap is a lingering concern behind all of the current noise. So, what exactly is the federal trade gap, and how is it affecting you, if at all? Read on to learn more.
Check Out: Unplug These Appliances That Hike Up Your Electricity Bill
Read More: Walmart Accepts EBT/SNAP Food Stamps As Payment — What Are the Restrictions?
What Is It?
While you may not have heard the term "federal trade gap" before, it's likely that you've heard its more common name, the federal trade deficit. The trade deficit simply reflects the balance — or imbalance — between foreign and domestic saving and investment. Without getting into an advanced economics class, this trade gap affects international flows of capital, which is one of the reasons it bears watching. The trade gap is never static, and it's not caused by U.S. or foreign trade policies. Rather, it fluctuates with the ordinary business cycle, typically increasing during economic expansions and declining during recessions.
Make Your Money Work for You
How Does a Trade Deficit Affect the National Budget?
The influx of foreign capital doesn't come without a cost. Foreigners investing in U.S. equities receive profits and/or dividends, while foreign debt comes with the price tag of interest costs. Large current account deficits that are financed with the foreign influx of capital could therefore raise both interest costs and interest rates in the U.S. economy. But foreign investment in U.S. equities actually helps to smooth out the business cycle, as a percentage of the gains during boom periods and the losses during recessions falls on foreigners rather than the domestic economy.
Compare: 7 Things You Should Never Pay for With Cash
How Does a Trade Deficit Affect the Domestic Economy?
Generally speaking, deficits in and of themselves do not affect the domestic economy as a whole, as the decline in savings is mostly offset by capital coming in from abroad. Inflows of foreign investment have actually had a minor positive effect on the GNP and wages as well. However, trade deficit fluctuations can cause dislocations on a micro level for particular industries and their employees. 
Make Your Money Work for You
What If We Restrict Trade To Close the Gap?
Most day-to-day trade policy regulations don't have a large impact on foreign investment. However, severe trade restrictions can have both large and unintended consequences. Although choking off imports would theoretically reduce the trade gap, what would ultimately happen is that exports would decline by almost as much as imports. All that would accomplish is to strangle the economy while still maintaining a large trade deficit.
How Much Is the Current Trade Deficit?
The January 2022 monthly international trade deficit in goods and services was $89.7 billion. This was up $7.7 billion from the $82 billion deficit recorded in December 2021. January imports were $314.1 billion, up $3.8 billion over December, while revised January exports fell to $224.4 billion, down $3.9 billion from December. On a year-over-year basis, the total trade deficit jumped 37.7%, to $24.6 billion. While exports increased by $29.9 billion, marking a 15.4% gain, imports shot up 21%, to $54.4 billion. 
How Long Has the US Been in a Trade Deficit?
Before 1970, the U.S. economy was the dominant player in the world and had little to fear from free trade. Up until World War II, the U.S. nearly always ran trade surpluses, and for decades after the war, there was little international competition for U.S. industry, as it had mostly been destroyed or damaged. However, after 1970, the near-perfect run of trade surpluses began to turn into year after year of trade deficits. In the 1980s and 1990s, those deficits grew significantly, and they seem likely to remain in place. 
Make Your Money Work for You
Does the Federal Trade Deficit Specifically Affect the Average Reader?
On a day-to-day basis, the federal trade deficit doesn't really affect the average consumer or investor. But if the government were to try to close the deficit through trade restrictions, the price of consumer goods would likely rise. According to the International Trade Administration (ITA), as of 2016, U.S. exports of goods and services supported about 8% of the domestic workforce, comprising about 11.7 million U.S. jobs, so many workers can be affected by the rise or fall of U.S. exports.
More From GOBankingRates
Make Your Money Work for You