Food Stamps: These 10 States Have Added the Most SNAP Recipients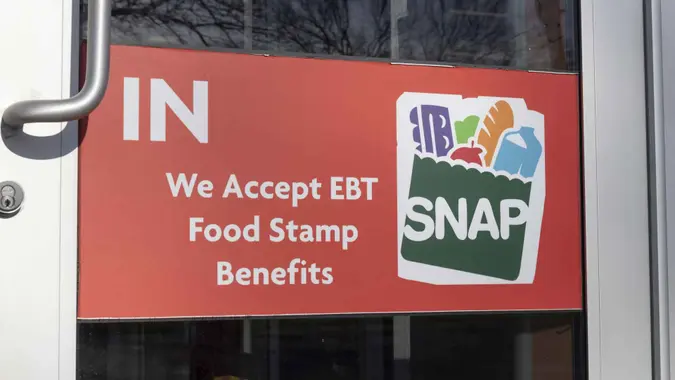 jetcityimage / Getty Images
Some states saw enormous decreases in the number of households enrolled in SNAP between March 2022 and this March, when pandemic-era emergency safeguards ended — but not because they solved their food-security challenges.
In states like Alaska, bureaucratic dysfunction and insufficient applicant outreach caused huge backlogs and long waiting lists. In others, like Arkansas, governments erected barriers to eligibility designed to reduce the number of residents who receive public assistance.
But other states saw significant increases in the number of people enrolled in America's largest anti-hunger initiative during the same period. GOBankingRates used USDA data to identify those states and spoke to experts and advocates to understand why more people are signing up.
10 States That Added the Most SNAP Recipients
Your likelihood of receiving benefits has more to do with where you live than how badly you need help buying groceries.
"As a safety net program, SNAP participation is designed to ebb and flow with need," said Ivy Enoch, food security advocacy manager for Hunger Free Vermont. "We often see enrollment increase when the economy weakens and decrease when the economy is more stable.
"Poverty is the root cause of hunger, so when poverty declines — as we saw with a strong government response during the pandemic — SNAP participation may hold steady or decline. While economic health is one of the greatest drivers of SNAP participation, other factors contribute to participation rates, many of which come down to the usability, accessibility and adequacy of state application and enrollment processes."
Make Your Money Work for You
Here's a look at the 10 states (including one territory) that saw the most dramatic increases in SNAP enrollment from 2022 to 2023.
Louisiana
March 2022: 774,444
March 2023: 907,254
Change: 17.1%
California
March 2022: 4,612,800
March 2023: 5,172,539
Change: 12.1%
Florida
March 2022: 2,786,261
March 2023: 3,058,635
Change: 9.8%
New Hampshire
March 2022: 69,214
March 2023: 75,675
Change: 9.3%
Guam
March 2022: 34,939
March 2023: 37,690
Change: 7.9%
Arizona
March 2022: 831,414
March 2023: 887,565
Change: 6.8%
Nevada
March 2022: 457,087
March 2023: 486,602
Change: 6.5%
Michigan
March 2022: 1,348,861
March 2023: 1,425,331
Change: 5.7%
Virginia
March 2022: 807,333
March 2023: 852,877
Change: 5.6%
Massachusetts
March 2022: 1,032,580
March 2023: 1,087,259
Change: 5.3%
Applicant-Friendly Policies Boosted Enrollment in Some States
Some states are purging their SNAP and Medicaid rolls and mandating prohibitive work requirements for eligibility. But, when pandemic-era protections like continuous enrollment ended, others worked to increase awareness, streamline the application process and encourage participation.
"SNAP is a federal program, but states have some flexibility in how they administer it," Enoch said. "This means that states can adapt the application process to better suit their specific populations, resources and administrative capabilities. Some states have additional eligibility requirements or rules that go beyond the federal guidelines. These state-specific rules can impact who qualifies for SNAP and how the application process unfolds.
"Additionally, states have their own approaches to reaching out to eligible individuals and families to increase awareness of the program. This outreach — or lack thereof — can impact the number of people who apply in the first place."
Applicant Outreach Efforts Can Get More Vulnerable Families Into the Program
One state that's experiencing some of the most significant gains in SNAP enrollment provides a model for helping applicants adjust to the stricter post-pandemic application process.
"In Arizona, we are spending a lot more time assisting neighbors renew their benefits as the auto-renewal option is no longer an option," said Leigh Zydonik, executive director of the Foothills Food Bank and Resource Center in Cave Creek, Arizona. "This makes it more difficult for those in our community who are not savvy with online processes, such as our senior population and those in our neighborhood who do not have internet access."
Make Your Money Work for You
SNAP Rolls Swell in States That Account for Medical Expenses
Other states are making it easier for the most vulnerable families to qualify by considering their special healthcare costs. 
"These states are now allowing standard medical deductions from the monthly income required to be eligible for SNAP benefits," said Nancy Mitchell, a registered nurse and contributing writer at Assisted Living Center. "Say the monthly net income is $3,100 for a family of six. A few months ago, some families of six would have earned a net monthly income just above this, making them ineligible for SNAP benefits.
"However, if their family includes an elderly person or someone with disabilities, they can subtract that person's medical expenses from their monthly net income. This then brings down their monthly net income into the SNAP-eligible range. As a result, more families meet the criteria in these states now, compared to other states that haven't yet adopted this deduction scheme."
In Most Cases, Enrollment Is Up Because More People Are Hungry and Struggling
Improved outreach and income deduction programs account for part of the growth in SNAP rolls over the last year. But the main drivers are poverty and hunger.
"SNAP enrollment is growing in Florida due to the rising cost of living," said Stephanie Palacios, director of advocacy and government relations at Second Harvest Food Bank of Central Florida. "Residents are facing tough financial decisions with rising rent, fluctuating gas prices and persistently high prices at supermarkets and other retailers. One option to try and make ends meet is to apply for SNAP benefits."
It's a pattern that's familiar across the state and country.
Make Your Money Work for You
"Pantry programs like ours, nationwide, have seen a similar increase in demand to what is being reported for SNAP," said Greg Hazle, executive director of Boca Helping Hands, a  community-based nonprofit in its 25th year of operation that serves 35,000 vulnerable people annually in Boca Raton, Florida. "We believe this reflects the ongoing impact of inflation on the ability of working families to make ends meet. There is a growing base of workers who need programs like SNAP to supplement inadequate incomes."
The Diaper-Food Parallel Is Signaling a Bad Omen
Joanne Samuel Goldblum, CEO and founder of the National Diaper Bank Network and co-author of "Broke in America: Seeing, Understanding and Ending U.S. Poverty," sees a direct connection between diaper need and hunger: When families can't afford diapers, they usually can't afford food either.
"We know that families are facing new levels of hardship and that food insecurity and diaper need go hand in hand," she said.
Lately, far more parents are struggling to afford diapers, which means they're also struggling to put food on the table.
"For many years, studies showed that one in three U.S. families could not afford an adequate supply of diapers for their babies," Goldblum said. "New research released in June reports that today nearly half (47%) of families struggle with diaper need."
It's not hard to understand why.
"For decades, prices of basic necessities have gone up faster than wages, and food prices are particularly on the rise right now," Goldblum said. "Families are turning to SNAP because they need it. Any cuts to the program would be disastrous for children and families living in poverty."
Make Your Money Work for You
Childhood Hunger Has Implications Beyond Grumbling Bellies
For the youngest victims of food insecurity, the absence or presence of SNAP benefits can determine the course of their entire lives.
"Many families are struggling to put food on the table after both SNAP and WIC resources got reduced," said Tony Subraj of Zara Charitable Foundation in Queens, N.Y., where hunger rates among children are double the national average.
Subraj's colleague, Amir Sobhraj, describes the ripple effects of childhood hunger.
"Lack of access to nutritious food is a significant barrier to education, development, and harms health outcomes," Sobhraj said. "Hungry students often struggle to concentrate in class, and struggling families turn to junk food to not starve. With healthy food options, both students and families can stay healthy and focus on succeeding in life."
Methodology: For this piece, GOBankingRates used the US Department of Agriculture's SNAP data tables by state (published in April 2023). All data is up to date as of July 17, 2023.
More From GOBankingRates